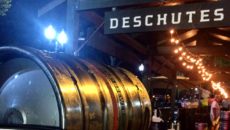 By Jeremy Bender
Jeff Harrell made the 5-hour drive from Norfolk to Roanoke last year for the first Deschutes Brewery Street Pub in the former railroad hub also known as Star City.
"It really exceeded my expectations," said Harrell, a self-described beer-cationer. "I stayed at the historic Hotel Roanoke, and they even had a Deschutes tasting party in the hotel bar. But the highlight, of course, was the extended festival atmosphere throughout Elmwood Park with super friendly people, live music on two outdoor stages, and plenty of great craft beer from Deschutes."
If you, like Jeff Harrell, attended last's year's Deschutes Brewery Street Pub in downtown Roanoke, you'll be thrilled to know the World's Biggest (400-feet-long) Pop-up Pub event is returning to their second home to raise funds for local nonprofits on July 15th from 2-10 p.m. at Elmwood Park.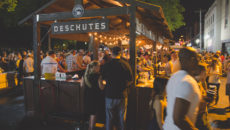 In 2016, Deschutes announced it would build a brewery to better serve its fans east-of-the Mississippi. The Bend, Oregon craft brewery is family-owned (since 1988). Its flagship beers include Black Butte Porter, Fresh Squeezed IPA and Mirror Pond Pale Ale.
Though Deschutes' Roanoke brewery will not be complete until 2021, founder Gary Fish told Virginia Craft Beer Magazine the brewery likes to take its time in everything it does. It will be worth the wait, for sure, but in the meantime they'll be plenty to enjoy at the nationally touring Street Pub experience.
For the 2017 tour, the brewery has added title partners that share its culture, sustainability and philanthropic goals: Hydro Flask, Humm Kombucha and KEEN Footwear. During the one-day event, Deschutes Brewery and its partners will work to raise money for the Roanoke Outside Foundation, Bradley Free Clinic, Pathfinders for Greenways and the Blue Ridge Land Conservancy.
Not only will there be a huge selection of Deschutes Brewery beers flowing from the Street Pub's multitude of taps, but visitors can find guest taps from local favorites Twin Creeks Brewing Company, Right Mind Brewing and Potter's Craft Cider. Culinary delights are in the works for all the foodies out there from Deschutes Brewery's Corporate Executive Chef, Jeff Usinowicz, who is teaming up with Roanoke locals Chef Aaron Deal from River & Rail and Chef TJ Daveldek from Lucky.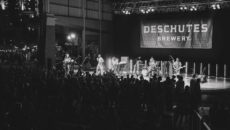 Local and regional, live music from Swift Technique, Low Low Chariot, Dharma Bombs, Place Called Home and more will keep everyone moving to the beat from two stages. A kid's zone for families and a bike valet will also be on site, along with a variety of fun activities by Street Pub partners. Just some of the unique endeavors visitors can expect to find include: Hydro Flask's Skee Ball Challenge and Hydration Station (made by Black Dog Salvage of DIY Network's "Salvage Dawgs"); Humm Kombucha's Creation Station for collaborative art projects and activities; KEEN Footwear's activism center and lounge, photo booth, games and free-shoe raffles and of course make sure to snap a picture with the LOVE letters and chat with Visit Virginia's Blue Ridge to plan your next adventure. Karen Eland Art will also be on-site with live art demonstration of art painted with beer!

"I had such a blast last year, I can hardly wait for Street Pub 2.0," said an enthusiastic Jeff Harrell. "Deschutes sure knows how to throw a party. Good vibes all around."
When: Saturday, July 15, 2 – 10 p.m.
Where: Elmwood Park, 700 S Jefferson Street, Roanoke, VA
Admission: Free for all ages
VIP TICKETS AVAILABLE. Thanks to our generous sponsors, Martin's Downtown and Black Dog Salvage, you have a chance to pre-purchase VIP tickets at https://www.deschutesbrewery.com/streetpub to get exclusive access to rare beer tastings led by one of our brewers. Our chef will also be serving up beer snacks like beer salami, beer nuts, hop corn and more in the VIP lounge.
PRE-PURCHASE OPTIONS: Purchase a Hydro Flask True Pint and/or Beer Tokens ahead of time to reduce lines on the day of the event! Each token gets you a pint at the Roanoke Street Pub. https://squareup.com/store/roanoke-outside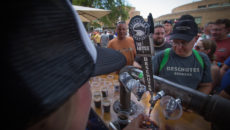 VOLUNTEER: Calling all volunteers! We need your help to make this event a success and be able to raise the most money possible for our nonprofit beneficiaries. All volunteers will receive Deschutes Brewery swag and beer for those who are of age. Interested? You can find details and sign up here: http://signup.com/go/fXFMhEs
Join the conversation before & during the event on Twitter & Instagram using #StreetPub. Swipe for the Street Pub geofilter on Snapchat during the event.
For more info: www.deschutesbrewery.com