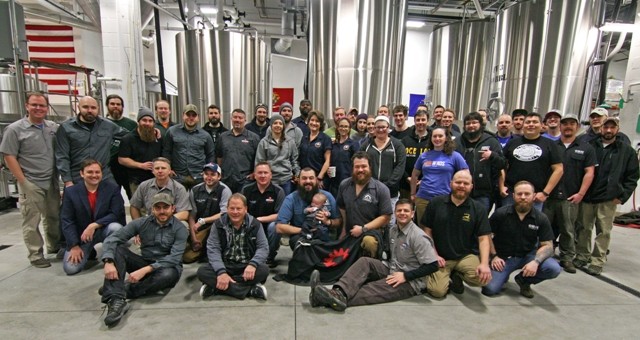 By Jefferson Evans and Chuck Triplett
The craft beer community has long felt a great sense of pride in the sense of comradeship that exists between brewery owners, brewers and staff. Whether the need is raw materials, the sharing of knowledge, or an honest critique, beer folk are quick to step up and help when help is needed. The second half of 2015 and into early 2016 found a family within the Northern Virginia beer community in a hard way as Kerri Rose, wife of Forge Brew Works owner and brewer Matt Rose, found herself in a difficult intersection of great joy and great worry. After trying for years to get pregnant, she was expecting the couple's first child, only to learn in the 27th week of pregnancy that she has advanced stomach cancer. Baby Lance was delivered early in September and is a healthy young boy, however, Kerri did not respond to an initial round of chemotherapy and has spent time in the ICU along with receiving immunotherapy treatments. As a result Matt has found himself trying to handle the – to put it mildly – challenging juggling job of running a successful brewery along with taking care of a gravely ill wife and an infant child. Enter the region's beer community.
Forge Brew Works and Fair Winds Brewing Company are close neighbors in Lorton, VA, and when the seriousness of the challenges Kerri and Matt were facing became clear, Fair Winds owner Casey Jones knew he wanted to help, and in short order he knew the form that help would take; they would do what they know best, brew beer, and they would get the entire local beer community involved. The idea for Kerri's Cure was born and the word went out. The response was immediate and immense.
On January 7, brewers and staff from over 20 of the region's breweries, along with other contributors to the cause, came together to brew a beer that would serve as both emotional and financial support for a hurting family.
As to the beer itself, the choice was made to brew a Belgian Pale Ale to honor Matt and Kerri's love of Belgian beers. So, there was a plan, and there was a beer, and then there were the many faces and entities who stepped up to the plate.
Fair Winds contributed the tank space and served as an amazingly generous host with head brewer Charlie Buettner steering the brewing ship and Casey and the rest of the staff on-hand making sure everything unfolded smoothly. As brewers arrived they lined their empty kegs up in the back and dropped off growlers of great beer in Fair Winds' ridiculously large cold room for everyone to enjoy.
Katie Kelly of the Virginia ABC proved that the alcohol control bureaucracy can indeed be helpful by confirming that Fair Winds could host a brewing collaboration event such that afterwards the individual breweries could take the resulting beer back home.
Allen Young of BSG (Brewers Supply Group) helped arrange for malts. The fine folks at Old Ox donated an appropriate yeast strain. Dan Christopherson and Lehrman Beverage Law provided important legal advice. Jill Collins Public Relations Group helped with valuable media and marketing support and advice. Diving Dog Creative Solutions Group helped with some serious graphic design chops. The Light Horse Restaurant and Fired Up To Help charity BBQ provided some amazing food for those on hand.
And then there were the participating breweries themselves: Adroit Theory Brewing Company, Adventure Brewing Company, Bad Wolf Brewing Company, Caboose Brewing Company, Capitol City Brewing Company, Corcoran Brewing Company, Crooked Run Brewing, DuClaw Brewing Company, Fair Winds Brewing Company, Forge Brew Works, Heritage Brewing Company, Lost Rhino Brewing Company, Mad Fox Brewing Company, Ocelot Brewing Company, Old Bust Head Brewing Company, Old Ox Brewery, Ornery Beer Company, Port City Brewing Company, Pro Re Nata Brewery, Spencer Devon, Tin Cannon Brewing Company and Twinpanzee Brewing Company
On January 29, each of the breweries will make the beer available and the proceeds from Kerri's Cure will be donated to assist the Rose family in Kerri's fight against cancer. Casey tells me, "We have asked each brewery that is selling beer in the taproom to donate $400 per 1/2 BBL (many plan to donate more than that).  So even if this batch only yields 56 1/2 BBLs, we would expect the minimum contribution to be $22.4K." And Kerri's Cure will have lasting positive effects moving forward as this event and the good will and fellowship it has generated will help inspire what Casey Jones tells me is an ongoing conversation between brewers and the local beer community in general. This coming together has made it clear to the local brewers and owners that there should be more such gatherings where they can be together and just talk and not be always trying to do so during busy situation like beer festivals and beer dinners. They need to make time to be simply friends and colleagues. And that is a great lesson to be taken to heart no matter what happens moving forward.
NOTE: Kerri lost her battle with cancer in early January.