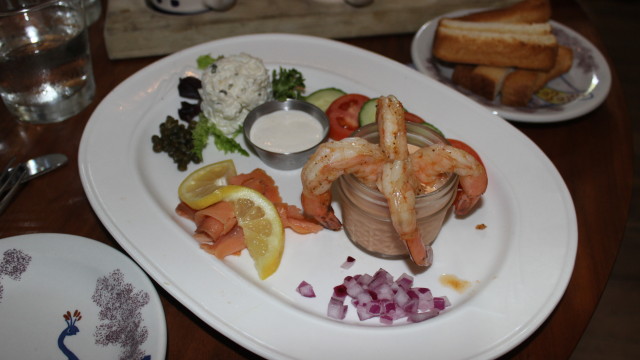 By Jennifer McDonald
In colonial times, taverns served a multi-purpose function.  You could eat, drink, sleep, and stable your horse at one of the many (18 at one point) taverns in the Capital city.  Today, Colonial Williamsburg features four taverns – King's Arm, Christiana Campbell's, Shields, and Chowning's.  During a recent visit to Williamsburg, my husband and I opted to explore Chowning's Tavern.  According to county records, Josiah Chowning opened Chowning's Tavern in October 1766 and operated it until his death in 1772.
As we set foot into the 18th century building, we are transported back in time.  The furnishings are reminiscent of an English alehouse with dark wood and plank tables.  We are greeted by hostesses and servers dressed in 18th century fashion.  And, the ambiance is enhanced by lively period themed music.  Our first order of business after being seated at a quaint two-top table in front of the fireplace was to order a beer!  The menu states that the tavern's beer and ale inventory varies.  On our visit, the following draft selections were available:  Old Stitch, Dear Old Mum, Chesapeake Pale Ale, Washington's Porter (all from Williamsburg AleWerks), 8 Point IPA (Devil's Backbone), Alter Ego Saison (Smartmouth), and Liebotschaner Cream Ale (Wilkes-Barre, PA).  Patrons have several options when ordering – you can order a pint and keep the Salt Glaze mug for $25, try a flight of 3 ales of your choice for $9.50, or select a pint, quart, or 6 oz taste.  A nice selection of Virginia wines and several rum based libations are also offered as well as bottled beer and ciders.
The food menu consists of colonial inspired favorites.  For starters, one can choose from soups, salads, or tasty selections such as Brunswick Stew, made with young fowl and fresh garden vegetables served with corn muffin ($7.75 cup, $11.25 bowl), Welsh Rarebit, an 18th century savory of cheddar cheese and mustard-spiced beer sauce over toasted sippets ($9.00) or White Bean Dip with garden vegetables and a mint pesto ($8.00).
Heartier options include a selection of Flat Breads and Sandwiches such as The Ploughman's Favorite Flat Bread featuring hot coppa ham, fennel salami, Calabrese salami, proscuitto ham, provolone cheese and garden tomato relish ($12.25) and the Beef Trencher with caramelized onions, aged cheddar cheese and beer spread, and horseradish sour cream ($12.25).  All flat breads and sandwiches are served with choice of Tavern slaw, sour cream & chive potato salad, or fresh potato chips.
Lastly, there are several items large enough for sharing.  We selected The Waterman's Tasting featuring Old Bay poached shrimp, roasted red pepper mayonnaise, Atlantic smoked salmon, horseradish sour cream, and blue crab rémoulade ($18.00).  If you saved room for dessert, sweet treats include a variety of tarts and ice cream.
The next time you are in Williamsburg, be sure to include a visit to Chowning's Tavern!
Chowning's Tavern is located at 109 East Duke of Gloucester Street, Williamsburg. For reservations, call 888-965-7254.