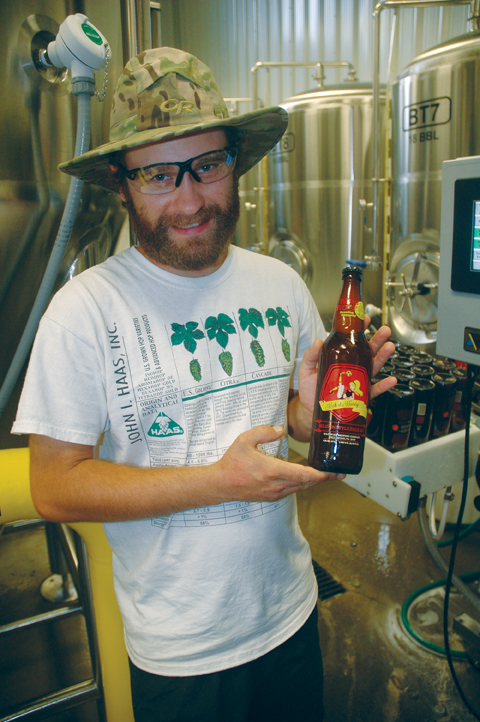 By Jeff Maisey
When Danny Wolf completed his course work at the Seibel Institute of Technology in 2008, the job market was tight in an economy described as the worst since the Great Depression.
His mother, Mary Wolf, a retired vice president of product marketing at America Online, wanted to help her son find a way to gain experience in the brewing industry. In the process, Mary, a diehard wine lover with a 3,000-bottle cellar, developed a passion for craft beer. The two soon decided to go into business together and open one of the few son/mom breweries in the world.
Wild Wolf Brewing Company opened in 2010 as a homebrew retail shop and a nano brewery. In November 2011, Wild Wolf expanded by opening a full service restaurant and brewery.
Wild Wolf is a family-friendly brewery experience – a 10-acre destination. The main building, which houses the restaurant, brewery and bar, is a former school house (Rockfish School, 1910-39). Out front is a large patio with tables and chairs shaded by Siberian Elms. The grounds surrounding the brewery also include a gazebo, outdoor pavilion, a small play area for children, working waterwheel and pond with large koi swimming near the surface. Dogs, too, are welcomed guests on the patio.
"We try to create a destination where people can come and enjoy the relaxing Bier Garden," said Mary. "We have a hop yard with chickens. We have live music Friday, Saturday and Sunday year-round."
Wild Wolf offers 10 to 12 beers on tap daily from 11:30 AM to whenever the bartender says it's Last Call. These craft brews include their Alpha Ale (a super hoppy American Pale Ale), Blonde Honey (Belgian style Blonde Ale with honey, Wild Wolf's flagship brew), American Pilsner, Wee Heavy (Scottish Brown Ale) and the Dry Stout. Seasonal beers of note: the spicy Ginger Lager, Howlin' Pumpkin, Predator Bock and Wild Wolf Bitter.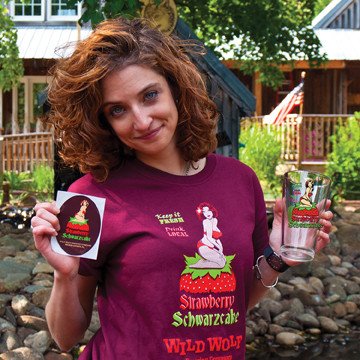 In addition to their draft beer, Wild Wolf also offers a wide array of beers packed in 12-ounce cans and large 22-ounce bottles. The bottles, in particular, are uniquely designed, ceramic and painted with fun, pop art imagery with product names such as Strawberry Schwarzcake and Area 151(named after the auto route on which the brewery is located and featuring a flying saucer with a nod to America's most famous UFO site). Kick It Hunny, the official beer of the Richmond Kickers soccer team, features a sexy blonde kicking a ball with her high-heels. The artwork is playful, very Penelope Pitstop in style.
"We felt like the 22-ounce bottles needed to be unique because they're not as easy to sell," explain Mary. "We wanted something that was eye-catching. They are beautiful. Some people even collect them, which is great."
Wild Wolf Brewing Company recently added a 60 and 30-barrel fermenting tank to meet growing demand across the Commonwealth for its packaged beer. This provides them with a maximum of 5,000 barrel production.
The restaurant component is equally important. The selections range from a vegan 3 Bean Chili and BBQ Pulled Pork Nachos to a variety of salads, burgers and sandwiches. Entrees include Fish & Chips, House Smoke Brisket and Fish Tacos. Numerous items are gluten-free like the Veggie Risotto, Jamalaya and Shrimp & Grits.
Patrons of the brewery cross all demographics, but Mary has noticed a new trend: an equal number of Millennial women drinking craft beer as men. She theorizes as to why.
"For me personally, and I know this probably applies to a lot of women, the beer I tasted in college wasn't worth the calories," she said. "When I discovered craft beer, I said, 'Now this is good.' Craft beer changes your profile of what you're going to enjoy if you're going to have an alcoholic drink. That's why I switched from wine to beer. The flavor in craft beer is so amazing. With wine you find a style you like, but there just isn't the variety and complexity. More and more women are seeing that. At the end of the day, beer's just fun."