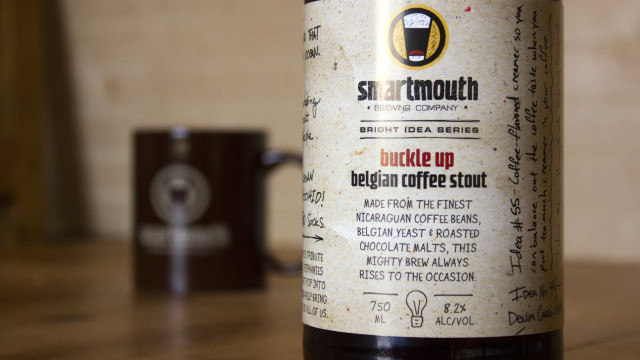 By Jeff Maisey
Norfolk's Smartmouth Brewing Company debuts its Bright Ideas Series on Saturday, February 6 with a big, 22-ounce bottle of Buckle Up, an imperial Belgian coffee stout.
"It is the first in our Bright Ideas series of 750 ml bottled beers," said Port Hardy IV, the brewery's founder.  "We have partnered with Robert at Shackleton Coffee (a new Chelsea roaster) to provide the coffee.  It's smooth, bold and transcends styles.  The idea for the beer just came from a Friday afternoon shift beer brainstorming session.   I had just met Robert, loved his coffee and it seemed like a natural fit to try and partner with a new neighbor."
Hardy said Smartmouth is committed to canning and will continue to can the vast majority of its beer. "For small batches of beer, however, 750 ml bottles are a great vessel as they are easy to share and allow for limited runs of labels (cans have really large minimum quantities)," he noted.
Look for the return of   Third Rail Tripel in March.