By Jeff Maisey
It's a steamy Friday night in July. The baseball stadium is packed with fans. The team mascot paces the sidelines waving its arms and shoots T-shirts into the stands with his air cannon device. The home players emerge from the dugout and take the field. The first pitch is a fastball straight down the middle of the plate. The lead-off batter swings and misses.
You take a bite into your obligatory pre-wrapped hot dog and then reach for a beer resting in the cup-holder fastened to the plastic seat. The crowd roars with approval, though not because you're drinking a beer as you for a split second suspect. The first batter just struck out, but you sure didn't.
"Wow, this is really good," you say.
Your wife smiles as she wipes a trickle of mustard from your cheek.
"I got you a craft beer," she says with a smile.
"Well played," you respond with a kiss.
"It's a win-win no matter the final tally on the scoreboard," she says.
Bottom of the first inning and all is well.
These days professional sports facilities, whether hosting hockey games or America's pastime (baseball), are listening to consumers and offering fans quality and variety in their beer selection. Beer, of course, goes hand-in-hand with aisle strolling vendors screaming, "Popcorn, hot dogs, get your craft beer here!"
Both Virginia-based minor league baseball teams –the Norfolk Tides and Richmond Flying Squirrels – now have craft beer for sale. The Tides are the Triple-A affiliate of the Baltimore Orioles. Flying Squirrels are the Double-A team of the San Francisco Giants. Both teams have partnered with a local brewery to create a special baseball themed beer.
Center of the Universe Brewing Company, located on the outskirts of RVA, was a natural choice for the Flying Squirrels. Chris Ray, who along with his brother Phillip owns and operates the brewery, is a former major league baseball player.
A graduate of the College of William & Mary, Chris Ray was drafted in 2003 by the Baltimore Orioles as a relief pitcher. In 2006, he recorded 33 saves with a 2.73 ERA and 51 strikeouts. He spent 5 seasons with Baltimore.
Following surgery in 2007, he became a Major League Baseball journeyman, signing with the Texas Rangers, San Francisco Giants, Seattle Mariners, Cleveland Indians and Oakland Athletics before retiring in the 2012-13 offseason.
While in Seattle (2011), the Ray brothers discovered a newfound passion for brewing when they developed the charitable Homefront IPA with Fremont Brewing Company.
In November 2012, Chris and Phillip Ray recruited brewer Mike Killelea from Richmond's Legend Brewing Company and together established Center of the Universe Brewing Company (COTU) in Ashland.
In 2014, COTU developed a partnership with the Richmond Flying Squirrels to create a beer that would be sold both at the stadium on game day as well as in cans so fans could enjoy all year. Fans were invited to help select the name of the beer in an online poll. The potential names all had baseball references: Knee Buckler, Hanging Curve, Perfect Game, Brush Back and Chin Music.
"We wanted to include the Squirrels' fans and the fans of the brewery in picking the name because it gives them more of a tie to the brand, some ownership and fun as well," said Chris Ray.
The overwhelming majority voted to name the beer Chin Music, which is baseball slang for a pitch thrown near the batter's face. It's a technique Chris sometimes used as an Orioles player.
"There are times in a game when individual hitters might feel too comfortable or maybe they did something earlier in the game that wasn't very proper and you want to send a message to them that your team's not going to take it," said Chris, whose average fastball was in the 94-98 MPH range. "You definitely don't try to hit them, but you just want to make it known to back off."
Chin Music is an amber lager style beer.
"We wanted a beer that was not too high in alcohol and also very approachable," said Chris. "We wanted something with some flavor so we shied away from super light styles, but something you can enjoy when it's 100 degrees outside and not feel like you're going to pass out. When you go to a ballpark you have the option of a 16-ounce or 32-ounce beer so the last thing you want to do is put a 7% IPA out there and cause some problems for the Squirrels and people drinking it."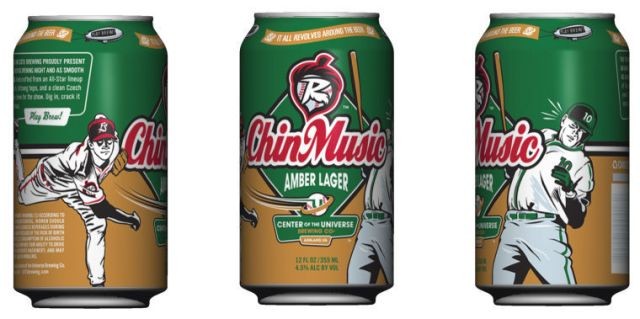 The recipe of a former COTU beer, Exit 89 Amber, was tweaked and packaged as Chin Music. It debuted on the Flying Squirrels' opening day of 2014.
Chin Music is the top selling craft beer at the stadium, but it is also a valuable promotion for the team because the cans are available at Richmond area grocery stores, gas stations and bottle shops.
"It's a great marketing tool for each party," said Chris. "The cans keep the Squirrels fresh in people's minds in the off-season. We do some various events with the Squirrels and it still ties me into baseball even though I'm not out there playing."
Interestingly enough, Chris Ray spent some time on the pitcher's mound as a member of the Baltimore Orioles farm team, the Norfolk Tides.
In Norfolk, Tides general manager Joe Gregory didn't need convincing as to the popularity of craft beer. He had long been a consumer. At Harbor Park, the team's riverfront stadium, visitors have a choice of 10 predominately Virginia craft beers to choose from including Devils Backbone's Trail Angel Weiss and Vienna Lager, Smartmouth Alter Ego, Steel Pier from Back Bay Brewing, Hardywood Park's Singel, and O'Connor's Norfolk Canyon Pale Ale.
"Growing up in Ohio, I've always been a fan of craft beer," said Gregory. "I moved here (Norfolk) seven years ago and I see the demand is here."
How popular is craft beer at Tides games?
"This is our most popular stand on the concourse," said Gregory. "Our next step is to get a bigger walk-in so we can get more taps."
Craft beer debuted in 2014 at the stadium in Norfolk. This season the number of taps was increased from six to ten. One of the additions is a new beer from O'Connor Brewing Company named Walk-Off Kolsch. The Tides provided wooden bats and baseballs to create a unique themed tap handle. O'Connor's logo was printed on the ball, which was affixed to the top of the bat. It certainly is a conversation piece and it says "Baseball and Beer" all over it.
O'Connor cellarman Johannes Speckheuer assembled the tap handles at 757 Maker Space.
Kevin O'Connor and Joe Gregory developed an idea last year for a themed beer for Norfolk's hockey team. Gregory is GM of both franchise clubs. Hop Trick Red IPA was exclusively available at hockey games and the brewery tasting room.
"We wanted to do something similar with the ballpark, but lighter, crisper," said Gregory.
He and O'Connor discussed styles and settled on a Kolsch.
"Instead of being in a hockey arena where everybody has sweaters on because its wintertime, we wanted to do something different than we normally do like a Kolsch, something easy drinking, clean and on a hot summer's day you can watch baseball all day and have a couple of them."
To fine-tune the recipe, Gregory and O'Connor sampled a variety of Kolsch beers from Germany and craft versions from America.
"We wanted to do something that was traditional," O'Connor said. "We didn't want to over-hop."
Like COTU's Chin Music, Walk-Off Kolsch takes its name from baseball. A "walk-off home run," for example, is a home run hit by the home team in the final inning to win the game.
Walk-Off Kolsch is 4.5% ABV and available only at Harbor Park and O'Connor Brewing Company. O'Connor believes having his beer available at the stadium is an opportunity to reach someone who might not otherwise consider craft beer as an option.
"There are a ca-zillion beer drinkers out there and you want to convert people one at a time," he said. "What better place than a sports arena where you're used to drinking big domestic beers all day long."