Words by Jeff Maisey
Photos by Kathy Keeney
What kind of year has it been for Devils Backbone Brewing Company?
In April, the craft brewery's Outpost (Lexington) and Base Camp (Roseland) facilities took home a Gold medal for Old Virginia Dark in the American-style Dark Lager category and a Silver medal for its flagship Vienna Lager in the Vienna-style Lager category at the 2014 World Beer Cup.
Then, in August, the brewery swept the Best of Show category at the Virginia Craft Brewers Fest, winning the coveted Virginia Beer Cup for the third consecutive year.
But it was Devils Backbone's performance in October at the 2014 Great American Beer Festival in Denver that really impressed.
In 2012, the brewery won Small Brewpub of the Year honors at the GABF. In 2013, after expanding production in a newly built facility in Lexington, they again enhanced their national prominence by scoring Small-Size Brewing Company of the Year in America.
With a brewing capacity of over 15,000 barrels of beer per year, in 2014, Devils Backbone was categorized as a mid-size brewery, the highest level for any craft brewery. The result: Devils Backbone was crowned 2014 Great American Beer Festival Mid-Size Brewery of the Year after winning four medals: Gold – Schwartz Bier (German-Style Schwarzbier), Silver – Turbo Cougar (Bock), Silver – Old Virginia Dark (American-Style Dark Lager) and Bronze – Alt Bier (German-Style Altbier).
To top things off, Nate Olewine, the lead brewer from the Outpost, and his team of 11 brewers were awarded Mid-Size Brewing Company Brewer of the Year.
Since it opened in 2008, Devils Backbone Brewing Company has earned an stellar 27 Great American Beer Festival medals, 7 World Beer Cup awards, and 15 Virginia Craft Brewers Fest medals with three consecutive Best of Show titles.
Before selecting Devils Backbone as Virginia Craft Beer Magazine's own 2014 Virginia Craft Brewery of the Year, I caught-up with founder Steve Crandall to get his sense of the brewery's success.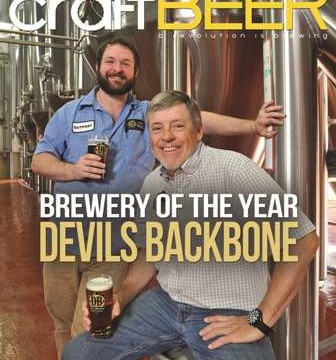 How satisfactory was it for the Devils Backbone brew crew to move up to the A-league and win top honor?
It's an amazing accomplishment for our team, and especially in winning in three categories in three consecutive years these national titles. We are amongst many great breweries across the country; we just happened to prevail on this day with more medal wins than they did.
Left Hand Brewing Company was breathing right down our neck. They had won three Silvers; we won a Gold and two Silvers. There were four of us that won three medals. What was amazing at this year's Great American Beer Festival was there were roughly 260 medals given and 220 breweries won a least one medal. It was spread out. You don't typically see that breadth of breweries winning.
One of my favorite breweries is Firestone Walker out in California. They won the Mid-Size Brewery a number of years. For us to be able to win the Mid-Size Brewery competition was, like, "Wow. These guys are one of my idols. We're rubbing elbows with those guys." Certainly there is Lagunitas and others. Some of these big companies making amazing beers don't necessarily win many medals.
Somebody came out with a statistic the other day that we've won more medals than any other brewery in the country since 2008. We are the most award-winning craft brewery.
You have experienced incredible growth that has exceeded your initial projections. How do you handle the success and plan now for future growth and expansion?
We have some very talented people on staff and we are a growth oriented company. I'm a Boy Scout. I like getting merit badges. People have asked me in the past, 'Do you want to get bigger?' Well, yeah. Why not? It's fun to hire people and have a big size staff. This year we hired an HR (Human Resources) guy. I've been in business for 30 years; I never had an HR guy. I initially said, "We don't need an HR person. Are you crazy? We'll just handle things ourselves." Now when somebody has an issue, I say, "Hey, go back to the HR guy." This is very liberating.
We have a full-time accountant on the staff; a full-time lab guy from Left Hand Brewing Company.
One of the amazing things that has occurred – and I'm sure I'm not unique in this in the east – but there really weren't many careers in the craft brewing world up until maybe five years ago. There are people who lived here and couldn't get a job here; they went away. For instance, our guy in the lab went to Colorado. We just got a brewer from Big Sky in Montana. Our lead brewer was with Victory. These people are coming home. Like Dorothy in the Wizard of Oz said, 'There's no place like home.'  But now there's an industry here where their home was that they can move back home to and excel in something that's local to them. I find that amazing that it is happening.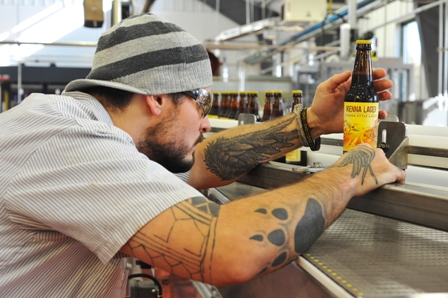 The success of Devils Backbone has gone a long way in raising awareness to our dynamic, yet emerging craft beer culture in Virginia, and to the point where breweries in California are looking to build manufacturing plants here. What is your impression of how Virginia is doing as an industry?
Yeah, I think it's obvious why they want to come here. We are certainly growing in the state. SB604 was a great piece of legislation that allowed that to happen. It was only three craft breweries that were involved with and funded that legislation – Starr Hill, Hardywood Park and ourselves. We didn't realize the significant impact that it would have. We were more interested in establishing ourselves and our taprooms, but it has been a great thing.
The Green Flash guys are great. We've done a collaboration with them. Stone has been a model brewery for me ever since I got into this business. They were part of my business plan. I chose a number of different breweries to equate my potential for success. Stone was on that list. They've done a lot of really good, right things.
I'm a little mixed on the emotion part of the state rolling out this red carpet for them. I would have preferred seeing them come on their own a little bit more. I would have preferred actually seeing the state support the breweries in the Richmond area. The state has been somewhat difficult to deal with. I know Hardywood was running into a lot of problems.
At the end of the day, Stone is certainly going to be a benefit to the craft beer community in Virginia. They're bringing a lot of excitement, I think, not that it wasn't already there. I can't tell you how proud I am of the 80-plus breweries we have in Virginia right now. They're all doing things in a very different way. Everybody has a little different slant on how they're doing things. It collectively makes the industry really exciting to be involved in. It's been interesting to see the history. It'll be interesting to see how Green Flash and Stone affects things once they get in place.
SB604 was a game changer. What are the next legislative steps you'd like to see from the state level?
There's some hindrance, for instance, in the events and festivals. Wineries can do remote licensing, which we (breweries) cannot do. That would be nice to see.
There are a lot of mixed messages we get from the state (ABC) on what's allowable in the state. It can be allowed in one part of the state but not in another. They have different agents doing that. That can be challenging especially when we are collectively as the Virginia Craft Brewers Guild trying to set direction.
To have festivals…in a lot of places it is required to have a non-profit run it or be part of it. That gets a little dicey at times and makes a sort of hindrance to the growth of the industry, not that it's not important to support non-profits.
Virginia craft beer consumers are fortunate to have access to Devils Backbone beers, but I imagine other markets must be clamoring for your award-winning products. What are you future growth plans as a brewery?
Certainly we're now researching North Carolina. We've been doing that for a couple of months. We met with all the distributors in North Carolina. Over the course of the next two months we're going to be making selections.
There are some great things going on in West Virginia that we'd like to be part of. Tennessee, Kentucky, Ohio, Pennsylvania are all areas we've been in contact with distributors on and we're getting a lot of feedback from those guys.
It's hard to see beyond that. We're having some fun with some overseas projects we're doing. We're doing one right now in England with JD Witherspoon in 930 pubs. We designed an American IPA for their market with 5.2% ABV. They go for lower alcohol and drink more beer. Typically, they have eight to 10 pints.
We have people from all over the world talking to us wanting to have some sort of collaboration. It's hard to dilute your focus. That's a thing you have to be careful about. We are from the Heartland of Virginia. The question comes: What is local? North Carolina is very local to us. We have beach cottages there. We've married people from there. We've gone to college there. We have relatives there. And the same is true in Tennessee, Pennsylvania and Ohio. So we think local stretches beyond our home state. We're excited about trying out those markets.
As large as your Lexington facility currently is will you have to expand even further to accommodate demand in new markets such as North Carolina and Tennessee?
Yeah. We're in a constant expansion mode. We never seem to be able to catch up with demand. Everybody tells me it's a great problem to have, but it is a very worrisome problem if you're under-serving your existing markets.
We've learned over the last couple of years how to minimize the impact of our growth on our existing markets. Basically we have to keep excess capacity to be able to fill the spikes we do get.
We're continuing to grow in our existing markets in terms of different offerings and packaging. One of the newest things we're introducing is 12-packs for both our Vienna Lager and 8-Point IPA. We have a variety pack, but we don't yet have statewide distribution on those. We're working on getting that nailed down.
The original building in Lexington was supposed to take us to 10 years and 30,000 barrels, but it took us to two years and 60,000 barrels. We built a second building mainly focused on packaging, and now we're making additions to that building. We have a 120,000 barrel brew-house coming. We are looking at the infrastructure on the site and the placement of different pieces at this stage to not hinder us to reach what we think a maximum capacity is for the site, which is about 250,000 barrels. With that we'll have 40 tractor trailer loads coming in and out every day. Logistically you have to understand how that impacts your facility down the road. It's a big challenge and kind of exciting.