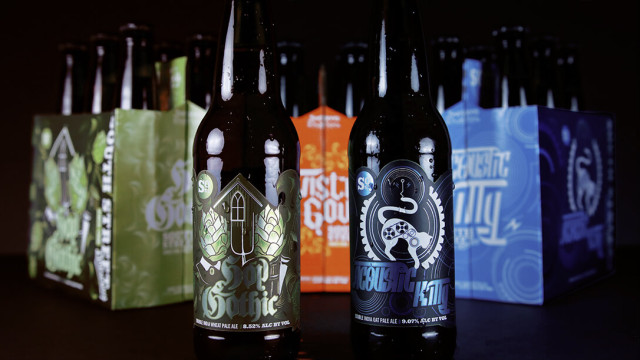 By Jeremy Bender
South Street Brewery, in downtown C-Ville, with Watermark Design has come up with some outrageously cool labels for one of the brewery's more experimental series.
"We wanted our 750's and our Barstools and Dreamers series to be high-end in every possible way:  foiled labels, individual die-cuts, intricate designs," said Mandi Smack of South Street Brewery/ Blue Mountain Brewing Company. "Our core South Street line has already been given a national award for graphics so we had to go pretty big to top that.  This is what happens when you put together brewers, sales staff, administrative, marketing and management in a room and get input from everyone. The creative team worked every step of the way with our designers and the labels and packaging turned out spectacular."
Indeed, the metallic looking labels really pop on the black glass bottles of Devil Fish (Barrel-Aged American Wild Ale), Anastasia's Chocolate Fantasy (Russian Imperial Stout) and Hop Gothic (Wheat Double-IPA).
Adventure Buys Blue & Gray
After 15 years in business, Blue & Gray Brewing Company founder Jeff Fitzpatrick has sold his Fredericksburg production facility and restaurant/brewpub to Tim Bornholtz, Stan Johnson and John Viarella of nearby Stafford, Virginia's Adventure Brewing Company.
Adventure had been operating on a three-barrel brewing system. Blue & Gray's 20-barrel system will greatly enhance its capabilities, serving as Adventure's production facility while continuing to produce some of Blue & Gray's flagships such as Stonewall stout and Fred's Red.
Fredericksburg Readies for Red Dragon Brewery
Fredericksburg City Council gave the green light to Red Dragon Brewery's request to open a brewery in part of a warehouse at 1419 Princess Anne Street, according to the Free Lance Star newspaper. Owners Thomas Evans and Daniel Baker plan an initial production of 205 barrels of beer annually to be served in an English pub-like setting.
Beer Study in Colonial Williamsburg
Colonial Williamsburg presents its first conference devoted exclusively to the study of beer the weekend of March 18-20. Since earliest times, humans have consumed some version of beer. As civilization progressed, so did brewing.  "Ales through the Ages" offers a journey through the history of beer with some of the world's top beer scholars, who will explore ancient ales and indigenous beers of the past, examine the origins and consequences of industrial brewing, discover the ingredients brewers have used through time and share a toast to brewers past.
Speakers include beer writers Randy Mosher, Martyn Cornell, and Stan Hieronymus, beer scientist Karen Fortmann of White Labs, and brewmaster Mitch Steele of Stone Brewing Company and a number of other experts and scholars.