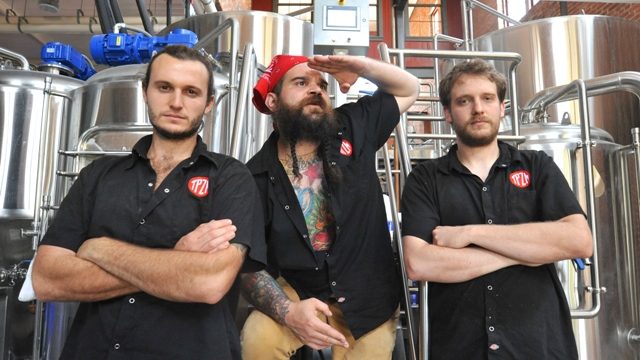 Words by Steve Deason & Jeff Maisey. Photo by Kathy Keeney
When asked why the first beer he brewed at Trapezium was a Czech Pilsner when he had never brewed a lager before, Brewmaster James Frazer answered, "You gotta go big.  This whole project has gone big. It was a calculated risk and that's the process here, everything is a calculated risk.  We are taking a chance opening up in Petersburg.  We're taking a chance starting with seven sixty-barrel fermenters … and a bottling line.  Now we have 1k gallons of it (the Pilsner) setting in a fermenter.  It went over so well we brewed 30 barrels of it."  Although this is the first brewery to open in Petersburg, Frazer himself might have been the biggest calculated risk of all.  That's because Frazer had never worked in a brewery before. Frazer sang and played guitar for That Band with the Fat Kids based out of Bedford, Virginia until the band broke up.   Frazer missed being creative and started home brewing after reading Bryan Leavelle's blog on one gallon all-grain stove top brewing.   "He made it look fun and easy, so I started brewing all-grain one gallon batches," says Frazer.  He knew Leavelle from when they were touring with different bands.  Leavelle later opened Our Mutual Friend Brewery north of Denver, Colorado.  No longer touring,   Frazer worked 60-70 hours a week at a corporate print shop and started a family.  He increased his brews to three gallons at a time and soon had a growing loyal fan base for his creative beers like Coconut Milk Porter.   With the fans urging and financial backing he started entering brewing contests and won 26 competitions in just 15 months.  One of his fans even paid for airline tickets so Frazer could compete in the Great American Beer Festival Pro-Am competition in Denver.  He didn't win but he got to pour his Black IPA, which garnered press both nationally and locally.
"I like how I perceive an IPA should be brewed," says Frazer. "I used pretty big, dank Pacific northwest hops that worked very well with the roasted malts."
The publicity led to a call from Dave McCormack asking if he wanted to open a brewery.   McCormack is President of Waukeshaw Development, which brings new life to historic properties with the help of tax credits.
Frazer sent some beer to McCormack to sample.
"Dave was having a World Cup party," Frazer explained. "I sent a case of white ale, and then I get a call during the middle of a soccer game. He said, 'This is the most amazing white ale I've ever had.' Dave's go-to beer is the Allagash White, so for him to say that it was a big deal."
Soon Frazer started working on the flagships for the proposed brewery while still working long hours at the print plant.  When Frazer first visited the brewery location in Petersburg it looked "like post war Berlin."  The old Coal and Ice House building in Old Town Petersburg had trees growing out of it before being developed by McCormack into the brewery and residential property.
"I bought this building in 2007," said McCormack. "It had been an ice house since the late 1800s. It was cut-up and structurally damaged."
Renovations on the brick building began in the summer of 2015.
"We did hundreds of thousands of dollars worth of brickwork alone," McCormack said. "We love the history of the building and are using historic tax credits to get to where we want to be from a development standpoint. Our goal was to showcase the building and what it was – the nature of the ice house – but also feel like we're inhabiting a bit of a ruin. We did very little to the walls except to stabilize them."
New concrete floors were poured. All new brewing equipment was put in place.
McCormack credits the various city departments of Petersburg in making the process relatively easy.
"The code officials and fire department have been amazingly supportive in interpreting codes to allow things like this to happen," he said. "We haven't had a single bump in the road. This is a big economic development piece for the city, and I think everyone recognizes that."
Frazer said at each stage he felt like it "wasn't real," but this ended suddenly when the equipment arrived in late January.  The first brew-day was May 7.  The team brewed nine full batches in a row scaling most up from his three gallon recipes to 1,118 gallons without a serious hitch.  Trapezium opened to the public June 18 and is already ordering more tanks.  Frazer credits this amazing start to his team which includes Seth Johnson formally lead brewer at Sunken City Brewing Company at Smith Mountain Lake.   Frazer describes handsome Travis Spain as a young artist and mushroom farmer knowledgeable about microbiology.  The most recent hire for the brewing team is David Steeves from Flying Dog Brewery.
Trapezium's flagship beers are Lucky 47 White Ale, a Belgian Wit with Chamomile 5.2% ABV; Lucky 39 IPA, brewed using a Frazer technique he calls Bunny Hopping,  7% ABV; Lucky 27 Session IPA – Chinook and Eldorado Hops 5.0% ABV, and Lucky 75 Lemon Honey Ginger Pale Ale (Imperial) 7.6% ABV.  All flagship beers are available in twelve-ounce bottle six packs except Lucky 75 which is sold in a four-pack.  Frazer says it has taken three brews to get the lemon just right in the very popular Lucky 75.
"Our Lemon Honey Ginger is a horse of another color," said Frazer. "There's nothing like it anywhere."
Frazer is also inspired by teas when making beer.  He used chamomile and rosehips in the while ale.
"When you're using flowers and teas it just goes back to the balancing act of making beer between malt, hops and water," he said. "You can select a very floral yeast, but if you want to elevate the complexity you can use hibiscus or chamomile that are going to complement the yeast and the hop selection without overpowering it."
When asked to compare Trapezium's flagship lineup of beers to an album of music Frazer, without hesitation, replied Pink Floyd's "Dark Side of the Moon." The balance of styles on the menu board has a certain flow like the music of the iconic prog rock band.
"My feeling towards craft beer is that we want to make approachable beers," said Frazer. "We want as many people as we can to enjoy our beer. We want to convert people over to craft beer. If we make gateways beers it's going to help the scene all the way around."
Frazer is excited about a mango beer he is working on but has a tangerine saison coming out first.  Frazier developed an American Wheat Beer recipe with peaches he calls James and the Giant Peach.  Using this as a base recipe Trapezium will have a series of such beers this summer with blueberries, then blackberries, and then peaches.  For the fall plans are to brew with vanilla beans and later roasted pecans with maple syrup.   The brewery will also brew apple and pear cider for their taproom on occasion.
Trapezium wants to be known as the fun brewery.   The taproom has a brick oven right behind the bar where everyone can watch their pizza maker spinning the pizzas in the air. They keep guitars and banjos setting around for breaks and Frazer says "McCormack shreds a mean accordion" as he too was a professional musician.   "It's a fun place to be, an exciting place to be and we have all the tools we need to do our job well," according to Frazer.  We have very sophisticated brewing equipment.  We have a 110 pound fruit press and "our bottling machine does 12, 16, 22 ounce and 750s with the push of a button."  The brewery also has a ten-barrel yeast propagator which provides very healthy yeast in quantity.   Frazer explains this prevents "tired yeast" from producing an off flavor in their beers.  "Another big off flavor is oxidation and we avoid that by not pumping our beer, not filtering our beer, not mechanically separating any of our beer." Frazer goes on to say, "We can be very creative here.  We don't have any restrictions on ingredients we can or can't use; no restrictions on styles we can or can't do.  If it's a good idea and we can source the ingredients, we're going to do it."
Frazer likes to go big with creative ingredients like tea but only to a point.  "I want the beer to taste like beer, I want (the adjuncts) to complement the yeast and other ingredients.  Clean balanced product is what people should expect.  No off flavor, balanced.  Balance is very important, if flavors don't balance, it's not a good beer to me.   We make very balanced IPAs, we want you to enjoy the food you are eating and your next beer.  If you go somewhere and drink a DIPA it's likely you won't taste much after.  Here our IPAs are different, the bite is on the back, it's not a palate wrecker, it's a balanced beer.  Food helps me formulate recipes.  If I am going to use strawberries in a beer, I look at my wife's or my mom's recipe books and see what is paired with strawberries such as lemon juice and zest, so I will use that too."  Frazer's creativity goes beyond beer recipes.  As an example he says he plans to reduce their honey lavender triple for a salad dressing, marinate chicken with it, and then enjoy both with a glass of the triple.  "We continue to think, what else can we do with this, it elevates the beer even more."
Trapezium is currently distributed in central and coastal Virginia. The taproom is open at 423 3rd Street, Petersburg Virginia from Wednesday through Sunday.   Waukeshaw is also building Big Trouble Distillery nearby.   Frazer says, "Petersburg has a great vibe.  It's like you can feel it being reborn."   For Frazer's fans in Bedford he is happy to share he will also be involved with a brewery that will open there next year!