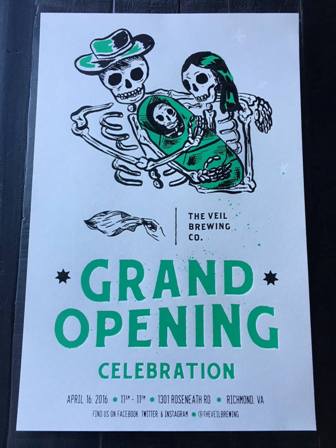 By Steve Deason
The Veil Brewing Company will be the first brewery in Richmond to include a koelschip or coolship when it opens Saturday, April 16.   Brewer and co-founder Matt Tarpey explained that wort will be pumped into this broad open pan on their Roseneath Road location "roof" where it will cool overnight.   (Wort is the sugary liquid resulting from steeping grain and then filtering out the solids.)    Since the koelschip brewing vessel is open to the air, wild yeast in the air inoculates the wort while it is cooling.  At a second location on Dabney Road, the brew will put into barrels to begin fermentation.  Conditioning, blending, sometimes adding fruit, and bottling will all be done in the traditional fashion of "Lambic / Gueuze" for these beers at this second facility.  Because of the exposure to wild yeast and bacteria, the flavor of these beers should be complex and are often described as funky.   Depending on their acidity, they may be tart or sour.   This process of brewing is referred to as spontaneous fermentation but it takes quite a lot of time.   The "Gueuze style" involves blending young (1 year) "Lambic style" beers with older ones (2-3 years).   The Veil Brewing co-founder, Dave Michelow, says Tarpey often quips "if he could brew spontaneous all the time, that's all he would do, but he can't get investors to wait four years for revenue."  The Veil Brewing will be the only brewery in Virginia brewing in this traditional style.   The five hundred plus barrel space will also be used to age other styles of beers.
Patrons of the art of brewing
The Veil Brewing Company co-founder, Dustin Durrance, declares this is the "Matt Tarpey Show."   Michelow echoes this sentiment and says he cannot believe they got the opportunity to help bring someone with Tarpey's skills to Richmond.  Durrance works in the financial world.  Dave Michelow has founded several legal service companies and is a partner in the Barrel Thief Wine Shop and Café.   The two met in a wine cellar at a New Year's Eve party and ended up talking about beer.    Durrance met Tarpey at Hill Farmstead Brewery at the suggestion of Dave Witte, drummer and beer connoisseur.   They stayed in touch, swapped beers and Durrance let Tarpey know that if he ever wanted to start a brewery, he could help.   When a family need arose, Tarpey told Durrance he was interested in opening a place in Norfolk or Richmond as long as he would have creative control.    Michelow has been devoted full time to the brewery launch and will be head of sales.   Newly created Reverie Distribution will distribute The Veil Brewing Company products as well as other select breweries in the future.
Something a little different 
Tarpey, Michelow and Durrance are all passionate about funky and sour beers.  However, this is not all the three have planned to differentiate The Veil Brewing Company from others.  Tarpey says their goal is to contribute to the Richmond and Virginia beer offerings, not just compete.   I plan to brew "those one offs and seasonals everybody brews once or twice a year.  That's what I want all my beers to be like."    A three barrel steam kettle pilot system will be dedicated to true one offs, as well as test batches and collaborations exclusively available in their tasting room.   The main system uses a fifteen barrel brew house.   Nine fermenters provide two-hundred and twenty-five barrels of capacity and lots of flexibility.   Tarpey says this flexibility will ensure he can maintain a fresh, one to two week supply, of a wide variety of beers.
With "double batching" Tarpey projects the brewery can produce up to forty-five hundred barrels per year.    However Tarpey makes clear his focus is on quality not quantity saying he has "no interest in ever brewing over ten thousand barrels per year."   To protect this quality, avoid the risk of contamination or the loss of carbonation, The Veil will not sell or fill growlers.   Instead small quantities of tasting room exclusives will be available in 32 ounce cans called Crowlers which were developed jointly by Oskar Blues Brewery and the Ball Corporation.
Tarpey's creative control includes the tasting room.   At just under a third of the eleven thousand square foot main building, Tarpey says they have spent much time and money creating a place for comfort and style.   Details like lounge chairs, backs to the bar stools, grey and black finishes, concrete bar, and special lighting will create a lounge or restaurant feel.   No detail is too small for Tarpey who vetoed beer list chalkboards as inconsistent.  At The Veil, the list of beers will be displayed using a fabric board with push in white letters "like old-fashion specials boards from restaurants."
Not another color of Ale 
Tarpey expressed that if the brewery's standard offerings included red, golden or brown ale he wouldn't be true to his goal to contribute, he would feel like he was copying others in the market.   Instead, the initial three "year round beers" will be:
Master Shredder: Wheat IPA with citrus.  The citrus planned is blood orange but will vary based on season and availability. "Extremely hoppy and citrus forward with low bitterness"
Crucial Taunt:  Double IPA named after the girlfriends band in the Wayne's World movie.  "A proprietary hop blend dominates the aroma and palate. Dank and full of grapefruit/citrus notes. Very minimal malt presence and bitterness"
Hornswoggler:  Robust Chocolate Milk Stout named after the creatures in Willy Wonka & the Chocolate Factory that eat the Oompa-Loompas.  "Medium bodied, semi-sweet stout, packed with notes of cocoa, coffee, and creamy milk chocolate"
These beers and select others will be sold in 4 packs of 16oz cans.   The brewery will initially use Old Dominion Mobile Canning.   Plans are to add their own canning line at which time they can also package their kettle sour beers.  Other beers planned include an unfiltered, therefore hazy Czech style pilsner called Child Support.  Envisioned as a single hop beer, the variety may vary.   The tasting room offerings will include a rotation of kettle sours / Gose, barrel fermented mixed fermentation, more hoppy beers, and even a non-alcoholic root beer.
A passion for learning
Tarpey hates the term Brew Master.   He says it doesn't make sense as no one knows everything about every style of beer.  Instead Tarpey asserts "I consider myself a student and I always will."   Tarpey spent ten plus years as lead singer and song writer in various metal / hardcore bands.   In between gigs, he worked construction.   Learning O'Conner Brewing Company had opened two blocks from where he was working in Norfolk; he asked the owner and the brewer if he could be a volunteer.  Tarpey kept asking until the answer was yes.   After volunteering both before (5-7AM) and after (4:30-7PM) his construction job for six months, he was hired as a shift brewer.
Tarpey's willingness to volunteer or intern led to several other brewery positions and internships at a brewery in Belgium.   The first was Portsmouth Brewery in New Hampshire where Tarpey was mentored by brewer Tod Mott.   Tarpey says he learned much about yeast, malt, and historical styles from Mott while brewing over forty styles and hundreds of beers as an assistant brewer.    At Portsmouth Brewery Tarpey created a White IPA called White Lightning which was praised by Mott and many others.   After Mott left Portsmouth Brewery Tarpey became a shift brewer at The Alchemist Brewery in Vermont, home of the popular Double IPA Heady Topper.   While at The Alchemist, Tarpey volunteered Fridays at the highly acclaimed Hill Farmstead Brewery also in Vermont.  He landed an assistant brewing position there in July 2013 that he left in May 2015 to start The Veil Brewing Company.   Tarpey loved working with The Alchemist's extensive barrel program.  "All of the beers brewed there were phenomenal.    I believe Shaun to be the best brewer I've ever met and his beers speak for themselves" shared Tarpey about Hill Farmstead owner / head brewer Shaun Hill.
Tarpey met Jean Van Roy, brewer and owner of Cantillon Brewery at a festival and asked if he could intern with him.  Cantillon Brewery has been brewing using spontaneous fermentation in Brussels, Belgium since 1900.  Matt said during his two weeks internship in January of 2013, Van Roy shared he's had hundreds ask to intern and he had no idea why this time he said yes.  Van Roy added that Tarpey would always be welcome.   Tarpey interned for another week in December of 2014 and explains "It was a training period of everything involved in lambic production. From brewing, to dealing with barrels, to blending, to packaging."   At an event in May at Allagash Brewery, Tarpey asked for and received Van Roy's blessing to brew in the spontaneous style at The Veil Brewing Company.   Out of respect, he will not refer to his beers as Lambic or Gueuze.   Tarpey plans to keep learning by returning to Cantillon every other brewing cycle, "if Van Roy will have him."