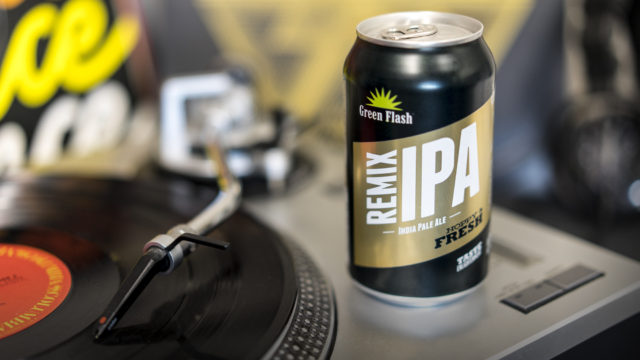 STAFF REPORT
Green Flash Brewing Company, with production facilities in San Diego and Virginia Beach, announced it was cutting 15% of its workforce (33 people), primarily in administrative, marketing and events planning roles. Among those cut in Virginia Beach was popular marketing/events/promotions guy Eric Leach.
The brewery, known for its ultra hoppy West Coast IPA, is also shrinking distribution, cutting 32 states and instead focusing on markets closest to its manufacturing facilities.
"Virginia has been awesome," said Mike Hinkley, Green Flash Brewing Company co-founder and CEO. "Sales in the state are booming. Tasting room is fantastic. We closed some big East Coast states far from Virginia like Massachusetts and Florida so we had to scale production in Virginia Beach a little. Very sad to see six of valued VB team leave the company, but it had to be done."
In 2016, Green Flash was the 37th largest craft brewery in America.
Green Flash's dilemma is similar to other large craft breweries seeking a greater nationwide footprint. More and more, consumers are choosing craft beer produced locally. That's not good news for the likes of Sierra-Nevada and others.
Green Flash's focus on more local markets will be welcomed in Virginia. The brewery opened its Virginia Beach production facility and tasting room in 2016.
Green Flash's San Diego brewery will ship to Arizona, California, Colorado, Hawaii, Nevada, Texas, Utah, and Nebraska, while the Virginia Beach brewery will distribute to Delaware, Maryland, New Jersey, New York, North Carolina, Ohio, Pennsylvania, Tennessee, and Virginia.
One of Green Flash's fresh beers for 2018 is Remix IPA, "a new IPA showcasing old-school hops and a modern IPA flavor profile."
"Remix IPA is an extremely exciting new single IPA release for Green Flash," said Mike Hinkley, Green Flash Brewing Co. Co-Founder and CEO. "Our brewers are taking the skills learned over the past 15 years of brewing awesome IPAs to create the next iconic front-line beer in the Green Flash portfolio."
Remix IPA features piney and dank flavors from Green Flash's "legacy hops" – Cascade, Columbus and Summit. The metallic gold packaging offers a dynamic brand story that draws a parallel between hip hop DJs and the Green Flash brewers – suggesting that the brewing team is skillfully remastering both ingredients and process to create the brand's next big hit.
For Virginia craft beer drinkers, at least, Green Flash is local. Drink up!