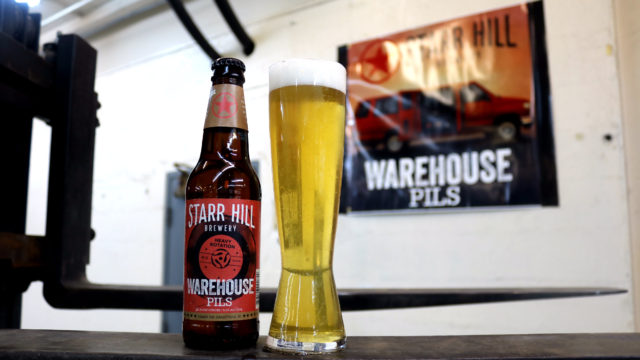 By Jeff Maisey
When Green Flash Brewing Company brewmaster Erik Jensen was in Virginia Beach for the November grand opening of the San Diego craft brewery's East Coast production facility, he made a statement that drew gasps and utterances of surprise.
Jensen was taking part in a live, onsite "Meet the Green Flash brewers" Q&A session when a guy in the seated audience asked, "IPAs are hugely popular among craft beer drinkers. What do you think will be the next big thing in craft beer?"
Jensen responded immediately, "It will be what the brewers are all drinking now at the end of their workday."
"What's that?" asked the visitor.
"Lagers and pilsners," said Jensen.
Yep, lagers and pilsners, those good ol' fashioned, nothin' fancy beers brought to the shores of America by German and Eastern European immigrants.
For many Virginia craft brewers this doesn't come as a shock and is what they've been hoping for. I recently reached out to several brewers and brewery owners and each were eager to comment.
"We've seen a lot of the trends over the years, from extreme IPAs to sours to now potentially lagers and pilsners," said William Spence Jr., director of operations at St. George Brewing Company in Hampton. "We welcome this new look at pilsners and lagers because many haven't realized just how flavorful different lagers and pilsners can be. For example, with lagers you can see the whole variety from light yellow lagers to Vienna-styles to dark lagers like Schwarzbiers. With pilsners, just a change of hop type can change the taste and flavor. We've been making traditional lagers and pilsners for years. The customer demand that drove us to produce and sell this year-round reflects a pent-up desire for a well-crafted beer that is easier on the palate and truly sessionable."
"Lagers, and particularly pilsners, are some of the most interesting beer brands to make and have very good qualities, generally as the natural session beers," shared Starr Hill brewmaster Robbie O'Cain.
"Pilsners are my favorite style right now and I think the subtle flavors and nuances are overlooked by a lot of beer aficionados," chimed in Dave Gott, vice president of operations at Richmond's Legend Brewing Company.
Alexandria-based Port City Brewing Company won a gold metal last year at the Virginia Craft Brewers Cup competitions for its Downright Pilsner in the Czech Pilsner category. Port City owner Bill Butcher has a unique perspective having come to the world of craft beer from the wine business.
"In my many years in the drinks business, I have seen this play out before," said Butcher. "Tastes evolve, and trends come and go. It is like a pendulum that swings back in forth. I saw this in the '90s as ultra ripe, high alcohol California Cabernets and Zinfandels came into vogue. People were looking for more extreme flavors, and wine writers extolled the mouth coating richness of these massive fruit bombs. The company I worked for always valued balanced flavors, finesse and elegance, and our wines sometimes took a back seat in the press to these extreme flavored wines. Over time, drinkers had had enough of the palate fatigue that occurred after a few sips, and began to seek out more balanced, easier to drink options, such as Pinot Noir and other more restrained styles. Watching the trend come back to us was a vote of confidence in our winemaking philosophy.
"We are seeing the same thing in craft beer," Butcher continues. "Double IPAs, and Imperial 'This' and 'That' have had a good run over the past decade, and now many drinkers' tastes are evolving to want more balance and finesse. Lagers, Pilsners and some well made Pale Ales will be sought after as this pendulum swings back the other way. We fully embrace this latest evolution of taste, and we are ready for this! We have always brewed towards balance and elegance, and our Downright Pilsner is a great example of this, as is our Essential Pale Ale."
Norfolk's Smartmouth Brewing Company is known for its award-winning IPAs and its popular Alter Ego Saison, but sees opportunities for growth with its Safety Dance Pilsner.
"This year, Safety Dance will be getting a lot more focus because we definitely see that as an area of growth and interest for people who still want all malt beer with traditional ingredients, but with no rice or corn in it," said Port Hardy, president, Smartmouth Brewing Co. "We use a German yeast strain and German hops in ours. Even if you're an IPA or double IPA lover, sometimes when the weather is nice you want just a straight, easy-drinking nice pilsner or lager. I do think there'll be a resurgence in that."
Wendy Hallock, co-owner of Chaos Mountain Brewing in Callaway, Virginia, also sees these styles doing well in her neck of the hills.
"Our Shine-Runner Czech Pilsner is really gaining traction and we made the decision to make one as we needed a lower ABV beer in our portfolio," Hallock shared. "It's very beloved and we have started promoting it more."
O'Connor Brewing Company has experienced tremendous growth since opening almost six years ago. O'Connor's strong selling flagships include El Guapo IPA, Norfolk Canyon Pale Ale and O'Connor Dry Irish Stout. One style not in its product line is lager, but that's about to change this March with the unveiling of R&R Lager.
"There's that real craft beer, geeky market, and then you've got that other market that drinks everything," said owner/brewer Kevin O'Connor. "You've got people who want to focus on New England IPAs and Imperial Stouts, but I think people just want a good damn beer. I do think the entire lager category is going to make a huge resurgence here in the next few years. You saw it with Devils Backbone Vienna Lager. You're starting to see a ton of breweries put together some good lagers. I think it's not just going to be a trend; if done right it's going to be huge."
O'Connor did a test batch of R&R Lager and shared it with key accounts for feedback.
"A lot of people loved it," said owner/brewer Kevin O'Connor.
The O'Connor brewing and business team have been running the numbers on how the addition of R&R Lager will impact its production schedule and fermenting tank availability as the brewery continues to satisfy the high demand for its popular and growing core brands.
On the business side of the equation, lagers present a dilemma.
"An ale typically takes 2 to 4 weeks to make depending on what type of ale," O'Connor said of the process of producing the style. "But a lager can take anywhere from 4 to 8 weeks. So when you're looking at it as a business…that's why craft brewers typically make nothing but ales because you can turn them a lot quicker. The typical ale is top fermented at warmer temperatures, lagers are bottom fermenting at colder temperatures for a longer time."
"All malt lagers and pilsners are a celebration of patience and meticulous raw material selection," said O'Cain at Starr Hill. "Due to the yeast strain used, and the overall target for beer flavors, it is very difficult to hide flaws in lagers and pilsners. Some of these beers have a very refined and delicate flavor profile and aren't as in-your-face as many of the ale styles. This allows any flaws to show a much more pronounced character in these types of beers. Lagers play a particularly important role for Starr Hill as they are a significant portion of our brand identity."
The wisdom of the wait is also not lost on Bill Butcher. Lagers and pilsners will pay-off.
"The extra time is definitely worth it," Butcher said. "It is more challenging, yes, for sure. It has required us to invest in more tanks in order to be able to brew more of our Downright Pilsner. But when we see the demand growing and we see more and more accounts putting our Pilsner on tap, it is very satisfying for us. It lets us know that we are on the right track and brewing beers that the market appreciates."
William Spence often makes the statement that if you want to know if a brewery has high standards then first taste their lager or pilsner. If they produce a good lager, then the others will likely be appealing.
"Making a clean lager is definitely a test of a brewery, from its brewing staff's skills to the technical schematics of the equipment to just the degree to which a brewery cleans its equipment and workspace," Spence said. "Because lagers can reveal so much, a less-than-rigorous cleaning practice can be readily apparent. A brewery's water source also factors in – if a brewery does not invest in certain filtration or treatments, it will be apparent in their lagers and pilsners. Because we have a brewer who trained in Germany and has great expertise in making lagers and pilsners, and because we invest the water treatment resources and tank time, we think we've been able to make a product worth the time and investment. Our customers seem to agree–which is why we began making the Oktoberfest-style lager year round–so we continue with that practice."
So, in the craft beer world, will lagers and pilsners make a strong showing in 2017? Remember this: In 2015, the Huffington Post reported on the Top 20 beers sold in the United States. They were all lagers produced by Big Beer with the exception of independently-owned Yuengling Lager. One concern expressed off the record by some craft breweries is that their distributors essentially pay their annual expenses thanks to the sales of the large corporate lagers. If craft breweries produce challengers this could adversely impact sales of PBR, Miller Lite and Bud Light. In theory, perhaps. Certainly, the strength of Devils Backbone's multi-award-winning Vienna Lager would suggest otherwise, though it could also be what Anheuser-Busch-Inbev found particularly appealing about their brand.
"Predicting the beer market is very difficult," concludes Starr Hill's O'Cain. "Brewers have been drinking craft lagers and pilsners for quite a while and have constantly said that pilsners and lagers are the next big thing. It is hard to say if they will ever match the craft sales of other styles like IPA but I would like to think that people, above all, appreciate a damn well made beer. If it is lagers Tuesday, Wheats Wednesday and IPAs Thursday, it makes little difference to us."
Virginia Craft Lagers & Pilsners to Try
(These were awarded medals in 2016 by the Virginia Craft Brewers Guild)
Sunken City Brewing Company, Dam Lager
Back Bay Brewing Company, Gringo
Escutcheon Brewing Company, John Riggins' 4th & 1 Pilsner
Old Bust Head Brewing Company, Oktoberfest
Starr Hill Brewery, Jomo Vienna Lager
Caboose Brewing Company, Crossroads Vienna Lager
Port City Brewing Company, Downright Pilsner
Lost Rhino Brewing Company, Rhino Chasers Pilsner
Lickinghole Creek Craft Brewery, Pony Pasture Pilsner
Fair Winds Brewing Company, Hells Navigator
Three Notch'd Brewing Company, Brew Betties Maibock
South Street Brewery, My Personal Helles
Mad Fox Brewing Company, Kolsch Ale
Ornery Beer Company, Kolsch
Bull and Bones Brewhaus, Kolsch