By Mark Thompson
The craft brewing industry in Virginia is beginning to come of age.  What began in earnest in the early 1990s as a small group of entrepreneurs attempting to bring more flavorful beer to consumers has matured into a multimillion dollar industry in the state.  When you step back to look at where craft brewing started and where it is today, the accomplishments are amazing.
Throughout the 1990s and most of the 2000s the pace of brewery openings in Virginia was fairly static, with one or two opening and then a closing or two.  Recently there have been some legislative changes that have dramatically opened up Virginia to become a real player on the national stage.  Most notable of the legislative changes was the passing of Senate Bill 604, in 2012, that allowed breweries in Virginia to sell beer for consumption out of their tasting rooms.  This bill helped to lower the barrier to entry in the state and has fueled the growth of the number of breweries.  Virginia breweries have more than doubled in numbers over the last three years.
The growth and associated economic impact of craft brewing in Virginia is poised to reach a critical mass with the recent announcement that two large national west coast craft breweries are set to build new production facilities in Virginia.  Two California breweries, Green Flash and Stone Brewing Company, have announced plans to build breweries in Virginia Beach and Richmond respectively that will add more brewing capacity to the state in one year than is currently being produced by all of the Virginia breweries combined.
Richmond Case Study
To illustrate just how far craft brewing has come in Virginia in such a short time, Richmond gives a good reference point to start.  The most recent history of craft beer in that city shows some starts and stops over the last couple of decades only to establish itself for the long term very recently.
In his recently published book titled RICHMOND BEER, noted beer author Lee Graves gives a fascinating look at the history of beer in Richmond Virginia.  The chapter on Craft Beers first wave into the Richmond market paints a very interesting story that illustrates just how far the industry has come in such a short time.
In 1982, the first commercial craft brewery in Virginia opened its doors in the Virginia Beach area.  The brewery was called Chesapeake Bay Brewing Company and it brought home the first Great American Beer Festival medal for the state for its Chesbay Dopplebock Lager in 1986.
Richmond, Virginia got its first brewery in 1993 when Richbrau opened its doors in the Shockoe Slip area of downtown. That same year Legend Brewing Company began brewing on the south side of the James River.  Richbrau and Legend were the anchor breweries of Richmond during the mid 1990s as America was experiencing the first wave of explosive growth in craft brewing.
Nationally, as well as in Virginia, this explosive growth was to be very short lived.  Richmond added its third brewery in 1995 with James River Brewing Company; it only lasted two years.  James River sold to Mobjack Brewery in 1997, which then went belly-up in 2003.  1995 also was the year that Richmond got its fourth brewery when Williamsville Brewery opened a brewery inside of Kings Dominion theme park. Williamsville later went on to open up Main Street Brewery in 1999.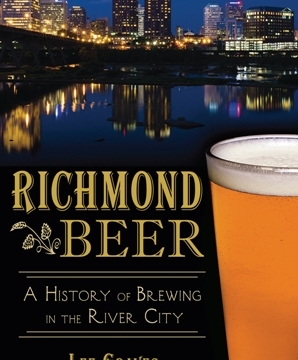 As the decade drew to a close Richmond had established itself as a craft beer town on the rise supporting one production brewery and several brew pubs.  The favorable winds were not to last.  By 2004 there were only two breweries left in Richmond (Legend and Richbrau).  Five years later at the end of 2009 Legend stood alone as the only viable craft brewery in Richmond.
It was not until two years later that Richmond would regain a second brewery when Hardywood Park Craft Brewery opened in 2011.  For the first 18 years of craft brewing in Richmond the number of breweries rose from one to four and then back to one again.  Compare this with the last 3 years (2011-2014) when the number of breweries in Richmond now stands at 13 in operation. (List of active breweries in the greater Richmond area: Ardent Craft Ales, Center of the Universe, Extra Billy's Smokehouse and Brewery, Hardywood Park, Isley, Legend, Lickinghole Creek, Midnight, Rock Bottom, Rusty Beaver, Strangeways, Triple Crossing. The Answer Brewpub next to Mekong is open as a food destination but is not yet brewing beer—equipment being loaded in any day now. )
Stone Brewing, the 14th brewery in Richmond, has the potential to not only change the brewing landscape in Richmond, but also in the state of Virginia.  The Stone facility is slated to open in late 2015 or early 2016. The brewery will feature a full service restaurant and employ more than 288 people, according to the company's press release.
When asked for comment on how he saw the future of the Richmond brewing scene, Lee Graves said, "Not all breweries are equal. The future belongs to folks who can consistently make excellent beer (not just good beer), have smart business plans and can establish a unique identity in the marketplace. The ability to utilize social media to good advantage also is essential. Continued cooperation from local and state officials is paramount. Elected leaders are realizing that craft breweries create jobs, create tourist destinations, provide family-friendly atmospheres and feed synergy with local restaurants, farmers and other businesses. Richmond is at a critical juncture where craft breweries and local restaurants are being recognized nationwide for excellence."
Economic Impact Information
According to the Brewers Association, the craft brewing industry contributed $33.9 billion to the U.S. economy in 2012. The figure is derived from the total impact of beer brewed by craft brewers as it moves through the three-tier system (breweries, wholesalers and retailers), as well as all non-beer products like food and merchandise that brewpub restaurants and brewery tap rooms sell.  The industry also provided more than 360,000 jobs, with 108,440 jobs directly at the breweries and brewpubs, including serving staff at brewpubs.
The economic impact from craft breweries in Virginia is estimated by the Brewers Association to have been about $623 million dollars in 2012.  The industry has created 8,163 jobs both directly and indirectly.  The direct labor income of the industry in Virginia is over $273 million dollars with and average wage of roughly $33,500 a year.  This economic impact is directly tied to the number of beer barrels sold each year.  In 2012, the state generated 84,907 barrels and that number rose to 129,103 for 2013.  All indications are that 2014 will be another record year that will continue to strengthen the economic impact in Virginia.
Beer Production/Number of Breweries in Virginia
Pinning down the exact number of breweries in Virginia and their associated barrel figures is not an easy task.  Research for this article turned up a host of varying numbers for exactly how many breweries there are in Virginia at any one time.  The Brewers Association's website lists 143 breweries in Virginia, although many of those are "Breweries in Planning" and not officially making beer.  The Virginia Craft Brewers Guild's most recent 2014 number is 93 breweries in operation across the state.  The number is a moving target and is sure to rise by the end of the year.
The state's craft beer production and sales data statistics for 2013 that were collected by the Brewer's Association shows that Virginia ranked 15th in the nation with 61 active breweries.  Those 61 breweries represented 1 brewery per capita (per 100,000 adults) which ranked 30th in the nation.  A comparison would be Colorado which has 4.7 and Oregon at 6.3 breweries per capita.  Virginia has a long way to go to match the numbers of breweries in those two states.
The Brewer's Association did not begin to collect statewide sales data until 2011.  Based on that data, Virginia had 40 craft breweries in 2011 that produced 61,440 barrels of beer.  That number rose to 50 breweries in 2012 producing 84,907 barrels.  In 2013 the number rose again to 61 breweries and 129,103 barrels.  The 2013 volume equaled 0.7 gallons of craft beer per adult in the state which ranks 33rd in the country.
Conclusion
The wine industry in Virginia started in the mid 1970s with one winery and a lot of people who doubted that the industry would ever flourish.  Today Virginia has grown to become the 5th largest grape producing state behind California, Oregon, Washington, and New York.  In many ways, the craft brewing movement in Virginia is poised to accomplish the same success as the wine industry did before.  Virginia had only one brewery in the early 1980s that has now grown to almost 100.
An even more impressive feat is that in the last couple of years the momentum of the craft brewing industry has continued to strengthen.  It took almost 30 years for Virginia to produce 130,000 barrels of beer a year from the time that the first brewery opened in 1982.  That number is likely to double in just a couple of years.
It is clear that the craft brewing industry is making an economic impact in the state.  The jobs that the industry is creating are significant and pay well above the minimum wage.  In addition, the secondary economic impact of the industry continues to grow with the number of tasting room and the patrons that visit them.  A typical tasting room will get visitors for all over the state that will eat a local restaurants and stay in local hotels as part of their visit to the brewery.