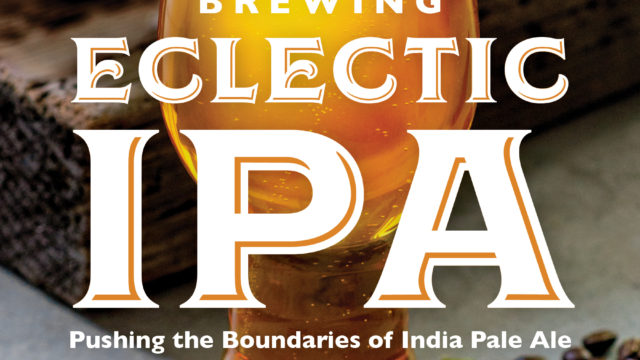 By Jeff Maisey
If you've ever heard Dick Cantwell speak on the topic of beer you know he's both incredibly knowledgeable on the subject and an engaging storyteller — both qualities that make for an excellent book. 
That said it's perhaps no wonder the Brewers Association's publishing division is behind Cantwell's new book, Brewing Eclectic IPA: Pushing the Boundaries of India Pale Ale (Available June 4, $19.95).
Cantwell co-founded Elysian Brewing Company in 1996. Elysian was crowned Large Brewpub of the Year at the Great American Beer Festival in 1999, 2003 and 2004, before being sold to AB in 2015.
According to the Brewers Association statistics department, IPAs are today the third most popular style of beer in the country, trailing American lagers and light lagers. While IPAs account for 3.1 percent of total beer by volume, in the craft beer category the style is attributed to between 24-33 percent of sales. Nearly one in three craft beers sold in America are IPAs. 
So why are IPAs so popular with American consumers?
"It's an interesting stretch of history in craft brewing, " explained Cantwell. "IPA were one of the styles that were rediscovered by American craft brewers. It practically died-out in its country of origin — the UK — where they were making pretty insipid versions. IPAs for craft brewers were a real way to showoff. They were a way to show that you knew how to make a real tasty beer that was also really strong and hoppy."
Cantwell also credits the emergence of fruity hops entering the craft marketplace for more floral and citrusy notes.  He believes consumers have shown their overwhelming desire for the style.
"The way bitter beers and hops react on the palate, it is naturally an acquired taste. People taste hoppy beers at first and they might be a little off-putting, but you just keep going back to them. IPAs are a statement on how much a consumer can take. There's a little bit of that endurance aspect to them. It's the combination of excess, both in terms of conception and in terms of consumption, that keeps it such a popular style."
Cantwell was one of the judges for the recent World Beer Cup competition. Whether he's judging a beer competition or consuming several for enjoyment with friends or at home in San Francisco, Cantwell schedules and delays having an IPA for the end of a session. 
"If you keep hammering on those (IPAs) there is some palate fatigue," he said. "One way that I will pick the sequence of beers that I'll have at the end of the day is that I'm very conscious of what order I drink them in. If I drink something hoppy and then go back to something less hoppy, it's not going to show that beer off to its advantage because your palate is already kind of ranched by that intense bitterness. In fact, it can sometimes display aspects somewhat artificially because of that experience you've just been through."
Cantwell said cloudy, fruit-forward New England-style IPAs have become almost as popular on the West Coast as in the East. 
"I like them," admitted Cantwell. "Like any other style there are good and bad examples of them, but I find them really interesting. They present a really interesting sequence and technique of hopping that really hasn't been completely explored before. I find it kind of curious how divisive it has become."
In Nashville, at the Brewers Association conference, Cantwell heard speakers rant against cloudy IPAs.
"I just don't see what the big deal is," he said. "It's a new sub-style. Will it last? Who knows. The consumer will speak loudest about that.
"Several years ago we had Black IPAs, and now there aren't many of those around anymore."
Throughout Brewing Eclectic IPA, Cantwell delves into the evolution of the IPA, provides guidance for designing unique beers, and shares 25 original IPA recipes.  The books is a must-read for commercial craft brewers, home brewers, and consumers wanting to know more about their favorite style — the IPA.