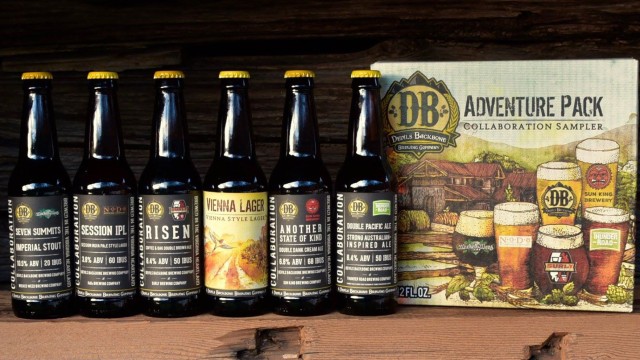 By Jeff Maisey
Devils Backbone Brewing Company brewmaster Jason Oliver pushed the limits of his brewery's new 120-barrel production facility in Lexington during the brewing process for DB's upcoming, limited edition winter 2016 Collaboration Adventure Pack.
All of the brewing took place in Lexington during the month of October. Invited to participate were brewers from Surly Brewing Company (Minneapolis), Sun King Brewing Company (Indianapolis), Wicked Weed Brewing Company (Asheville, NC), NoDa Brewing Company (Charlotte, NC), and Thunder Road Brewing Company (Australia).
"This 12-pack will have a lot of firsts for us," said Oliver by phone while taking a break during Sierra Nevada's Beer Camp Across America collaboration event in Asheville, North Carolina. "As brewers we learned a lot by going outside of our comfort zone, and that's a great thing about collaborations. Each collaboration is different. Every brewer is going to have a different take on things. How you interact…its different relationships. I think the social process of working with someone different is pretty fascinating. The guy from Wicked Weed has a different approach and conversation than the folks from Sun King. We're combining my vision with their vision."
Devils Backbone launched its series of sampler 12-packs earlier this year, mixing flagship beers such as Vienna Lager and 8-Point IPA with seasonal, limited releases like the Pear Lager. DB also takes the same approach with its collaboration series, exposing Virginia craft beer consumers to special one-of-a kind brews created by Oliver and brewers from other parts of the world whose beers are not distributed in Virginia. The 2016 package will include Vienna Lager along with two bottles of each collaboration beer.  Fans of DB will be in for a treat.
"This 12-pack definitely taught us a lot about the brew house," said Oliver. "We're testing both the low-end and the high-end of the brew house, gravity-wise."
With NoDa, Oliver developed a beer called Session IPL, a session India-style pale lager with a 3.8% ABV.
"We are combining what each of us do well," he explained. "We do a lot of lagers really well, and they do a lot of hoppy beers well. It's kind of the best of our strengths."
Oliver teamed with Wicked Weed to create an Imperial Stout inspired by the highest peaks of each continent. The most complex of all the colorations, its recipe required ingredients sourced from each – and that proved interesting.
"We used coconut for South America; oak for North America; algae for Antarctica; wattleseed from Australia; some of these were ingredients we've never used before, especially on a larger scale. Sourcing some of these ingredients was a challenge. I mean looking for finely ground dry coconut and needing hundreds of pounds is fun trying to find between a commodity amount and usual amount. I could order a couple containers full – which I'm not going to do that – or buy a couple ounces. I finally found a place where I could order a couple hundred pounds of the stuff."
Additionally, Oliver worked with Thunder Road on Double Pacific Ale (strong Australian-inspired ale);  Sun King for Another State of Kind (double dank cream-style ale);  and Surly for Risen (Coffee & Oak double brown). The collab with Wicked Weed resulted in a strong 10.5% ABV stout, the highest gravity beer ever produced by the brewery.
As for Devils Backbone's 120-barrel brewhouse, Oliver said his brewing team has adjusted well to every facet of the increased capacity, whether in ordering materials like hops and malt, need for dry storage, and bottling.
"The brew house has been working great," said Oliver. "Definitely some kinks have been ironed out since the initial commissioning of it. The core beers are standing up very well – the Vienna Lager and 8 Point IPA scaled-up very well. The first beer that went through the centrifuge was Vienna Lager and it was that beer that we sent to the Great American Beer Festival and it won gold this year. So that was pretty cool."
The 2016 Collaboration Adventure Pack will be available in mid-January throughout Virginia. Also look for the launch of the first 2016 Trail Blazer, Danzig Porter, an 8% ABV Baltic Porter brewed with lager yeast.   Danzig has been awarded multiple times – Virginia Craft Brewers Fest (2015, Gold), Great American Beer Festival (2013 Bronze, 2012 Bronze, 2009 Gold) and World Beer Cup (2010, Gold) — over the years and this is the first time it has been available for retail.