(Spacious Precarious Beer Hall is fun, fun, fun)
Words & Photos by Diane Catanzaro and Chris Jones
What are the sounds you associate with Colonial Williamsburg? Pumpa-rum pumpa-rum twee twee tweeee…that's a fife and drum corp as they march through the pedestrian area.  Jolted by a deep ka-BOOM! at noon? Must be the iron cannon being fired outside the armory. Bloodthirsty jeers and cries of "hang the scallywag!!!" That's the trial of pirate Israel Hands, brought to justice for the dastardly deeds he purportedly perpetrated as a member of Blackbeard's crew in the early 1700s.  An oxcart, led by a man in period costume, crunches dry earth and kicks up dust as it bounces along a rutted road. You are getting parched and thirsty from this trip back in time. The Colonial-era feel is so realistic, you are wondering if the water is safe to drink. In Colonial times, water was often polluted and so your everyday drink was not water but table beer or cider, which had the benefit of a solid boil to kill impurities. 
All of a sudden you walk into a building and hear sounds you don't associate with Colonial Williamsburg. A WHA-WHA-WHA that sounds like electronic weapon fire. WHOOSH WHOOSH, a carousel-like musical beat, and then electronic fingernails across a chalkboard. Thunk-a-dunk clunk. What's all this about? You've stumbled into a time warp and the "noisy amusements" of Space Invaders, Pac-Man Battle Royale, and Skee-Ball jolt you back into the modern era. And, you realize that your thirst can indeed be slaked in the way approved by the early Colonists, with fresh locally brewed beer and cider.  You have discovered the new Precarious Beer Hall on South Henry Street, a revolutionary addition to the Colonial Williamsburg action, where a pint and sustenance make both locals and visitors compatriots. 
The Precarious Beer Hall is a modern brewery and tasting room with twenty arcade games, eighteen taps, and the "Electric Circus Taco Bar." Commodious, community picnic-style tables crafted of blond wood, ample bar seating, lots of light streaming through large windows, and a friendly staff create an inviting atmosphere.  A neon sign and funky graffiti-adorned corrugated steel frame surround the street-style taqueria kitchen window.  These colorful touches and the beckoning of the arcade games add to the vibrancy and entertainment value of the Precarious Beer Hall. An outdoor patio with firepit, lounge and bar seating overlooks the green lawn of the Art Museums of Colonial Williamsburg (where Bruce Hornsby held his Fun House Fest, on hiatus this year).  The Precarious Beer Hall will offer live music most Friday and Saturday evenings beginning at 9 pm.  The Grand Opening celebration on Saturday June 15 features the No BS! Brass Band. 
The Precarious Beer Hall is the brainchild of Andrew Voss and Chris Cook, founders of The Amber Ox Public House, Williamsburg's first brewpub and a fine restaurant in its own right.  Brewmaster Greg Fleehart's beers, under the Precarious Beer Project moniker, have been winning fans and awards since the Amber Ox opened in 2017. Having a second outlet for these in-demand beers seemed a natural progression, and hence the idea of the Precarious Beer Hall was born.  Tricking out the brewery tasting room with arcade games and street tacos seems like a winning formula.  Parents can enjoy a beer, wine, or cider while the kids play air hockey, arcade basketball, pinball, or another game. And, there are multiplayer games to engage a family or group.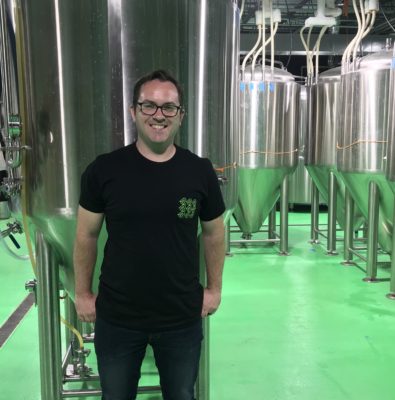 (PICTURED: Brewmaster Greg Fleehart)
The Precarious Beer Hall has a 10-barrel brewhouse, augmenting the 7-barrel brewhouse at the nearby Amber Ox, and a canning machine to package beery goodness to take home with you when a growler just won't do.  With two breweries and the expanded capacity, Greg has two new brewers to keep things humming. Megan Kersting most recently brewed at Boulevard Brewing in Kansas City, MO, and Matt Fantz hails from Noble Ale Works in Anaheim, CA. The Precarious Beers at the Beer Hall's soft opening included a nice range from the quaffable to the heavy-duty. Here are some examples of the beers offered, but realize that these offerings can change as creative inspiration strikes. 
-HAWK pale Mexican cerveza style lager, made with 50 lbs of house-made tortillas, 4.7% ABV.
-Kool Beans Hefeweizen, a German style wheat beer with Rogue Elephant coffee in the mash, 5.1% ABV.
-Everywhere You Look There's Something, a Flander Oud Bruin brewed with Bergamot sugar, 6.9% ABV.
-Kung Fu Kittens, an award-winning hazy American IPA, 6.6% ABV.
-Ethically Flexible, a bourbon barrel aged Imperial Stout, 12% ABV.
In addition there were several other IPAs (including double and triple IPAs), a pilsner, a saison, a tomatillo-lime gose, a Mexican dark lager, a barleywine, and a 4% ABV American lager that is under 100 calories, in case you want to save room for dessert. Potter's craft cider will also be available. There were four wines, including an Oregon pinot gris. For nondrinkers, designated drivers, and youngsters there are fruity Mexican sodas, Mexican coke, cold brew coffee, and self serve ice water.  
The tacos are a perfect accompaniment, and reflect the culinary roots of the Amber Ox. This ain't your daddy's taqueria! (Unless your daddy was aiming for Michelin star status).  Examples are cola braised shortrib, smoked pork carnitas, Korean pork belly, fried oyster, Nashville hot chicken, ground bison, and blacked local fish. There are two great veg options, fried zucchini with jalapeno and corn relish, and crispy avocado with preserved citrus and cilantro. All tacos have tasty accouterments and are served on a pair of corn tortillas made fresh daily in house. Snacks include nachos, chips and dips, street corn, black bean and corn salad, and a quesadilla. Dessert offered at opening was electric churros, with ancho chili, cayenne pepper, cinnamon and sugar. You order and pick up your food at the Electric Circus window.  
The Precarious Beer Hall is located at 110 South Henry Street, in the Henry Street Shops in Merchant's Square, at the corner of South Henry and Francis Street  757-808-5104. Bring quarters!  (Or use the change machine to turn your cash dollars to quarters).