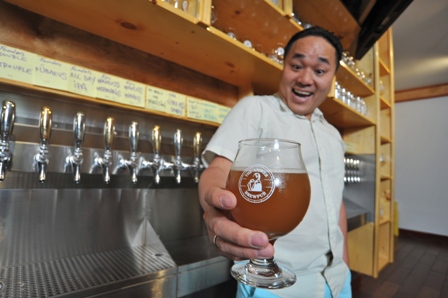 Words By Dan Yarnall And Elizabeth Erschens
Photos By Kathy Keeney
If the Richmond beer scene was a circus, there is only one man who could possibly stand center stage under the big top: An Bui, the eccentric owner of Mekong Restaurant and now the proud proprietor of The Answer Brewpub. The brewpub's name is an obvious play off his Mekong slogan, "Beer is the Answer." Well, Bui is no stranger to answering that question.  If you are unfamiliar with the Richmond icon, he and his beer army have been the national winner of Craftbeer.com's Great American Beer Bar Contest for last two years running.
When Mekong opened in 1995, Bui focused on Vietnamese cuisine and fine wine. A couple of years later, he introduced a large bottle collection of imported European beer offerings that were new to the area. "It was tough in the beginning," said Bui. "There was no beer community aware of the array of beer styles, so we had to build one through education, tastings, and other fun events."
The bottle collection gave Mekong the reputation as a renowned Belgian beer bar, and the European beer styles were later followed by draft beer and American craft beer to make it the iconic beer destination it is today.
After a couple of soft opening events, Bui and his new staff at The Answer Brewpub did not disappoint when they opened the doors of the establishment in early September to a throng of fans waiting outside for the grand opening.
The 500-person capacity brewpub has a main bar with 36 beer taps. There is also room for expansion at a back bar for up to 20 taps once the brewpub begins serving its own beer in addition to its expansive selection of commercially available European and American craft beers. Bui expects to take charge of a 5 bbl (155 gallons) brewhouse in the coming months.
We immediately noticed that the beer selection differed between Bui's Mekong Restaurant, located a few doors down in the shopping center, and his new The Answer Brewpub (6008 W Broad St., Richmond, Virginia 23230).
We were able to enjoy Ardent Craft Ale's Honey Ginger beer (which won a silver medal at the 2014 Virginia Craft Brewers Fest) at the restaurant and an Ardent Cru at the brewpub.  Bui plans to add a passage way between the two establishments so his guests can meander back and forth and take advantage of the selections at all the bars. Allowing my imagination to run a little wild, I could see this tunnel being dungeon-esque where patrons could walk with a torch in one hand and a hoppy ale in the other.
The staff, led by General Manager April Herrington, was knowledgeable and ready to answer questions about the food and beer menus. Herrington, a long-time friend of Bui, was hand-picked by him for her food-service knowledge and experience.  Herrington said that like the beer menu, the food menu at The Answer Brewpub will differ from that of the Mekong Restaurant. While the restaurant boasts a full menu of Vietnamese cuisine, the brewpub will feature popular Vietnamese pub or street food. Examples include Banh Mi, a meat-filled, single-serving baguette with vegetables, and Banh Goi, a Vietnamese tamale similar to the Mexican-style tamale but created with mashed rice and banana leaves instead of corn meal and husks.
We got the chance to chat with Brandon Tolbert, The Answer Brewpub's new head brewer, between pouring pints. Although our assumptions were for the brewing to be heavy on Belgian Styled brews, he explained they intend to offer a huge variety of American beer styles. Tolbert said that he plans to "brew hoppy beers on site so they are fresh and don't lose their hop characteristics." He explained that when you order commercial IPAs, they've often sat for a couple of months before being delivered, so they aren't as fresh as they could be. Later, the brewpub plans to add sours and barrel-aged beer. For styles they don't care to brew, they will continue to source commercially for their guests.
Kudos, Bui! At the end of the evening, while strolling and chatting with Bui, our only advice was installing cots upstairs. We could easily camp out there–indoors with the food and beer, of course.
Dan Yarnall is COO/Head Brewer at Back Bay Brewing Co. in Virginia Beach. Elizabeth Erschens is the owner of Homebrew USA