BY JEFF MAISEY
When SB 604 passed in 2012, perhaps no one could have predicted the explosive growth of craft breweries springing up around the Commonwealth of Virginia.
Nor could anyone have likely anticipated breweries spawning satellite locations.
"It seems to be one of the evolutions of this industry," said Brett Vassey, president of both the Virginia Craft Brewers Guild and Virginia Manufactures Association. "The brewers that have products that are very popular or a business model that is popular where tourists and customers have a great experience, they're having great success by opening other breweries around the state. It doesn't seem to be letting up. That seems to be the new wave of innovation in the industry right now. Our multi-brewery sites from one brewer…we didn't see that coming when we started the Guild or SB604. It is the one issue we talk about more than any other micro-trend in Virginia craft beer – the issue of satellite sites."
Satellite breweries can be compared to retail outlets like the Nike store. Nike shoes were once sold only at department stores and specialty athletic footwear shops like the Athletic Attic before they launched their own brand-exclusive locations.  Satellite breweries are essentially tasting rooms with a limited scale production capability on-site to brew one-off and experimental batches while "importing" everything from the larger production facility. Others are branching out as brewpubs.
Starr Hill Brewery, based in Crozet, recently announced plans to operate a secondary location in Norfolk as part of a downtown entertainment complex known as The Waterside. The Starr Hill model will include food service and live entertainment. Technically a brewpub, the Starr Hill site will use a 7-barrel brewing system.
"We're excited about this brewpub as it's an opportunity for us to brew on a pilot brew system," said Jack Goodall, Starr Hill's marketing manager. "Currently, we only have a 25-bbl system at our brewery, which is not necessarily conducive for brewing smaller batches and doing R&D.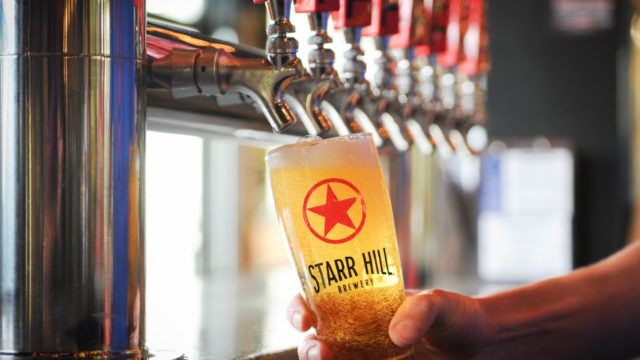 "The beers we'll be able to experiment with and brew at the Norfolk location will benefit our portfolio overall. We see it as an opportunity to test new beers for larger distribution as well as brewing special batches just for limited releases. There's also the opportunity to hold some great events in this new space, as well as right down by the waterfront.
"In addition, Norfolk is a growing city with an incredible craft beer scene. With craft beer becoming more hyper-local in this day in age, it makes a huge difference to be able to touch customers directly through a retail establishment, events, and being an active part of their community."
Starr Hill is an established brand and its name will be instantly recognizable is a satellite location. So too is Legend Brewing Company, whose Legend Brown ale is well known across Virginia.
Richmond-based Legend is seeking a satellite site in the Hampton Roads region – preferably Williamsburg. As a mature brand, the brewery has had to fight to maintain shelf space at retail outlets as well as finding tap space at restaurants.
As Legend's vice president of operations, Dave Gott insists the best thing in his arsenal is the brewpub at its base of operations. Any satellite expansion will include a restaurant.
"I have always said the Pub is our greatest marketing tool," explained Gott. "We have a strong reputation in the markets we are in and our Pub is a juggernaut in its own right.  If we can bring our 22 years of service, food and beer along with our unique vision of a great place hopefully with a view to another market, it's a reminder to everyone of who we are and what we do.  That's the hardest part of the business right now.  Staying out front and being noticed."
One of Legend's great frustrations is getting more of its beers on tap in restaurants. There's more to Legend than its brown ale, after all. A Legend satellite allows them to feature their full array of beers.
"We started out not wanting to do this," said Gott.  "We'd rather leave the retail operations to our customer, but with the draft market and shelf space squeezing more and more every day it's almost becoming economically unfeasible to sell draft retail.  Too much cost with little return.
"Right now you either have a flagship brand on as a stable tap or everything constantly rotates.  It's difficult to get any real attention paid to other products.  Today's release is always eclipsed by tomorrow's, or in some cases today's other release.  There is also the fact that more and more beer in the market means less of a market share for each brand.  Every brewery will tell you we all make a lot more on a keg serving through our pubs than selling it to the distributors.  As competition increases, breweries will focus more on their retail business.  Dedicated taps, on-premise mark ups and no sales rep needed."
One of the most unique satellite models in Virginia is being put into orbit by Charlottesville-based Three Notch'd Brewing Company – makers of the 40 Mile IPA.
The brewery's motto is "leave your mark," and since opening in August of 2013 they've sought to do just that with a satellite location operating in downtown Harrison burg and another planned for Richmond.
The idea for a brewery began to take shape soon after Three Notch'd president Scott Roth opened McGrady's Irish Pub in Charlottesville back in 2006.
"As my restaurant was maturing I was watching Devils Backbone and a couple other great breweries in the area expand their operations," said Roth. "I was also watching the portfolios of the distributors continue to explode. So when we started Three Notch'd we also started our own distribution company. We conceptualized these small, local tasting rooms where we'd have a local brewer and employees from the surrounding community. It'd be an opportunity to showcase our flagship beers which we distribute while brewing beers more specific to the area."
Roth's company branding remains consistent from production facility to satellite. Where the main operation in C-Ville is Three Notch'd Brewing Company, the satellite business up the road is dubbed Three Notch'd Harrisonburg Taproom. In Richmond it'll be called the Three Notch'd Collab House (2930 West Broad Street, opening planned for mid-May)
"The concept is that the majority of the beers will be a collaborative effort with a restaurant, non-profit or a homebrewer," Roth explained. "The system size will be a lot larger in Richmond than it is in Harrisonburg. We anticipate a larger need in supply, but we hope to share these collaboration beers with the groups that do them with us. The be-all-end-all in this thing is that distribution has gotten very hard and in order to be somewhat relevant in a community we think it's necessary to put some roots down. We like the idea of opening these tasting rooms in metropolitan areas. It's a unique model to Virginia right now but it is not unique if you look at some of the other states."
Roth said he's hoping the Richmond concept will be one that can be replicated in other markets such as Northern Virginia and Virginia Beach.
Roth has received positive and negative feedback regarding Three Notch'd Brewing's approach.
"We've received a little bit of everything," he admitted. "Obviously SB 604 is an important part of our model, but it's also important for a lot of the nano breweries that have opened. It's important to consider a perception component. Starting a nano brewery and expanding to a 20-barrel brewery is the traditional route. I come from the restaurant side, and most of our clients for distribution are just a few miles from our breweries. They're seeing that our product is doing well in their location. We are very conscious about avoiding a true competition component to the restaurants which is a supreme focus on food trucks, price competition, staying open late and taking the drinking time business. There are a lot of breweries with one location that are doing all of those things. They're specifically putting themselves in direct completion with restaurants.
"We're not going to be the only one doing this in 12 months from now. The end goal for Three Notch'd is to actively be a distribution/regional brewery. We think this is a great way to share our company culture with a local community."