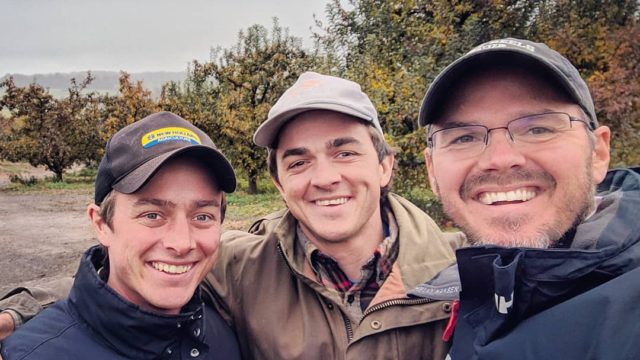 By Greg Kitsock

A generation ago, "urban cidery" would have been almost a contradiction in terms; now, cideries are popping up all over metropolitan areas. Alexandria, Va., on the doorstep of our nation's capital, will welcome its first such business this spring when Virginia Ciderworks Co. – doing business as Lost Boy Cider – opening its doors on the fringe of the city's historic Old Town neighborhood.
The "lost boy" of the corporate moniker is founder Tristan Wright, who credits two watershed events in his life with setting him on a new career arc.
The first occurred during his honeymoon in 2010, on a visit to Dick Mack's Pub in Dingle, County Kerry, Ireland. As Wright recalled, his wife got up to investigate the snug when "a big, hairy arm grabbed her and pulled her in."
"I headed over there, ready for World War III," said Wright. Instead, he found nine raucous but congenial pub-goers who had set his wife on a table and were asking her to teach them Bruce Springsteen and Whitney Houston songs. "We had a fantastic night with these guys," he laughed. Their go-to beverage: Bulmer's Cider.
Fast forward to 2015: Wright had just fathered his second child and purchased a home when he began experiencing headaches, backaches and joint pain. Eventually, doctors traced the problem to a severe soy and gluten allergy. Wright was able to reverse the symptoms by carefully regulating his diet, but his gluten intolerance forced him to give up grain-based drinks like beer and whiskey.
"That was a tipping point for me," confided Wright. He had grown dissatisfied with his career in banking and was groping for a new direction. A 30-second commercial for Angry Orchard Hard Cider revived those happy memories of his Irish honeymoon and gave him the answer. "I could start a cidery. It hit me like a sack of potatoes. I never felt that way before."
Fermented from fruit, cider contains no gluten to exacerbate health problems. Lost Boy will operate as a "farm winery," rather than brewery.
Wright prepared for his new career by studying at the Cornell Viticulture Center and Oregon State University's school for cider and production. He's acquired a 6,000-square-foot space in a warehouse-style building at 317 Hooffs Run Drive; it's a little over a half-mile hike from both the King Street and Eisenhower Avenue Metro stations. He's outfitting it with three 60-barrel tanks and three 15-barrel tanks fashioned by Vance Metal Fabricators. Custom blends of juice will be trucked in via tanker truck. Wright will also maintain a small Speidel press for juicing apples that he harvests from eight trees he's planted on the premises.
Wright would like to wean his customers off the sugary sweet ciders that dominate the U.S. market, but he realizes that "you can't force people to try a cider they're not ready for." His flagship will be an off-dry cider called Comeback Kid, made with York, Pippin and Granny Smith apples as well as "a secret heirloom varietal" chosen to add tannin and to raise the pH of the blend. He'll package the cider in 12-ounce cans using a mobile canner.
Lost Boy will operate a 2,000-square-foot tasting room with 12 taps for experimental draft-only ciders. Wright promises a blackberry rhubarb dry cider and a dry-hopped pineapple cider. He's also been acquiring red wine barrels from King Family Vineyards in Crozet, Va. for a line of oak-aged ciders. These will be offered exclusively in 750-milliliter bottles to customers who sign up for his Explorers Club.
Running an urban rather than orchard-based cidery, Wright believes that he has a special obligation to educate millennials, who form the core (pun intended) of cider's growing constituency, about the state's rich agricultural history. "Virginia's apple-growing scene has not been highlighted the way it should be. Washington and Jefferson planted and cultivated the original old-growth trees."
(Indeed, according to the website of the Virginia Association of Cider Makers, Jefferson harvested 18 varieties of apple at Monticello, relying on two of those strains – Hewes' Crabapple and Taliaferro – for making cider. Wright plans to make a varietal from the Hewes Crabapple, a once-common strain used to add an acidic bite to ciders.)
Wright will source all his apples from Virginia, 90% from the Shenandoah Valley. He's leasing 16 acres from the Glaize family of Winchester, fourth-generation apple growers who've installed a press and are now offering custom blends of ten cider varietals, including (as stated on their website) "rare Virginian and European bitter-sweets."
Target opening date for Lost Boy is May 15. The recent government shutdown, Wright states, was "really scary," with a backlog of license applications piling up at the federal Tax and Trade Bureau. And yet, 48 hours after the shutdown ended on Jan. 25, he received a note stating that the government had granted his request.
"Michelle McGrath [executive director of the United States Association of Cider Makers] said we probably got the first permit for a cidery since the government reopened."
Whether you ascribe that to fate or sheer luck, it's a windfall for northern Virginia cider fans.