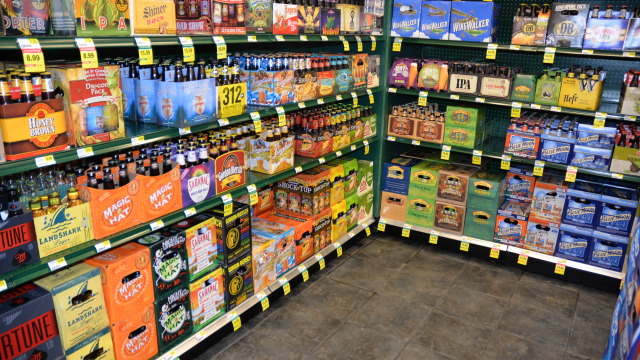 By Mark Thompson
The current state of craft beer in Virginia and across the country reminds me of the lyrics from the band The Clash: "I am all lost in the supermarket I can no longer shop happily."  A trip into any beer store today is a dizzying array of colors, brands, and styles.  Choosing what beer to buy requires a herculean amount of effort.  The irony is that with all of this selection only a handful of styles dominate the overall sales of craft beer in Virginia.
Many of you have witnessed or even been one of those confused shoppers trying to decide what beer to purchase.  You can spot the confusion right away, as the consumer moves left, then right, and then back left again up and down the beer aisle.  Often times they will pull out their smart phone to look up ratings, reviews, or scores of a certain beer prior to making their purchase.
Many consumers shop for beer based on a style preference.  They know that they enjoy IPAs and will evaluate many different offerings in that one specific style prior to making their purchase.  Other consumers are more brand focused.  They know that they enjoy different beers from a specific brewery and will shop within that brewery's brand family.  A new seasonal beer from that brand family might catch their eye and influence their selection process.
A third purchasing behavior is the consumer who is all about "what is new."  This person will often take a long time to make their purchase.  In their quest to discover new beers, they will tell themselves "I have had that brewery's IPA and really liked it, but I have not had this new brewery's IPA so I think that I will buy it."  This type of shopper is driven by the discovery and might purchase hundreds of unique beers each year.
Trying to make sense of this ever changing landscape is a monumental task.  The beer world has changed more in last 20 years than in all of time before it.  What is old is new and new old.  The beer world has been turned on its head in large part because of the American Craft Breweries in which Virginia breweries have been an important player.
SKU Magedon
SKU-magedon is a term that is being talked about in the industry recently that tries to describe the explosion of new craft brands and packaging.  To better understand what this term means, it is helpful to first understand what the definition of a SKU is.
According to Wikipedia, the term SKU refers to "stock keeping unit" and is a specific product that can be purchased at retail.  Most often an individual SKU is identified with a specific bar code that is unique to that one product.  According to Wikipedia, a stock keeping unit or SKU is a distinct item, such as a product or service, as it is offered for sale that embodies all attributes associated with the item and that distinguish it from all other items.  For a product, these attributes include, but are not limited to, manufacturer, product description, material, size, color, packaging, and warranty terms.  When a business takes an inventory, it counts the quantity of each stock keeping unit.
An example of this would be ABC Brewing Company makes a beer that is packaged in a 12 ounce bottle (one SKU).  That 12 ounce bottle is then packaged into a 6 pack for sale to consumers (2 SKUs), and then 4 six packs are put into one case box to for sale to retailers (3 SKU).  ABC Brewery also offers that same beer in a 12 pack (4 SKU), a 12 ounce can (5 SKU), a 16 ounce can (6 SKU), and a full case for big box stores (7 SKU).
As you can see from the example, just one brand from one brewery can produce many different SKUs from just one liquid stream.  Most breweries produce multiple brands in varying package configurations so that the number of SKUs continues to grow as the number of breweries increases.
Beer SKUs by Segment
A visual representation of how the number of SKUs has increased in recent years can be seen in the chart above.  From 2010 to the end of 2013, the number of SKUs has increased by 4,031, or 62.8%.  The majority of this growth is occurring in the craft segment with the number of craft SKUs rising from 3,229 in 2010 to 5,156 at the end of 2013.  This represents an increase of 48% more craft items available in just 4 years.
The graph is broken out into the various segments with beer from Premium, Sub Premium, Import, Craft, Sub Premium, PAB (Flavored Malt Beverages), and Cider.  Premium and Sub Premium SKU growth was relatively flat at 15% and 10% respectively.  Imports, the second largest SKU contributor, saw growth of almost 20% over the four year period.  Ciders were the big percentage winner growing by 63% but on a very small base.
When Bump Williams of BUMP Williams Consulting Company was asked what his take was on all of the recent brands that have been introduced by craft brewers, he responded, "it's all positive."  Bump commented that there are three positive things coming out of all of these new beer SKUs.  "First is that it brings new shoppers to beer who may be purchasing other beverages.  Second, it increases beer shopping occasions and the number of times per week that the consumer is looking for beer.  Third is that the consumer will buy more beer per shopping occasion."
Bump's comments were, despite the dizzying array of new craft beer products being introduced every year, this actually is good for the beer category.  An average consumer might go into a store looking only for one product or SKU, but will leave with multiple items.  They may have only wanted to get one 6 pack of IPA but wound up getting a couple of 'dinner bottles' of a beer that they had never heard of and at the end of the day, that is good for beer.
Founded in 2008, BUMP Williams Consulting Company provides clients with consumer insights, price and promotion analytics, and market level analytics for the Beer, Wine, and Spirits industries.  Among other things BUMP Williams consulting analyzes the consumers buying trends using tools like the IRI* scan data of the varying SKU's.
*IRI is a market research company which provides clients with consumer, shopper, and retail market intelligence and analysis focused on the consumer packaged goods industry
Top 10 Craft Styles
The attached chart graphically shows the top 10 craft beer styles in Virginia.  The sales data is collected when a consumer purchases a craft beer at the grocery store.  The IRI Scan Data is collected for all consumer goods in the country and helps manufactures to understand sales trends.
At the end of 2013, there were over 5,000 SKU's of craft beer sold in the country, with craft beer sales in Virginia up over 21% through the end of July this year.  India Pale Ales were the big winner accounting for over 20% of craft beer sold in Virginia and growing by 3 share points.  Seasonal beers accounted for the next largest category of craft beer in Virginia accounting for slightly over 19% of total sales.
Within the universe of craft beer in Virginia, only three styles showed growth in sales.  India Pale Ales were up big. Wheat beers showed a very modest gain in sales as did variety packs (12 packs with four different brands).  On the flip side, Amber Ales and Amber Lagers were the big losers down by 2.5 and 1.2 points respectively this year.  This could be due to a consumer shift away from malt based beers to ones with more hop aroma and flavor.
The top 4 styles of craft beer in Virginia (IPA, Seasonal, Pale Ale, and Variety Packs) accounted for over 60% of all sales in the state this year.  The top 10 styles  accounted for over 80% of the craft beer sold in the state with the 'All Other Styles' accounting for less than 20%.  It is interesting to note that the 'All Other Craft Style' category represents the vast majority of styles for the consumer to purchase at retail, yet only accounts for a minority of the overall sales.  The Brewers Association recognizes over 90 individual styles as part of the Great American Beer Festival and World Beer cup, and 80 of those styles account for less than 20% of craft sales in Virginia.
Conclusion
The juxtaposition of the explosion in the number of SKUs in craft beer against the back drop of such a small number of styles driving the growth in the industry is an interesting one.  It is clear the craft beer has a very long tail, with a small number of styles driving the majority of the sales in the industry.  In many ways, craft beer follows the 80/20 rule where 80% of the sales are generated by 20% of the styles.
Virginia Craft Brewers continue to innovate and blur the lines of styles as we continue to introduce new and unique products to the market.  These unique products might not be generating the majority of the sales but do provide a healthy diversity for consumer choice.
All of this diversity and choice continues to keep the consumer engaged in beer.  The one thing that all brewers can agree on is that anything that we as an industry can do to keep the consumer interested in beer is a good thing.  We cannot afford to lose the preverbal 'share of stomach' to other adult beverages regardless of what type of brewery you are.