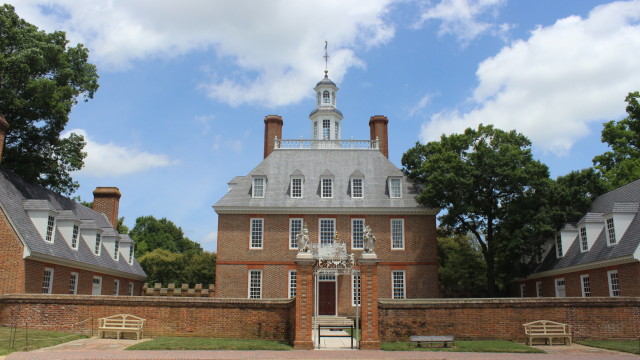 By Jennifer McDonald
With August being Virginia Craft Beer month, it seems appropriate to explore the early days of Virginia's beer culture.  I recently had the opportunity to meet with Frank Clark, Master of Historic Foodways at Colonial Williamsburg, and get a history lesson on beer and brewing in Colonial Virginia.
Beer was the beverage of England.  The English were (and still are) huge beer drinkers and that did not change when the colonists crossed the pond.   Beer was an important beverage to the colonists.  For Eighteenth Century Virginians, the day began with beer and bread, and the consumption continued throughout the day.  They went to work in the fields, would stop for lunch and drink beer, go back and finish out the work day, and then return home and drink more beer.  Over the course of a 14-hour day, most men would have consumed 8-10 beers.   Beer drinking was not just limited to adults either.  Back in the day, beer was consumed by kids as well.  Why all this beer drinking?  In a time before drinking water safety standards and sometimes scarce nutritional resources, beer was king.  In addition to providing nutritional value and generally being safer than water, beer was also considered to be medicinal.  Frank explains, "The philosophy was 'Why drink water which will give you nothing, when you can drink beer which will provide some nutrition.'"
According to colonial records, when the settlers arrived in Jamestown, one of the first things that they did was set up a brewery.  Then, they sent a letter back to England requesting that two brewers be sent to the new colony.  As anyone who has ever tried their hand at brewing can probably imagine, without temperature control, brewing in colonial times was challenging due to the climate. Hot summers and cold winters made it difficult for commercial brewing to take off in Virginia.  Frank says, "Based on records, we know that in 1780, when the capital of Virginia relocated from Williamsburg to Richmond, there were only two breweries in Williamsburg – one at the Capital and one in James City County.
Home-brewing, on the other hand, was very prevalent.  Almost every family in Virginia brewed their own beer.  Eighteenth century Virginians brewed Molasses Beer, also known as Small Beer.  As the name implies, this beer was made from molasses as well as wheat bran, hops and water.  All of the ingredients were boiled together, strained and fermented.   Frank has made several batches of molasses beer and he says that it is surprisingly good.   This type of beer was cheaper, quicker, and easier than making beer from grain.  Frank says that according to the records, eighty Virginia families were making Small Beer.  Frank continues, "Pretty much every housewife knew how to make this.  It was a skill that women learned early.  In the 18th century, you wouldn't marry a woman who didn't know how to brew beer just like you wouldn't marry a woman who couldn't cook."
Virginians were able to grow their own hops.  Frank says that the first hops were planted in 1621 and have been growing ever since.  There are records noting that the Governor purchased 40lbs of hops from Carter's Grove located just outside of town, and there is evidence that molasses beer was being made at the Capital.  Frank explains that a half empty barrel of molasses beer and a half empty barrel of molasses and 40lbs of hops were found in the cellar.  The molasses beer was probably for the slaves and servants.  The governor was drinking beer from England as indicated by the 1,100 bottles of English ale found in the cellar!
For those of you interested in tasting a little bit of history in the form of early colonial beers, Colonial Williamsburg has partnered with Williamsburg AleWerks to create beers based on the Colonial recipes.  Two such beers are Old Stitch and Dear Old Mum, both of which are only available in the taverns and the AleWerks tasting room.  Old Stitch is a brown ale with a well-balanced, light hop-nut flavor and clean finish.  Dear Old Mum is a golden unfiltered Mum style ale, flavored with coriander and grains of paradise.   Frank explains that the Mum style beer originated in Brunswick in Northern Germany.  It was considered more medicine than beer.  It was made with wheat, oats, barley, and 10 different herbs.  As the beer moved from Germany to England, the English took out the herbs and put in spices such as cardamom, coriander, grains of paradise, and long pepper.  The style becomes similar to a Belgium Whit.  Both brews were quite good and the light and refreshing taste of Dear Old Mum proved to be a perfect summer time beer.
Frank is also working with Geoff Logan, head brew master at AleWerks, on a Porter and Bristol Beer, the fore-runner to an IPA.  Frank explains that IPAs started to develop at the end of the 18th century, but they really didn't take off until the 1920s.  Geoff and Frank are developing an IPA that would have come out of Bristol, a big shipping center on the west coast of England.
In the 18th century, people drank beer in many different forms and in many different beverages.  A popular winter beverage was FLIP which was made by combining egg yolks, sugar, butter, rum and beer.  To complete the beverage, you would take a red hot poker out of the fire and stick it in the drink.  The heat from the poker caused the liquid to "flip," foam up and thicken.  In addition, the eggs cooked and the sugar caramelized giving the drink a very sweet flavor.  Almost, every tavern in town would have featured this on their menu.
Another popular drink was cock ale, a form of medicinal beer.  The process for making this concoction was a little extreme.  You would beat a chicken to death and put it in a sack with raisons, currants, and various spices.  Then, the sack was suspended in a cask of ale for two weeks and then bottled up.  This beverage was supposed to be medicinal and healthy.  Martha Washington had a recipe for this and a distilled version called Cock Water.
Wassail, the most famous hot beer punch, was made with roasted apples, toast, beer, sugar, and spices and then heated.  Colonists would carry their wassail and go from house to house caroling.  Unfortunately, Franks says that there is no proof that Virginians wassailed.
The American Revolution had a huge effect on the drinking habits of colonial America.  Prior to the Revolution, Americans drank rum and beer.  After the Revolution, rum and beer were considered English, old-fashioned, and not patriotic.  People started to drink whiskey made from American corn and cider made from American apples.  Throughout the 19th Century, whiskey became the beverage of choice.
Despite the popularity of whiskey and distilled beverages, beer continued to quietly flourish especially with the increase of immigrants from Northern Europe who brought with them the knowledge of brewing and an appreciation of beer.  The rest they say is history!