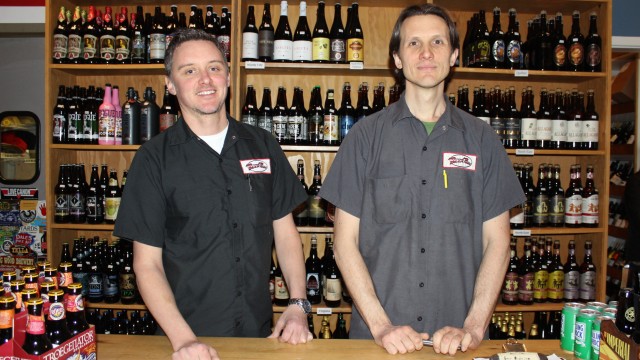 999 bottles of beer on the wall…No, that's not a typo! According to Josh Hunt, co-owner of Beer Run, they feature anywhere from 800 to 1,000 different bottles of beer in their retail bottle shop. Beer Run, located on the edge of the Belmont and Woolen Mills neighborhoods in Charlottesville, is actually a hybrid bottle shop and restaurant that has evolved over the years since its inception in December 2007. Josh along with his stepbrother, John Woodriff first started thinking about the idea of opening a bottle shop in the Spring of 2007. The idea quickly evolved from just a wine & beer bottle shop to a bottle shop with grab-and-go food to a bottle shop, bar, and full-service restaurant. According to Josh, "Our business model continued to change based on the demands of the market. We have really evolved to what the market wants." They found that customers not only wanted to shop for rare and unique wines and beer, but also wanted to sit down have a beer, eat some food, and socialize with friends whether it be inside, on the covered patio or at the bar.
Now, Beer Run is open seven days a week and serves breakfast, lunch, dinner, and Sunday brunch. When describing the menu, Josh says, "The focus is on natural, local, and sustainable food because that's something that our family has been into." They bake their bread fresh daily and try to incorporate as many local and organic ingredients as possible. Breakfast is served Monday – Friday from 8:00-11:00am and features items such as the Campbell Scramble, two local eggs scrambled with pepper jack cheese, Yukon gold potatoes, all-natural bacon and topped with house Pico de Gallo, and the A.M. Biscuit, a house baked cheddar-scallion biscuit with a scrambled egg and choice of cheddar, gouda, or pepper jack cheese. On Saturday mornings, they offer their popular breakfast tacos served on homemade corn tortillas with Beer Run salsa. Sunday brunch features an array of mouthwatering goodies such as oven baked very berry French toast strata, local andouille and sweet potato hash, Allagash fish tacos, El Guapo Breakfast Burrito, and Bacon, and Egg & Pimento Cheese Croissant.
The lunch menu offers a wide selection of fresh salads prepared daily and sandwiches served on house baked bread with a side of potato salad, pasta salad, or coleslaw. If you love Thanksgiving dinner, then you'll really like the Turkey Trot sandwich featuring turkey, havarti, cranberry-walnut tapenade spread, romaine, brown sugar & black pepper bacon. Another favorite is the Wild Vine, creamy goat cheese with apples, fresh spinach, cracked black pepper and house balsamic drizzle.
Chef likes to keep things interesting by changing the dinner menu monthly. When we visited, options included such things as Tres Colores Fish & Chips, corn-chip encrusted, fried spicy catfish fillet topped with fresh house-made Pico de Gallo and chipotle ranch served with organic house roasted frites and Bobby's Crunch New Frontier Bison Burger, local all natural Bison burger topped with blue cheese, tomatoes, lettuce and smoke paprika mayo served with fully loaded baked kettle potato chips.
All of this talk of food is making me really thirsty – for beer! Did I mention – Beer Run has close to a 1,000 different bottles of beer for purchase in its retail space?! Not only do Josh and John really love beer, but they also like to share their knowledge of beer with others and give people the opportunity to try new brands and styles of beer. Josh explains, "We have no problem giving samples of beer. We understand that there are a lot of beers out there that people don't know about. Tastings are a great way to introduce people to those beers." Beer Run offers weekly tastings, Wednesdays from 6-8pm. Over the years, Josh says that the market has become more educated and he likes to think that they have had a hand in that.
Another way that Beer Run introduces customers to new beers is by hosting themed events. Sometimes it's a tap take-over and other times it might be a firkin or special cast conditioned ale. For example, coming up Wednesday May 21, they will host a Port City Colossal Night featuring Port City's first 3 anniversary ales, Colossal 1, 2 & 3 on draft. This is one of the last kegs of Colossal 1 in existence. Josh says, "We like to bring out rare beer and give people the opportunity to try something new. We are able to push certain beers that might not have gotten that exposure." They are also unique in that people are able to try a new beer at the bar and then are able to purchase that same beer in the store.
Josh concludes, "We wanted to create a friendly place where anyone could come in and feel comfortable, but also still have really high quality food and beer especially. That's kind of been the thing that's guided us. That's been the main thing that people appreciate other than the good beer." The next time, you're in Charlottesville, stop by and see for yourself!
Beer Run is located at 156 Carlton, Road, Charlottesville, VA 22902 or check them out online at www.beerrun.com.