(Benchtop Brewing Company wins 2023 Virginia Craft Beer Cup)
By Jeff Maisey
Independent craft breweries from the Hampton Roads region had an impressive showing at the 2023 Virginia Craft Beer Cup Awards ceremony by sweeping the Best in Show category reflecting the top three overall beer entries.
Norfolk's Benchtop Brewing Company scored the top award with its Crimson Gaze. Alewerks and Billsburg — both from Williamsburg — rounded out the best trio in the Commonwealth. 
"We've won a couple awards in the past with the Virginia Craft Brewers Guild, but nothing like this," said a jubilant Eric Tennant, Benchtop's president and founder. "Best in Show is pretty exciting." 
Virginia Craft Brewers Guild (VCBG) has now hosted 12 statewide competitions. This year's competition was managed by Head Judge, Charlie Harr, and took place at Old Ox Brewery in Ashburn, Virginia.  A record 125 breweries competed in this year's competition, which included 35 new participants. Brewers were able to submit up to four beers to be judged in 31 different categories. A record 471 beers were entered in the competition and 550 people attended.
"This was another record-setting competition," said Brett Vassey, VCBG President and CEO.  "Despite a tough year economically, the Virginia Craft Beer Cup competition demonstrates the resilience of Virginia's independent craft beer industry."
Benchtop Brewing Company became the third Best in Show winner from Hampton Roads since the competition began. Smartmouth Brewing won it in 2017 with its Safety Dance Pilsner and New Realm Brewing Company's Euphonia Pilsner garnered the top award in 2019.  
In all, 15 breweries from Hampton Roads earned 28 medals. 
Still, in the overall count, breweries from Northern Virginia, which, by our map, encompasses Fredericksburg to Leesburg and the counties/cities near the DC/Maryland border, took home a state best 35 medals. The Charlottesville/Route 151/Harrisonburg section of breweries scored 15 medals, while beer entries from the Roanoke Valley/Blue Ridge Mountain/Southwest corridor garnered 13. The Richmond/Central Virginia area won just 3 in 2023.  
The 2023 Virginia Craft Beer Cup winners are as follows:
BEST IN SHOW
First Place: Benchtop Brewing Company, Crimson Gaze
Second Place: Alewerks Brewing Company, Weekend Lager
Third Place: Billsburg Brewing Company, Fly Away IPA
ALTERNATIVE GRAIN(S) or SUGAR(S)
First Place: St. George Brewing Company, Honey Meade Lager
Second Place: Dirt Farm Brewing, Honey Helles
Third Place: Southern Revere Cellars, Three Oaks Honey Brown Lager
AMBER ALES
First Place: Lake Anne Brew House, Reston Red
Second Place: 2 Witches Winery & Brewing Company, Mojo Magic
Third Place: Iron Tree Brewing Company, Off Camber Ale
AMBER LAGERS
First Place: MoMac Brewing Company, Pato de Palo (Peg Leg)
Second Place: Caboose Brewing Company, Vienna VA, Lager
Third Place: Great American Restaurants – Sweetwater Tavern, Painted Lady Lager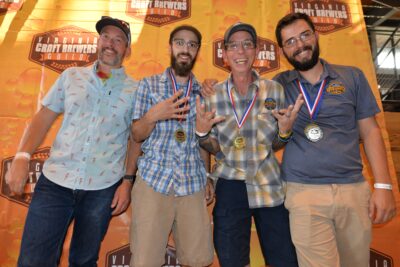 (Blue Mountain won 4 medals in 2023)
AMERICAN LAGERS
First Place: Blue Mountain Brewery, Classic Lager
Second Place: Caboose Brewing Company, Boose Light
Third Place: Eavesdrop Brewery, Chandelier and a Dollar Menu 
BELGIAN ALES
First Place: Port City Brewing Company, Optimal Wit
Second Place: Olde Salem Brewing Company, Moonlight Mile
Third Place: Loudon Brewing Company, Polished Foxx
Honorable Mention: Bunnyman Brewing, Super Saison
BRITISH BITTERS
First Place: Selvedge Brewing, Houndstooth
Second Place: Iron Tree Brewery Company, Beerstalker
Third Place: Tucked Away Brewing Company, Squadron Commander ESB
BROWN ALE
First Place: Long Way Brewing, Exacta Right
Second Place: Jack Mason's Tavern & Brewery, Brother Perkins Brown Ale
Third Place: Alewerks Brewing Company, Tavern Brown Ale
CREAMS and BLONDES
First Place: Pale Fire Brewing Company, Taking Water
Second Place: Broken Window Brewing Company, Lucky 13
Third Place: 6 Bears & A Goat Brewing Company, Mae West
DARK EUROPEAN LAGERS
First Place: Starr Hill Brewery, Dark Biddings
Second Place: Eastern Divide Brewing Company, Blacksburg Black Lager
Third Place: Twin Creeks Brewing Company, Black Bär Bier  
DOUBLE IPA
First Place: Lost Barrel Brewing, Stratazacca Double IPA
Second Place: Caiseal Beer & Spirits Company, Treat Me Wrong IPA
Third Place: Smartmouth Brewing Company, Notch 9
EUROPEAN SOUR
First Place: South Street Brewery, Slippery When Wit
Second Place: Cova Brewing Company, There it Gose
Third Place: Rockfish Brewing Company, Strawberry Guava Gose
FRUIT
First Place: Dirt Farm Brewing, Peachy Mother Pucker
Second Place: Blue Mountain Barrel House, Passion Fruit on Acid
Third Place: 2 Witches Winery & Brewing Company, Brewberry Wheat
Honorable Mention: 7 Dogs Brewpub, Raspberry Sourpuss
GERMAN AND AMERICAN WHEAT
First Place: Patch Brewing Company, Home Run Hefe
Second Place: Heritage Brewing Company, Alt Stadt Von Hefe
Third Place: Alesation Brewing Company, Das Weizen
HAZY IPA
First Place: Bike Lane Brewing, Hellwig
Second Place: Lost Barrel Brewing, Lost Barrel Hazy IPA
Third Place: The Virginia Beer Company, Estimated Eyes
INTERNATIONAL LAGER
First Place: Full Distance Brewing, Yucatan Sunrise
Second Place: Billsburg Brewing, Classic Lager
Third Place: Billsburg Brewing, Juan's Nightstand
Honorable Mention: Barnhouse Brewery, Morning Wood
IPA
First Place: Billsburg Brewery, Fly Away IPA
Second Place: Tradition Brewing Company, IPA #13
Third Place: Vibrissa Beer, Gracious Living
IRISH & SCOTTISH ALES
First Place: Nansemond Brewing Station, Myrtle's Diary Red Ale
Second Place: Old Busthead Brewing Company, Vixen Irish Red
Third Place: Parkway Brewing Company, Billy Boys Scotch Ale
KÖLSCH/LEICHTBIER
First Place: Great American Restaurants – Sweetwater Tavern, Barking Frog Kolsch
Second Place: Bike Lane Brewing, Klunker
Third Place: St. George Brewing Company, Morning Dew
MIXED FERMENTATION
First Place: Benchtop Brewing Company, Brown Bear Honey Pot Batch 4
Second Place: Coastal Fermentory, Semper Fermentis – Batch 2
Third Place: Alewerks Brewing Company, Lover's Greed
MONASTIC ALE
First Place: Barnhouse Brewery, Barnhouse X
Second Place: Fine Creek Brewing Company, Aved Frére 11
Third Place: Great Valley Farm Brewery & Winery, Belgian Tripel
PALE ALES
First Place: Blue Mountain Barrel House, Full Nelson
Second Place: Cooling Pond Brewing, Contrary Greek Gold
Third Place: Rockbridge Vineyard & Brewing, Pale Ale
PALE EUROPEAN BITTER/PILSNER
First Place: Great American Restaurants – Sweetwater Tavern, Kissing Bull Lager
Second Place: Benchtop Brewing Company, Crispy Whip
Third Place: Port City Brewing Company, Port City Helles
PALE EUROPEAN LAGERS
First Place: Alewerks Brewing Company, Weekend Lager
Second Place: St. George Brewing Company, Jubilee Maibock
Third Place: Harvest Gap Brewery, Devil Dog Helles Lager
PORTERS
First Place: James River Brewery, James Bean Vanilla Oatmeal Porter
Second Place: Cedar Run Brewery, Ol' Prince William Porter
Third Place: Studly Brewing Company, The Great Vanilla Bean-o
SMOKE
First Place: WildManDan Brewery, We are Pivo
Second Place: Starr Hill Brewery, Two Dogs Walkin
Third Place: Black Hoof Brewing Company LLC, Morning Fog Rauchbier
SPECIALTY IPA
First Place: Benchtop Brewing Company, Crimson Gaze
Second Place: No award in this category
Third Place: No award in this category
STOUTS
First Place: Barley Naked Brewing Company, Irish Prenup
Second Place: Thin Brew Line Brewing Company, An Garda Siochana
Third Place: 6 Bears and A Goat, O'Dark Thirty
STRONG ALE
First Place: Thin Brew Line Brewing Company, VB Strong 
Second Place: Bacova Beer Company, Chimney Fire Scotch Ale
Third Place: Old Trade Farm Brewery & Cidery, Blue Ridge
STRONG EUROPEAN LAGERS
First Place: Brew Republic, Eisbock
Second Place: Barking Rose Brewing Company, Kelsonator
Third Place: Parkway Brewing Company, Ravens Roost
VEGETABLE/SPICE
First Place: Three Notch'd Brewing Company, Firefly Nights Summertime Ale
Second Place: Bold Mariner Brewing Company, Monkey Fist
Third Place: Caiseal Beer & Spirits Company, Coffee Blonde Ale
WOOD
First Place: Selvedge Brewing, Wooly Mammoth
Second Place: Water's End Brewery, Grand Cru
Third Place: Crazy Rooster Brewing Company, Dark and Vast
Honorable Mention: Cooling Pond Brewery, Double Outage Imperial Stout