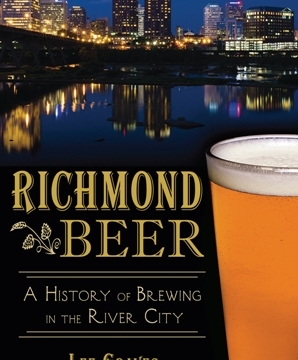 By Jeff Maisey
With all the hoopla surrounding Stone Brewing Company's highly publicized search for an east coast location and the ultimate selection of Richmond as its destination facility, perhaps timing couldn't have been better for the release of Lee Grave's Richmond Beer: A History of Brewing in the River City.
Over the course of 150 pages, Graves takes readers on a fascinating journey that begins in 1607 when English settlers first made their way up the James River. Led by Captain Christopher Newport, the explorers carried vital supplies such as weapons, food and beer. In fact, as Graves tells us, the English came ashore near an Indian village and essentially partied hard with the Powhatan tribe members. As we learn, this is the hilly site where the city of Richmond would later be built.
Beer, of course, was the best source of hydration in those days as water supplies were often unfit for human consumption. Brewers were essential to the survivability of the colonists, and tragically the first wave of explorers was without a brewer, so they soon sent for help.
Graves quotes beer historian Gregg Smith as writing, "Despite its foul appearance, people knew beer was good for them; indeed, it was a major part of their diet and continued to be throughout America's early years."
So there it is folks. All the explanation and justification you'll ever need for drinking beer.
Lee Graves, a longtime writer and editor at Richmond Times-Dispatch, began writing a weekly column on beer in 1996. He's known as the Beer Guy.
It was a decade before, in 1986, while visiting Munich's Hofbrauhaus and a German monastery where monks brewed an exceptional schwartzbier that Graves became interested in beer.
In the book's second chapter – War Looms, Consumes – the author gives a great description of life in Richmond during the 1800s. The strengths of the city during the early part of that century were education, river trade and tobacco. As Graves tell the reader, Richmond was the "industrial center of the South" and "stood out as a manufacturing center" in the years before the Civil War.
Another interesting point is how important European beer imported from Liverpool and London was to thirsty Richmonders during the mid-1800s. Immigrants from Germany, however, accounted for roughly 25% of Richmond's growing population and thus ushered a growing demand for lager brewed within city limits. Graves credits author Samuel Mordecai as writing "lager has gone ahead of all other beverages."
Germans in Richmond owned and operated two primary types of business: clothing stores and saloons, where beer was sold in abundance.
The third chapter of the book is called "As Richmond Rebounds, Beer Surges" and goes into great detail about the city's post-Civil War days of the fallen Capital of the Confederacy and its undying thirst for beer. As Richmond was rebuilding, in 1866, 16 breweries were listed in the city directory. The chapter includes an advertisement from the directory illustrating a five-story factory building that was Continental Brewery, brewers of amber, pale ale, porter, East India Ales and others.
As with any historical account, it is important to know where we came from to provide a foundation for where we are going. And throughout Richmond Beer, Graves provides a fun, yet educational lesson.
One such takeaway is that breweries have come and gone, even before Prohibition. In 1873, for example, a financial crisis led to the closing of all of Richmond breweries except one, James River Steam Brewery, and it shut down the following year.
Before Prohibition went into effect on October 31, 1916, the Richmond Times-Dispatch wrote that "extensive brewery plants in Richmond, Norfolk, Roanoke and other points in the State, now doomed under the prohibition law, may be spare annihilation" if the breweries were converted into producing non-alcoholic "soft drinks." But that notion was quickly nixed. Beer would not pour from Richmond taps for another 17 years.
The book picks up the pace of beer's resurgence in a chapter called "Microbrewing's First Wave Surges into the City." It begins in the 1960s and then gives an appropriate nod to Virginia Beach's Chesapeake Bay Brewing Company, which became the Commonwealth's first craft brewery in 1982.
That's about the same Richbrau Brewing Company opened in Shockoe Slip, as Graves writes, "where taverns flourished in colonial times and cobblestones still rattle cars today."
Graves goes on to discuss the origin of Commercial Taphouse, Legend Brewing Company, Mobjack Bay as well as State Bill 604 in a chapter titled "The Turning Point for Local Beer." He devotes sections to Hardywood Park, Legend, Midnight, Center of the Universe, Strangeways, Lickinghole Creek, Isley, Triple Crossing, Rusty Beaver, Ardent Craft Ales, Extra Billy's, Rock Bottom, and even The Answer Brewpub to give the contemporary craft beer scene is due.
Beyond breweries, Lee Graves takes a broader look across the Commonwealth and discusses the source of ingredients from hops to yeast production.
Richmond Beer: A History of Brewing in the River City is the perfect complement to connect the dots between the past and present, and shows the current generation of craft brewers that they are part of a longstanding beer community that have evolved since the founding of America.
A Q&A with Lee Graves
How did you decide to write a book on RVA's beer history?
History Press contacted me. It sounded like a fun undertaking and a natural fit for all the beer writing I've been doing over the years (since 1996). Also, I love history.
How long did it take to complete?
October 2013 to August 2014.
What did you learn in the process about Richmond?
That's a hard question to answer because I learned so much. The main thing I learned is that beer is a vital part of Richmond's past, present and future. From 1607 to today — through colonial days, the Revolutionary War, the Civil War, Prohibition, the advent of microbreweries, the current craft boom — beer has been a part of Richmond's fabric and appeal. I came away thinking that Richmond might easily claim to be the most beer-historic city in the nation.
What do you hope readers will take away from the book?
I hope readers get a sense of what a fascinating, multifaceted city we live in and how the beer, brewers, entrepreneurs and beer-lovers have helped shape not only Richmond but also the U.S. There are some wonderful stories in the book — some that I hope will make people smile, some that are poignant, some that are inspiring — so I hope anyone who reads it will be entertained as well as informed. Maybe some folks will become beer adventurers, exploring new beers and visiting historic sites.
Where is it available?
Online (Amazon, History Press), at major bookstores such as Barnes & Noble, at several Richmond bookstores (Fountain Bookstore, Chop Suey Books), numerous RVA breweries (Strangeways, Legend, Hardywood, Midnight, to name a few), and at some restaurants (Mekong, for example) and homebrew shops (WeekEnd Brewer in Chester). I'm sure there are others. A list of signings and receptions is on the book's Facebook page (just search for "Richmond Beer").