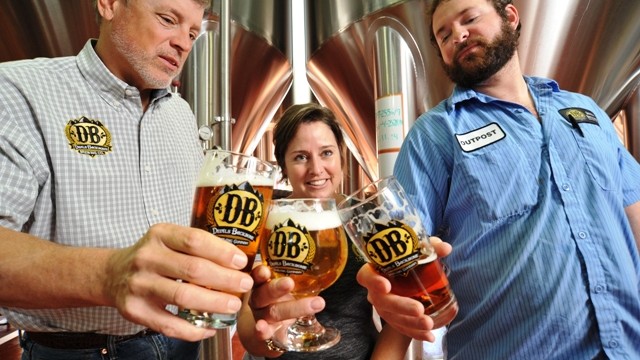 BY JEFF MAISEY
News this spring spread like wildfire when it was announced Anheuser-Busch/Inbev would acquire Lexington, Virginia based Devils Back Bone Brewing Company.
Many craft beer enthusiasts responded swiftly and harshly on social media. But many in the craft beer world seemed to understand the dilemma Devils Backbone faced behind the scenes. So did Virginia's top politician.
"Through Anheuser-Busch's network of distributors, Devils Backbone will soon be available nationwide," Gov. Terry McAuliffe said in an official statement.
Could DB's award-winning Vienna Lager become the best selling beer in America one day?
Why not?
Devils Backbone Brewing Company was founded in 2008 by Steve and Heidi Crandall. The brewery started as a brewpub, which it still operates, in Roseland, Virginia. Due to demand, Devils Backbone opened a large scale production facility in Lexington. The brewery had repeated successes at the Great American Beer Festival in Denver as well as in the World Beer Cup competition.
However, even with its expansion to become Virginia's largest craft brewery, it struggled to keep up with demand for its award-winning brands such as Vienna Lager and Eight-Point IPA.
To find out more about the deal I called Devils Backbone co-founder and CEO Steve Crandall to see what he could share.
How much did Anheuser-Busch/InBev pay for Devils Backbone?
It's a wonderful number, but I've signed a non-disclosure agreement. I can't give you that information.
Steve, we have observed Devils Backbone start as a brewpub in Roseland and then expand several times in capacity to produce beer at the Lexington facility. You've won numerous prestigious awards in national and international competitions. The Virginia Chamber of Commerce has named Devils Backbone the top growing manufacturer for the past two years. How much did this rocket growth factor into your decision to sell?
We were making good money, but we were literally at the point that we couldn't afford to fill the potholes in the parking lot because every dime we had in excess cash when to capacity – in terms of fermentation tanks or employees. Last year we hired a new person every 10 days. It was insane growth. That's the key here.
If we had slowed down the growth we wouldn't have had to sell the company, but it would have taken us 15 to 20 years to do what we'll be able to do in a very short period of time.
On the financial side of the things, the income that we are generating from sales cannot support the growth.
In January of last year (2015), I started going to our existing bank – and other banks because I didn't believe what they were telling me – which was that financing our growth was impossible for them under the current banking regulations because they had to look at current financials. They can't look at financials a year down the road, and that's when you really start making money on your added infrastructure. When you bring-in things like new brewing systems or 960-barrel fermenting tanks, that whole process takes six months to a year. You're having to spend the money and you're not going to generate any money off of that purchase for a least a year because it takes a while to ramp that up.
The banks absolutely had their hands tied.
When I was going through this process Anheuser-Busch called and wanted to visit. Quite frankly I was a bit humbled they knew we were on the radar. They came in here and expressed an interest and desire to buy us. I politely told them, "Hell, no. I'm not interested in selling my company." They left. We continued working on the problems subjugated with funding the business. We got to the point where we knew we couldn't go it alone.
Four of the investors in the company, which includes myself – and I was the youngest – are 60 to 77 years old. We'd already invested $12 million in the business and there wasn't a desire to continue from that pool. We'd borrowed about the same amount from the banks. So we had 20-some million dollars invested in the company and the banks weren't going to give us any more money.
I went to First Beverage Group based out of California. I had known some of the guys. JB Shireman is one who's a bit of a soothsayer in the beer biz. He was one of the original employees at New Belgium and is in Mergers, Acquisitions & Support for people trying to understand financial issues related to the beverage business.
I went to them to say, "Hey, I'm interested in figuring out a problem I've got: I cannot fund my growth."
Right now we have 150,000 barrel capacity. We are expected to do 90,000 barrels this year – before we signed with A-B. We're only operating in 38,000 square feet of space. We don't have room to put pallets of cans or anything inside. We're putting tarps over them outside. We don't have room to put our cooperage inside. That was going to hinder our growth.
First Bev Group came in and said you've got a lot of options. They educated my on the options. One of them was a private equity investment. There are plenty of guys out there willing to loan you money, but the terms and conditions and the exit are pretty challenging – at least they were for me. Private equity guys are looking to get in and get out within a relatively short period of time – 5 to 10 years – because they want to make a return on their investment, right?
That wasn't a good solution for me so I started looking at this other group of people. There were roughly 20 names on the list of potential interested parties to do either mergers or acquisitions of our company. Some were in the craft space and some were the larger brewers around the world. We limited the list down to six or eight names. We had people flying-in from all over the world very interested in who we were. We even talked to the biggest names in the craft beer world that were interested in taking some smaller craft companies on.
As we worked through that list we had several offers. The guys at Anheuser-Busch were the ones that kept rising to the top. They really, really listened to what our hopes and dreams were for our brewery; what we wanted to do; where we wanted to go.
We actually had an offer from another great company that was more money upfront than what we got from Anheuser-Busch, but they weren't supportive of the build-out and the backend. They felt like we had to grow into that. But therein lies our problem, of course.
As we worked through with A-B we began to see these guys weren't Martians. They were actually really neat beer guys.
The way I look at it, A-B has different divisions. You've got the traditional division with guys working hard every day to win. You have the High End division, and those guys are out to win too. There may be differing approaches and even conflicts with what they do. The guys in the High End are all about craft.
I began to understand what I would do if I signed on with A-B was I was getting a different bank. The Bank of Bud, I was calling it to my staff. Our existing bank was maxed. They couldn't do any more. And here were these other guys who had much deeper pockets and a very similar approach to monitoring our business as the banks did. The banks checked our financials every month; told us where we could spend money; and what we could do. Well the Bank of Bud is effectively doing the same thing with the exception they're bringing a ton of knowledge and have deeper pockets. They believe in my dream and my vision and they will allow me, as the CEO of this standalone company, to build this thing out the way I've always wanted to do it. That was incredibly important to me, but not as important to me as supporting my employees. That was a big concern, and that concern was quickly put to bed by these guys. They do not want to alter a single thing that we're doing. They want our DNA. They want to learn from us. They said, "We think very highly of your company. We're not going to tell you what to brew. We're not doing to tell you what market to go into. That is your decision."
They have incentivized us to grow the business over a five-year period, and beyond potentially. We have this amazing amount of autonomy to build this business and grow it, and still play in the craft space. We're excited about that.
What is your vision for Devils Backbone moving forward? Do you want to be a national brand?
I never had a desire to be a national brand. I had the desire to be what some people refer to as a super regional. I suspect three, four, five years down the road that we will be a national brand. Initially we're going to focus on the East Coast for our expansion.
None of that has been quite nailed down yet. I don't see us making any big moves this year. There'll be a big move for us next year.
Through the Bank of Bud we're going to be able buy more capacity right at the beginning of next year and bump us up to 180,000-barrel capacity.
We had been building this brewery to the 250,000-barrel capacity mark. Right now we're just adding fermenters and chillers to get us there.
We're going to be doing a 50,000-square-foot addition to what we have. This will be for shipping and receiving. We're moving our packaging to the new facility to allow us to pick up our 30-barrel system and move it to where the packaging was. We're going to get into a very serious barrel-aging program here. It's something that's been in the plans forever but we could never afford to do nor had the space to do. Our brewers are ecstatic about being able to have that level of creativity.
Once that 30-barrel vacates its space we then have the ability to triple the size of the taproom and be able to project it out of the east side of the building. So a lot of change is going to happen at the Outpost facility and the Nelson County facility.
One of the things they required of us in this deal was that we continue having our festivals. That experiential aspect and the importance of that was something I felt was critical and that they got immediately. So we're going to do more impactful festivals.
We will go ahead and finish the Meadows area. There will be some incredible things we're not disclosing yet. We're hiring an engineering firm to go in and start laying out the rest of the 100-acre property for permanent camping, RV hookups, cottages, office buildings.
We want to continue supporting craft beer at any level in Virginia. As you know, we've been very instrumental in growing and supporting craft in Virginia through legislation, the Guild and the Virginia Craft Brewers Fest. We're not in this thing to crush anybody. We're already the largest brewery in Virginia. This is about expanding outside the state of Virginia.
You were very instrumental in the creation of the Virginia Craft Brewers Guild. They'll be voting on May 18 to consider whether you'll be considered a craft brewery and possibly whether to create a new tier to allow Devils Backbone to remain actively involved. What would you ask of the Virginia brewers and what are your hopes?
I've been really humbled by the response I've gotten from the other Virginia brewers. I've gotten a ton of emails from them supporting us. I was surprised by it because they didn't have to do that.
You know, it comes down to what's in the glass. I do believe that a lot of the brewers we've become dear friends with and collaborated with, they get it.
It's a tough business to grow, especially at the level that we achieved. For a small brewery with a 5-barrel or 10-barrel system the challenges are probably equally as challenging as what we had. I lot of our brewery friends recognize that.
I love Virginia craft beer. I love Virginia and the people that we've met along the way. We want to continue and maintain those relationships. It's up to them to decide whether or not we are still in the tent or out of the tent.
Regardless of their decision our focus is going to remain the same; we're going to support all things craft in every possible way we can.
We've got the Bank of Bud on our side now. I think with those resources we can do an even better job supporting the craft beer movement in Virginia.
That may seem strange to some people that Bud would even allow that, but the guys I'm dealing with in the High End division their mission is to support craft.