By Jeff Maisey
Taking a cue from their neighbors just to the north in Nelson County (Brew Ridge Beer Trail), the eight breweries in the Roanoke Valley region have developed an official trail of their own.
Dubbed Virginia's Blue Ridge Beer Way with the catchy tagline "explore-a-pour," you don't have to venture far off of I-81 to visit the craft breweries of Soaring Ridge, Big Lick, Roanoke Railhouse, Parkway, Flying Mouse, Sunken City, Callaway and Chaos Mountain.
As is the case with all breweries across the Commonwealth, each has its own unique charm. There are similarities and differences. Most have schwag so you can buy a T-shirt, pint glass, hat or bumper sticker to prove you were there. All have fresh craft beer and a story to tell.
The Beer Way can be done in two days if you schedule your route based on hours of operation and the distance between breweries. This trip is ideal for a weekend. I used Roanoke as my home base, staying at the historic Roanoke Hotel. There is a covered walkway from the hotel to the streets of downtown Roanoke where several excellent options for dinner and more craft beer await after a full day of brewery hopping. A highlight downtown is Blue 5 Restaurant with its impressive selection of Virginia as well as Belgian brews. They have a full menu with items such as Sweet & Spicy Salmon ($23), Baked Veggie Lasagna ($16) and their signature dish, Shrimp Creole & Grits ($23). They also have live music, a plus in my book. Also worth considering: Waseba City Tap Room and Grill, Lucky, Beamer's 25, Local Roots, and for breakfast The Roanoker is the real deal.
While Roanoke is not Broadway, it does have some cool neon signs, including the Roanoke Star gazing down from the nearby hilltop. Using Roanoke as a destination you have numerous options if you're looking fun things to do. Learn about the history of commercial railways and Norfolk Southern at the Winston Link Museum. Take in a movie at the art deco meets gothic castle Grandlin Theatre. If interested in modern art, the Taubman Museum of Art is a must.  Or just walk the streets of Roanoke as plenty of retail shops, restaurants, art galleries and a farm market await.
Following is a snapshot of the Beer Way breweries. Visit all eight over a weekend, or keep returning at a leisurely pace.
Flying Mouse Brewery
Frank Moeller, owner and brewmaster of Flying Mouse, is delighted the Appalachian Trail is but a stone's throw from his grounds.
"We want to support outdoor activities," said Moeller. "We have the AT that's a half-mile away from the brewery entrance. We're right on the 76 bike route. We get a lot of outdoorsy types and families."
Flying Mouse uses an industrial warehouse set in a uniquely wooded area in Troutville, VA. The outside grounds are made appealing with tables, chairs and a fire pit. Fridays are Paint Night where all ages get creative.
Moeller insists flavor and sessionable beers go with the outdoor lifestyle. That is the focus of his beer lineup, which is branded by numbers. For instance, Three is a kolsch. Four is the smooth-hop IPA. Five is a Pale Ale. Eight is the Porter.
The beer is served in plastic pint cups as well as plastic or stainless steel growlers.
Much of the offering is draft, but two of the flagships – Four and Eight – are sold to-go in canned six-packs.
The logo and branding posters are cartoon-like.
"I grew up as a big comic book fan," said Moeller. "The thought of having a brewery based around a character instead of a geographical location – like a lot of breweries are – was really appealing."
The mouse character is Bartleby Hopsworth. The winged mascot is used in all branding and promotional materials. Moeller's younger brother is the art director who developed the character. And the artwork has developed a fanbase in itself.
"The guys think it's cool and the girls think it's cute, which is great because we're getting it from all angles," he said.
Moeller has four additional partners in the business, but he pretty much is a one-man show. He began brewing 20 years ago.
In the future, Flying Mouse will offer AT hikers a place to pitch a tent, shower and use the "facilities." Moeller has 15 acres of property to use.
Soaring Ridge Craft Brewers
You won't have any trouble finding this place – a large billboard with the Soaring Ridge logo is right beside the brewery.
Many people I spoke with in Roanoke just love Soaring Ridge. Located a block or two from the core of downtown, the brewery (opened May 2014) is housed in a former Flowers Bakery. Large bay doors provide copious amounts of natural light during the afternoon, but nice air flow on a warm night.
There's a great deal of seating with both high tables and picnic style. Enormous ceiling fans spin overhead with concrete floors.
The brewery's tanks and other equipment are visible and open for patrons to gaze at. The bar area uses corrugated steel to look like an outdoor shed from which beer flows from taps.
The tasting area is 4,500 feet. Live music and food trucks are part of the attraction.
"We try to make it a fun space for everybody to come out," said brewmaster Sean Osborne. "It's kid friendly and pet friendly."
Soaring Ridge uses a seven barrel pub brewing system with six seven-barrel fermentors and two 15-barrel tanks. The units are direct gas fire.
Virginia Creeper is the brewery's big seller at local restaurants and bars. It is a dynamic American Pale Ale.
Osbourne said the most popular in-house beer, though, is the White Top Belgian White.  Also on the beer menu is Whipa Snapper IPA (white IPA), Switchback IPA, Tonker Creek Kolsch, Twisted Stump Porter and a special ESB.
Seasonal beers are a hit with locals. I was particularly impressed with Berry White, a fun tribute to the soul singer using White Top soaked with blackberries for two weeks. Talk about delicious: yum.
Last year Soaring Ridge unveiled a small batch of pumpkin beer to appease customers.
"It sold out in an hour and a half on a Friday," Osborne said. "I guess we'll have to do a bigger batch of it next time."
Like most of the breweries in this region, the great outdoors play an important part to the lifestyle appeal of the brand.
Big Lick Brewing Company
Located in downtown Roanoke, Big Lick is the snug type of place that appeals to me on a cold winter's day. The interior is dark. Capacity is 45 people. Wooden tables give it a yesteryear vibe as do the trolley tracks and wood railroad ties incorporated into the bar. It feels like an old school tavern.
Big Lick is a two-barrel nano brewery. The entire brewing system is located behind the bar.
Bryan Summerson is the brewmaster. He doesn't like to brew the same recipe over and over. That's typical of breweries on this scale. Since opening in September 2014, he has brewed over 50 different styles.
When I pop in and found Chuck Garst pouring flights to be served on a wooden tray, the flavors of the day were Summer Sun Rye Pale Ale, Cornwallis Revenge (English Double IPA), Murray Run Red Ale, Logperch Brown, Slave to the Grind (coffee stout) and Dunkle Lecron (dark hefeweizen).
Out of the 50 unique recipes, only six have been repeated.
"Our big seller is called Peace, Love & Hoppiness," said Garst. "It's a Double IPA we've brewed four times."
Status Quo Cream Ale is also popular when they put it in rotation. This Time IPA is so named because Summerson changes the hop varieties for each brewing. He's brewed it five times thus far.
An announcement board lists the brewing schedule and the specific experimental beers to be unveiled. By popular request, a Peanut Butter Porter will get a second brewing.
"It came out real good last time so we're doing it again," said Garst. "It has a lot of Hershey's pure powdered chocolate in it too."
Big Lick, as you might imagine, primarily attracts serious craft beer enthusiasts.
On September 17, the Russian Imperial Stout that's been aging in a bourbon barrel by the front door will be tapped for the brewery's one-year anniversary. It's been aging since February.
Expect the unexpected.
Not all beer labels are created equal. Arguably the most dynamic and graphic novel-like are those used for the packaging and branding of Chaos Mountain Brewing, located in Callaway.
The brewery is like a funhouse of sorts for craft beer enthusiasts. Taxidermy bears and deer adorn the walls. The concrete floor is painted blood red. A billiards table is targeted with stickers of every size and sort. Hanging on the walls and from the ceiling are vertical posters of each beer brand's identity.
"We work with a company called OK Yellow out of Charlottesville," shared Wendy Hallock. She and husband Joe are the owners of Chaos Mountain. "We started out with them creating a logo for us. We told them we have a stark sense of humor and our philosophy was Gary Larson's Far Side meets Monty Python's The Holy Grail. People love our artwork and they totally identify with a particular label."
Chaos Mountain uses a 30-barrel and a smaller seven-barrel pilot system. Joe and Wendy Hallock, along with brewmaster Will Landry, got the facility up and running in March 2014 with the grand opening that May.
In one year, the brewery has exceeded expectations. The list of beers available for tasting in the taproom include Mad Hopper (6.7% ABV), Agents of Chaos (dark Belgian style, 10%), Cheeky Monkey (Belgian golden lager, 5.3%), Squatch Ale (Scottish ale, 7.5%), Ultimate Warrior (Double IPA, 8.5%), Dark Saison (7.5%), Cross Czech Pilsner (5.3%) and Abby's Abbey in White Wine Barrels (barrels from Chateau Morrisette, 8.3%).
From the beginning, Chaos Mountain has offered its product on draft and packaged in 12-ounce and special 750 ml bottles. All are exceptionally good.
"We're still trying to figure out what our flagship beer will be," said Landry. "The markets are so different. If you look at the local Roanoke market and Lynchburg, the Squatch and Cheeky Monkey sell really well. If you go to Richmond and Charlottesville, Mad Hopper becomes more prevalent. Richmond, for us, was a really different market that what we had experienced in Southwest Virginia."
Like the other breweries of the region, Chaos Mountain is supportive of the official Blue Ridge Beer Way designation.
"I think this area of the state is under visited," said Landry. "Most people who think of visiting breweries in the state focus on Charlottesville, Devils Backbone. Richmond has its wealth of breweries. And now you have breweries on the coast in that Norfolk and Virginia Beach area. So I think once people start to hear about us they'll see we're as quality as any of the other regions."
Down the road away from Roanoke in a retail corridor near Smith Mountain Lake, you'll look over and see a large brick building with the Sunken City Brewing Company logo on the side.
"It's a sign," this weary and thirsty beer trail traveler said.
Jeremy Kirby, brewmaster and VP of Operations, and owner Jerome Parnell thought Smith Mountain Lake should have its own brewery. Smith Mountain Lake, after all, sees some 300,000 visitors each year from the Mid-Atlantic region. They built the facility from the ground up to accommodate future growth. Sunken City uses a 25-barrel, four vessel brewhouse system.
Sunken City's core beers include Dam Lager, Red Clay IPA and Steamboat Beer (an ale brewed with lager yeast). They are commonly found in statewide grocery stores as well as in North Carolina and West Virginia.
It was the sales of Dam Lager, which debuted in 2007, that actually funded the construction of the current brewery and tasting room.
And what an attractive tasting room it is. With a high 3-story ceiling, a large map of Smith Mountain Lake and the fabled Sunken City that exists beneath the water's surface is illustrated with historical notes. The bar was made with repurposed wood and roped pier posts. A window behind the bar provides a glimpse of the working brewery.
"My goal originally was to be a destination so we wanted to make the taproom a reflection of the brand," said Parnell. "There are a lot of people here who hang out on their boats and docks. It's like an oasis in the western part of Virginia. People come here and it's almost a beachy type of experience."
Being part of a beer trail has its advantages. Kirby sees an opportunity for the entire region as a result.
"We got together a year ago and realized all of a sudden there were eight breweries in the area," he said, "so we wanted to make it a travel destination and get people down from Richmond. We're a little bit forgotten out here in the west of Virginia compared to all the populated places up in the north."
For those who like a good treasure hunt identifying Callaway Brewing Company provides a fun challenge in a rural setting. Not that a map of GPS won't get you there, but second guessing yourself as to whether you're at the right place or not.
Callaway is owned and operated by Stirling White in a garage next to his mother's house. White's mission and slogan is "ground to glass."
"We want to be a gateway beer," he said.
A few Christmas lights provide a festive atmosphere in the garage brewery. A green couch and arm chair along with two picnic tables provide ample seating.
Callaway's starting lineup includes Five Mile Mountain (amber ale), Eastern Divide (pale ale), Freeborn IPA, Woodsplitter Stout and Blackwater Porter.
Roanoke Railhouse
The modern craft beer scene got its start with Roanoke Railhouse and owner Steve Davidson. Several of Virginia's budding brewers passed through its doors.
No longer in its original location, the Railhouse still draws a crowd. The tasting room features black and white décor. Trains are the theme not only in name but also on the artwork and photographs on the wall.
Track 1 is the brewery's signature brew. It is an amber colored lager. For IPA lovers, try the Broken Knuckle. Switch Monkey is a Belgian pale ale.
Parkway Brewing
Parkway's expansion and new retail space is set to open in August. When I visited in late May, it was still under construction. I must say, though, I was happy to have a few pints in the old tasting room that is positioned right next to the fermenting tanks.
"We have to move the retail and shift it outside because all the manufacturing will be in what you see now," explained owner/brewer Mike "Keno" Snyder. "We'll have glass, garage doors all the way around.
"When we originally opened we didn't know we'd have retail. So now we're building a parking lot also."
Parkway operates a 30 barrel, four vessel brewhouse, Current annual capacity is 580 barrels. The craft beers are distributed throughout Virginia:
Flagship brands include Get Bent Mountain IPA, Bridge Builder Blonde, Majestic Mullet Kolsch and Raven Porter.
Awards: Raven Porter won Gold at Virginia Craft Brewers Fest, Blonde won Silver.
A new series was started with Beth Massey's book called Factory Man. "She has been very successful with that book," said Keno. "When that book came out we developed Factory Girl, which is a session IPA. We rode our coattails on that. The next one we'll have out is the Remedy based on a book by Martin Clark called the Jezebel Remedy.
Keno likes the idea of the Blue Ridge Beer Way to market the region's craft breweries.
"We started out slowly," he said. "We've got place cards out now. It's obviously working over in Nelson County with Devils Backbone, Blue Mountain and Wild Wolf. It will give people a way to hit all the breweries in the area, or at least be aware of it. When we open our retail we'll be open six days a week. Right now we have people coming off Interstate 81."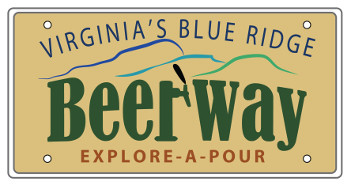 Virginia's Blue Ridge Beer Way
Big Lick Brewing Company – 135 Salem Avenue, Roanoke
Callaway Brewing Company – 21 Woodwinds Road, Callaway
Chaos Mountain Brewing – 3135 Dillons Mill Road, Callaway
Flying Mouse Brewery – 221 Precast Way, Troutville
Parkway Brewing Company – 739 Kessler Mill Road, Salem
Roanoke Railhouse Brewery Company – 3016 Franklin Road, SW, Roanoke
Soaring Ridge Craft Brewers – 523 Shenandoah Avenue, Roanoke
Sunken City Brewing Company – 40 Brewery Drive, Hardy