Just 45 minutes outside of Roanoke, located in Forest, VA, Pints 'O Plenty, one of the largest homebrew supply stores in the state of Virginia, and its sister brewery, Apocalypse Ale Works often get overflow traffic from visitors to the Blue Ridge Beer Way.  Owners, Doug and Rosalie (Lee) John think that it's "awesome to be a part of so many great breweries on that list."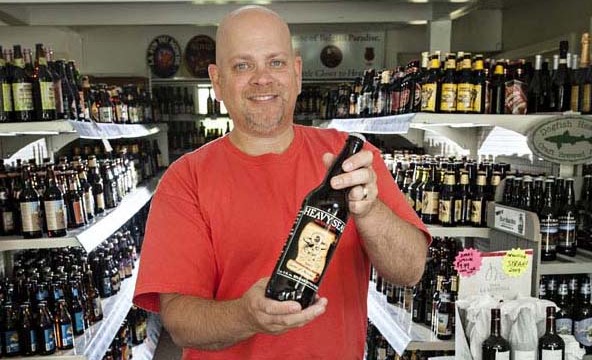 Doug John originally opened Pints 'O Plenty in 1995 as a hobby operating the business only on Saturdays and Sundays.  Due to life's circumstances, he had to close the business and focus on other things.  Then, in 2010, Doug left his job in the manufacturing world to pursue his goal of re-opening his homebrew store.  His wife, Lee, says, "It's gone better than we ever expected it to.  And, to be able to add the brewery (Apocalypse Ale Works) along with it has been absolutely amazing!"
I recently had the pleasure of talking to Lee and learning about the exciting things happening at Pints 'O Plenty.  Lee tells me that originally Pints 'O Plenty was located in an antique store and only carried 150 different styles of craft beer.   After two years, they expanded and moved into their own building and now have over 650 different types of craft beer on the shelves along with wine and homebrew supplies, winemaking kits, cider, and coffee.  Their next expansion venture is to put in a growler filling station. They plan to add a cold room and set up a bar with ten tap handles and rotate through a variety of craft beers.  They hope to have this part completed by the middle to end of August.
Lee says that they are looking forward to doing some fun things.  They would like to introduce "Tap Out Tuesday" where they reduce the price of the growler fills to $10 across the board with the exception of specialty beers.  They also would eventually like to highlight Virginia beer on the taps with monthly Tap Take Overs where people would have the opportunity to talk to a rep from the brewery, sample beer, and fill their growler with their favorite.
In Lee's opinion, "Virginia has some of the best beer in the country.  With our water, we truly have some of the best breweries in the country right in the state of Virginia."  Lee is excited that Pints 'O Plenty will be able to highlight these beers and introduce them to people who may not normally have an opportunity to try the specialty beers that are only available in kegs.  Lee continues, "Our goal is to educate and give people the opportunity to try different beers that they would not normally have access to."
In terms of their bottle selection, Pints 'O Plenty features a wide selection of Virginia craft breweries on the shelves.  Lee says that they try to get the specialty brews – the ones that you can't find everywhere.  Lee has found that the more Virginia beers that they have on the shelves, the better they do.
I asked about what's new at the store.  She gets excited and tells me, "Around August is when all of the great Oktoberfest beers start coming out. The Fall is such a fun time for craft beer because there are so many unique and fun beers. I am always ready for pumpkin beer!"  In Lee's opinion, Alewerks has one of the best pumpkin beers available on the market.  She says that it typically comes out August-September and that she will definitely carry a large amount of it.  Other favorites will include Spooky, an un-spiced imperial pumpkin ale, from Blue Mountain Barrel House, and Pumpkin Hunter from Devils Backbone.  Lee says that they will carry every Virginia craft seasonal beer available at that time whether it's Pumpkin or Oktoberfest.
One beer that they won't be selling on tap is anything from Apocalypse because people can visit the brewery next door.  If you visit the brewery, be sure to try the recently released Barrmageddon, a Bavarian lager made with German malts and hops.  Lee explains that it is their version of an Oktoberfest – nice, clean and malty.
You could spend the afternoon visiting the two locations and sampling both specialty beer from Virginia and all of the great beer that Apocalypse has to offer.  Visit Pints 'O Plenty at 1219 Burnbridge Road and Apocalypse at 1257 Burnbridge Road in Forest, VA.