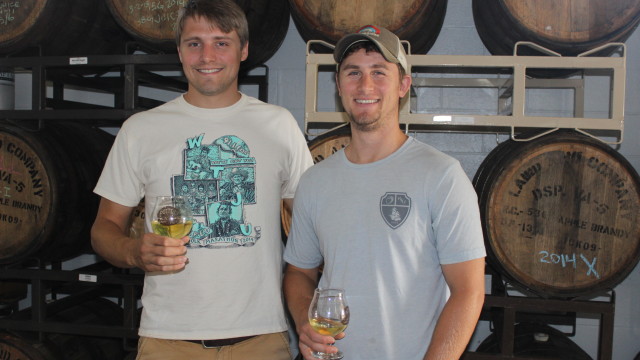 Recently, I had the opportunity to visit the beautiful horse country just outside of Charlottesville and chat with Dan Potter and Tim Edmund to learn about Potters Craft Cider. Potters is located in a former horse veterinary clinic on the grounds of Wildair Farm, a working horse farm, in Free Union about 15 minutes from Charlottesville.
Dan and Edmund were college buddies who shared the love of beer as home brewers. Tim says, "We were driven by the motivation to make beer that we couldn't buy or that we felt could make fresher and better than we could buy." Tim explains that in college, they brewed the styles of beer that were not commercially available. They eventually started to toy with the idea of starting a brewery or a farm house brewery. After college, Tim was focused on his career in finance and Dan was working on his family's farm in Richmond. It was here that Dan started to experiment with making cider. He made a batch of dry cider made with real apples and sent it to Tim who was living in DC. Tim was amazed by the flavor. He said, "Wow! I never had anything like this before. It was re-awakening that passion (to brew) in a territory that is totally unexplored." They saw cider making as "a place where they could go and really experiment and play with apples and play with yeasts." At the time, the commercial cider market was dominated by sugary ciders. Dan continues, "It's exciting. There's not a playbook for the things that we are doing. We really want to focus on quality and focus on fruit. We see this as an opportunity to create something really unique."
Potters was the fourth cidery to open in the state in 2011. Dan says, "We are lucky to be in Virginia to have access to these really good cider apples…varieties less commercially available. Old Virginia Winesap and Albemarle Pippen make really complex, acidic almost wine-like ciders. We can really do something exciting with these apples."
Potters currently distributes across the state. They actually self-distribute in the Charlottesville and Richmond markets. It's a privilege given to cideries (like wineries) through the Virginia Winery Distribution co-op. Tim says, "It's great and continues to be an essential part of the marketing to be hands on. A big part of the cider thing is education – what is a cider, why is it more expensive, etc."
Last year, they ventured into the Northern Virginia and DC area, which was very receptive. Potters was the only craft cider to be on draft in some of these markets. This gave them the opportunity to really educate the consumer on the different styles and varieties of craft cider. Dan explains, "A lot of people have not tasted dry craft cider. They expect the sugary sweet cider. Once they taste it, they like it."
Being located on a working horse farm, Potters does not have a tasting room open to the public. Instead, they focus on pop-up tastings and several years ago, they purchased a 31ft., 1965 Air Stream Trailer which they are transforming into a mobile tasting room. It's been a long process as they are gutting and reworking it from the frame up and priming, sealing, and reinforcing the structure. Their goal is to be able to take it to events and also locate in semi-permanent places for weekends. In the meantime, you can find Potters at pop-up tastings at places such as Greenwood Gourmet, located where 64 & 250 cross on the way to 151. It's a great little place to pop in to get a sandwich and sample the cider while you are there.
All of Potter's ciders start with locally-grown fruit from nearby orchards and farms. They press heirloom and traditional cider apples such as the Albemarle Pippin and Virginia Winesap as well as Gold Rush. The apples are pressed and the juice is fermented in cold temperatures which allows each apple variety the opportunity to fully showcase its flavor.
They currently feature three flagship ciders. Farmhouse Dry is pale gold in color and the flavor is crisp, tart, and dry with aromas of peach and melon. Oak Barrel Reserve is aged in oak barrels sourced from Laird apple brandy distillery. It is a full bodied cider with aromas of caramel, vanilla, toasted oak. The thirds is Hop Cider made from Albemarle Pippin & Gold Rush apples combined with whole leaf Citra and Amarillo hops. Their unique cold infusion process brings out the delicate hop aromas and flavor. It's perfect gateway cider for the craft beer lover!
In addition, they have been working on small batch barrel aging projects with distilleries such as Copper Fox Distillery and Virginia Distilling Company. They created their Ryesap Cider aged in rye whiskey barrels from Copper Fox Distillery. And, they are working on a single malt cider using barrels from Virginia Distilling Company. Another small batch creation was their Grapefruit Hibiscus which is part of their Sapling Series. Next up will be experiments with peaches, raspberries, and blackberries.
Dan and Tim are excited about the possibilities, the process, and all that is still to be discovered. Dan says, "There are still many apple varieties, yeast strains, and styles of cider to explore."
Cheers to the journey!
For more information, check out potterscraftcidercom.