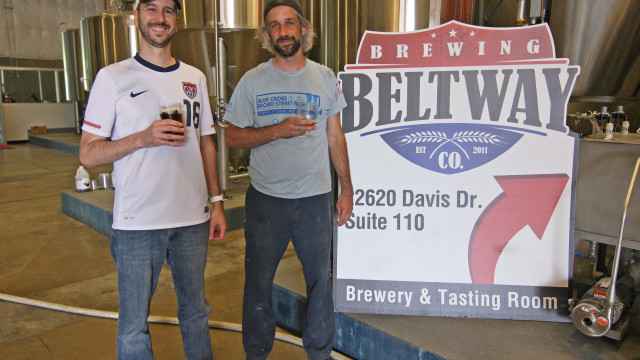 By Jefferson Evans and Chuck Triplett
When you walk through the doors of Beltway Brewing Company in Sterling, Virginia you are immediately struck by a couple of things – that this is one big, clean, modern, shiny brewery, and that they have lots of space, with more space on the way by the time you read this.  A back wall will have been knocked down to make additional room which will most likely be used for dry storage and more tank space.  Beltway Brewing may have a non-traditional business model, i.e., brewing solely for other business entities with no brands of its own and no intent to change that fact any time soon, but Founder and President Sten Sellier and Head Brewer Drew Perry have maxed out their production capacity and are producing some fine beers.  Inside the box, outside the box, whatever – the future is bright.
Drew Perry is from south Jersey and made his bones in the brewery trade at Flying Fish Brewing for over 6 years, first in Cherry Hill and then after the move to Somerdale, NJ – moving up from the packaging line to a position as Brewery Manager and being part of brewing teams that won 4 GABF medals along the way. He is a member of the Masters Brewers Association of the Americas and is a 2007 graduate of the American Brewers Guild Intensive Brewing Science and Engineering Program.  When Sten posted a "brewer wanted" ad on probrewer.com, Drew decided to apply.  One might wonder why he would leave Flying Fish after having made the leap to Brewery Manager, but Sten provides some insight as to at least part of Drew's decision making process.
"My initial impression of Drew was that he had an impressive attention to detail.  Not the kind of guy to take short cuts or let things slide to save time, money, or effort.  He also truly loved to brew.  After being so good at his job, he ended up being promoted to brewing manager at his former brewery, he got bored because he wanted to be back in a hands-on brewing role.  I thought that was awesome and everything we needed.  Attention to detail and a true passion for making great beer every day."  And for Drew's part, he tells me he found the ideal of the different business model attractive.
That model has led Sten and Drew to working with a wide range of customers, near afield, and as far away as Florida and Gadsden, AL – the home of Back Forty Beer Company, Beltway Brewing's biggest customer, and which at any one time might place an order representing the equivalent of about 2,400 cases of beer.  The beers brewed for one local customer, Adroit Theory, have proved some of the most labor intensive and challenging to brew.  Some customers, like Back Forty, come to the table with recipes already in hand, whereas others, such as Buffalo Wing Factory, have given Drew pretty free range in formulating recipes and he notes that "the startups have been pretty open to my suggestions".  Batch One brewed was a hoppy amber test batch and Batch 72 was Adroit Theory's Day of the Dead, a 13% ABV double stout.  One of Drew's favorite beers brewed so far is a 9.5% ABV American brown ale aged in rye whiskey barrels.
Whatever the beer, the raw materials might be 100% provided by the customer, might be provided by Beltway if readily available from their suppliers, or it might be a combination.  However, costumers provide all packaging materials, whether kegs, cans, or bottles.  Canning and bottling are handled by mobile bottling and canning lines provided by two different companies.  And shipping of the final product is always arranged by the customer, whether they show up in an old beat up station wagon with paneling on the side, or send a semi –trailer.
One aspect of the brewery that Sten takes great pride in is the on-site quality control lab and the work done by lab technician and assistant brewer Drew "Wiley" Wiles who grew up in a family with a wine vineyard, has a degree in microbiology, and worked in the lab at a Children's Hospital.  Sten says Wiley's "enthusiasm for being a part of our exciting business is what made him the clear favorite over the other qualified candidates we were interviewing".  And the job is no easy task given realities such as the number of yeast to be propagated, the different customers and beer formulations, and the quality control issues involved with maintaining consistencies in the different brands Beltway brews for its customers.
Looking back at the road so far, Drew (the brewer) tells me "the first two months were the toughest. We were ready to go but some of our clients were just not there yet".  That meant capacity that was not being taken advantage of and money not coming in, but that turned around and now they have settled into a work cycle of something like brewing for 10 straight days, followed by something like packaging for 10 straight days.  And in the category of "life comes full circle" factoids, Drew mentions that the newly opened Old Ox Brewery in Ashburn is brewing on the old Flying Fish brewing equipment he made his bones on back in the day.  A little weird, that, buts its beer, so it's ok.
Beltway Brewing is located at 22620 Davis drive #110, Sterling VA  20164.  The tasting room is open Thu-Fri, 4-9pm, and Sat 1-9pm.  http://www.beltwaybrewco.com/ and on Facebook.