(Mike Stacks has The Bold Mariner Brewing Company expanding its horizons.)
By Jeff Maisey
Community Brewing Ventures (CBV), whose mission is to help small and medium breweries overcome growth challenges, announced a partnership with Norfolk-based The Bold Mariner Brewing Company.
Bold Mariner was established in 2015 by Mike Stacks and quickly made a name for itself with award-winning beers such as Frogman Lager and Direct Deposit.
Aaron Gore, CBV's director of strategic partnership, made the initial contact with Stacks.
"My role within CBV is to find breweries around the country that have enormous potential, but haven't had the opportunity to fully realize it yet," said Gore. "With Bold Mariner, that potential was obvious, from the branding to the liquid, and with owners that were deeply connected to the community and story of Norfolk and coastal Virginia."
CBV has an in-house R&D facility in Newton, North Carolina. The company works with contract brewers on the east coast to meet volume needs of smaller breweries like Bold Mariner. This allows The Bold Mariner and its staff to focus on local and CBV handles any upscaling on the side. 
"We need more people like the folks at Bold Mariner, to keep the "craft" in Craft Beer, and if we can help them be successful while staying true to that spirit, then that is what success looks like to us," said Gore. 
I recently reached out to both Stacks and Gore as well as CBV marketing director Megan Miller for additional comment. 
Virginia Craft Beer Magazine (VCB): Is your goal to become a national brand?
Stacks: Our goal is to continue to make great craft beer, keep doing what we are doing. If we ever become a national brand that would be great but it's not what moves us. With CBV's assistance we will be able to keep our focus here in OV (Ocean View) and they can help us scale without having to compromise our brand.
VCB: Which brand or brands is most likely to be pushed on a national level — ie Frogman Lager? How was this determined?
Stacks: We chose an initial line up that we think will be a good introduction to Bold Mariner; that displays both our brand and our ability — Frogman, Lucky Cat, Liberty Risk, and Direct Deposit. These brands will show everyone that we can make great beers in any style. We are not a one trick pony. In the end the customer is going to decide what they want. We are going to keep up the creativity in OV and give the people what they want.
Gore: All of the brands that we are helping Bold Mariner scale have huge national potential, but the most important people for determining what will really be a hit are the customers themselves. A lot of the big conglomerates have been trying for years to "push" products in the market, but any real craft beer fan knows that customers are going to instead "pull" whichever beers they really are passionate about. So we decide what we put out there, and what we think will be a hit, but we also make sure to listen to the customer and to work with Michael and everybody at Bold Mariner to be responsive to what they are telling us they want.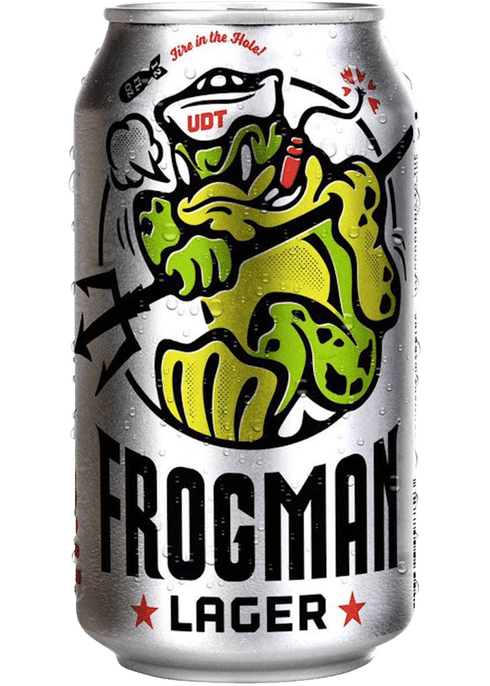 VCB: Packaged in cans and draft? Timeline?
Gore: All beers will initially be in both 16oz cans and on draft, but just like the beers themselves, we are always listening to our customers and working with our partners to make sure that we are staying on-target with what they want. As for a timeline, keep your eyes open. We haven't made any launch announcements yet, but when we do, expect us to be loud about it.
Megan Miller: Once Bold Mariners cans are in distribution CBV will begin a grassroots marketing effort in tandem with a high profile branding campaign to market these beers across our distribution channels and in specific retail locations. We will also be developing consumer driven social media and event based models to celebrate the brand's growth and achievements in the marketplace.
VCB: What are the potential risks for you in this venture?
Stacks: There are all different kinds of risks for small companies when trying to grow. The Craft Beer industry is very dynamic and the gap between being a small craft brewery and one that is large enough to This is one of the reasons CBV is a good partner for us. We will be able to scale up our brewery and not lose control of our brand and our quality product. Craft is what's important to us.
Gore: There's always going to be risk in any sort of business move. That's unavoidable. However, there's also always opportunity, and we do our best to make sure that the risks are minimal, and those opportunities are maximized. In real terms, the biggest risk comes from the macro-breweries like Anheuser-Busch InBev or Molson Coors. We really do believe in the value and the importance of independent craft beer. It's the only way that our industry can continue to innovate and to improve, through the imaginations and creativity of owners and brewers who are working in their communities and who aren't receiving marching orders from some corporate headquarters halfway across the world.
VCB: If you are successful an increased capacity would be needed. Are you seeking to work with a contract brewery (like Beltway) to produce large quantities/volume? 
Gore: The CBV model is designed to keep manufacturing limitations like this from ever being a problem. We have our own in-house R&D facility in Newton, North Carolina, and we work with some of the best contract brewers across the eastern US to help us meet the demand for all of the brands we work with. So as Bold Mariner grows, the only things that they need to focus on is making great beer and making real connections with their customers. We never want something like production capacity, which doesn't add any value for the customer at the end of the day, to be what holds these breweries back.