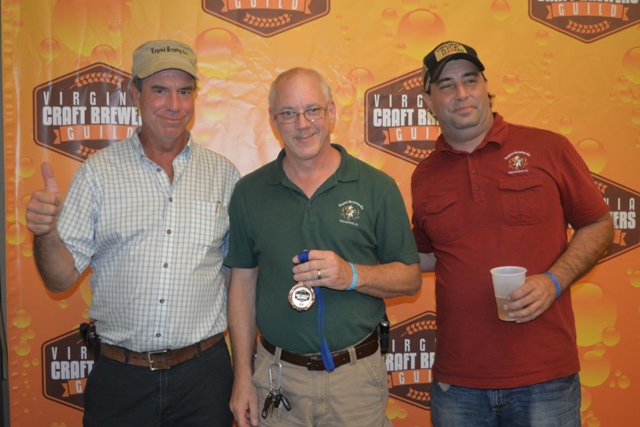 (Dave Gott (center) and the crew from award-winning Legend Brewing Company)
By Jeff Maisey
Legend Brewing Company will open a brewpub in Olde Towne Portsmouth along the waterfront in the historic, curved building that recently housed an art gallery and was the former home to a Mexican restaurant and The Max.
Legend Brewing Company is one of Virginia's oldest craft breweries. It specialized in traditional German, British and Czech style beers. Its flagship brew is Legend Brown Ale.
Satellite, or secondary, locations for craft breweries are rising in popularity across Virginia. It provides a business the opportunity to strengthen its brand awareness in multiple markets. For example, Richmond-based Hardywood Park Craft Brewery has opened a satellite facility in Charlottesville where they brew a small amount of experimental beer on site, but also feature their popular brands shipped from the main brewery. Essentially, it is a retail and merchandising storefront and a means for the brewery to have a larger footprint into a desired market. Think Adidas or Disney stores, but in the form of a craft brewery.
What's unique about Legend's Portsmouth philosophy is that they plan to go through their local distributor, Hoffman Beverage Company, rather than ship core brands direct from their RVA brewhouse.
"With all the talk about how breweries are competing with restaurants, we did not want to come down there and bypass the distributor's markup," said Legend's vice president Dave Gott. "We want to be a friendly neighbor."
Gott said he sees the Portsmouth location being a compliment to the German-themed Bier Garden Restaurant in Olde Town Portsmouth.
According to Gott, the Portsmouth site was selected for its similarity to Richmond. In RVA, the patio overlooks a river with a great view of the city skyline. In Portsmouth, patrons can gaze across the Elizabeth River and see downtown Norfolk's skyline.
"In Richmond, Legend Brewing Company is known for its views," said Gott. "The historical downtown Portsmouth is a good fit for us and it fits the kind of atmosphere we want for our customers."
Legend will operate a 3-barrel brewing system in Portsmouth. Brewers from Richmond will use it to create unique, one-off beers, including an Oyster Stout. It will be a full service restaurant with 80 seats inside and a 70-seat outdoor patio. The full line of legend beers, including its Pilsner and Hefeweizen, will be available on draft.
Legend's Portsmouth brewpub represents the first out-of-market brewery from Virginia to locate in Hampton Roads. San Diego, California-based Green Flash Brewing Company is scheduled to open its large scale production facility in Virginia Beach on November 12-13.
Legend Brewing Company's Portsmouth operation will open in mid to late spring.