By Jennifer Waldera
Situated on a peaceful 20 acres in Waynesboro, Hermitage Hill Farm and Stables is also home to Stable Craft Brewery, a welcoming spot offering craft brews, cider, and a farm to table style menu. While the brewery's welcome may always be warm, owners Nikki and Craig Nargi realize that the weather sometimes may not be, and decided that for winter they would offer an alternative quasi-outdoor seating option that offers both the comfort of warmth and the safety that diners and drinkers are seeking during this time. 
With an eye towards creating a "four season brewery," the couple opted to install six igloos that accommodate up to eight people on the property, each furnished with a wood deck, outdoor carpet, lighting and electric, heaters, a table, and chairs.
When you think about fall and winter, stouts and barrel aged beers immediately come to mind along with spiced or warm hard ciders. We evaluated all that our farm has to offer and what better way to embrace the season than by making it more interesting and fun? It's supposed to be cold, so embrace the winter," says Craig. 
Originally the couple had intended to build small greenhouses to create a fun dining experience under the stars, but found a few issues with the shape. Reaching back to their resort experience, and talking with friends in England, New York, and Chicago, they adapted and installed the igloos.
The igloos are clustered to create a festive appearance while also creating a serviceable environment alongside sidewalks for both guests and staff. The situation of the igloos is also intended to provide guests with inimitable views of the Blue Ridge mountains.
While the igloos are outside, they are intended to provide a respite from the bitter cold of the winter months. 
"The igloos are vented for safe airflow which is both a benefit for Covid concerns and the table top heater. We have discovered by leaving the zippered door slightly open with the two vents that a chimney effect moves air through the igloo."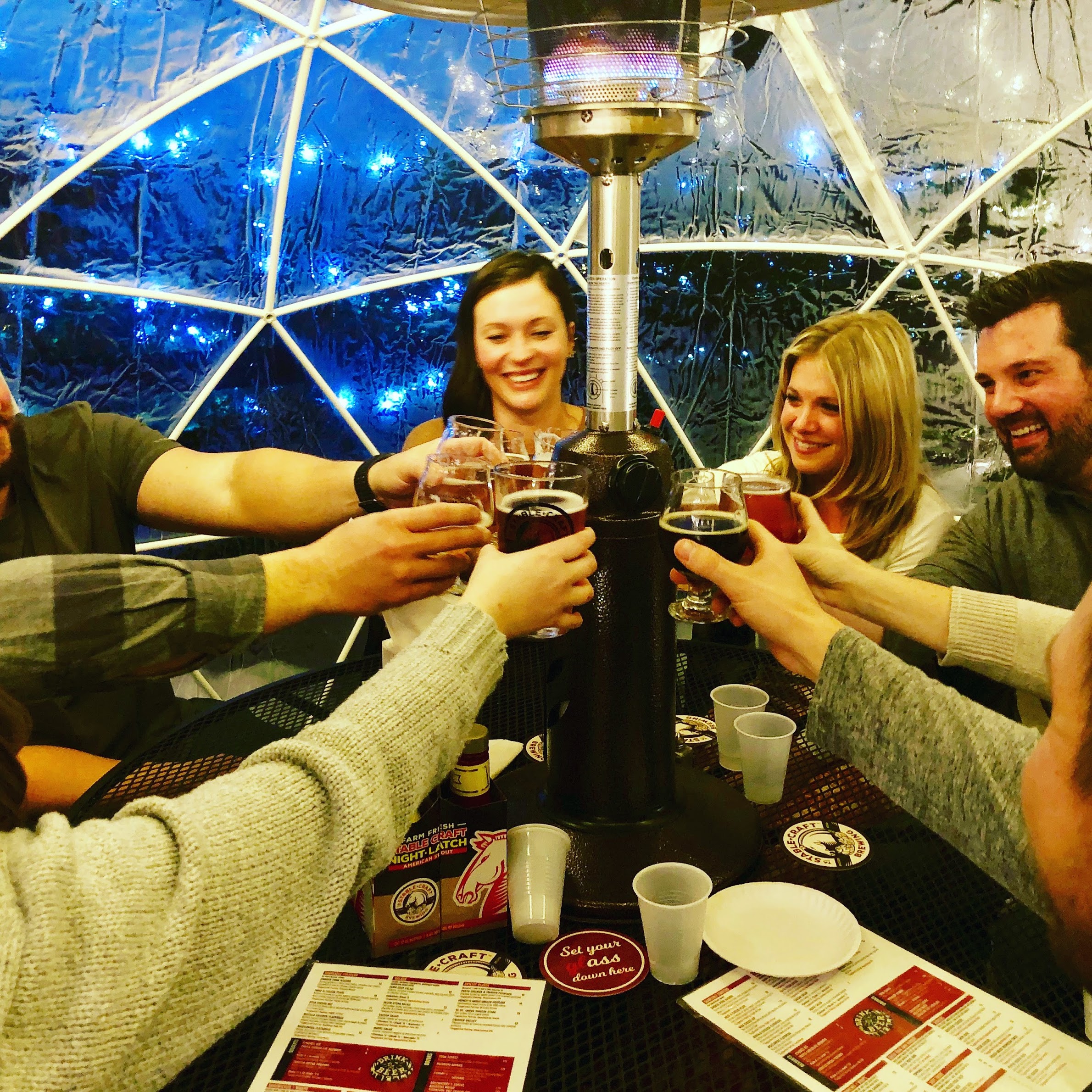 The igloos are also ideal for issues related to the pandemic and the Nargis have taken that consideration seriously. 
"The sanitizing aspects are many and often. We use sprayers with sanitizer and we also have a fogging machine that can be used which fills the igloo with sanitizer and we employ the use of a small fan when necessary to move air. Typically we have really great cross breezes and the site for the igloos enjoys that air movement. We actually located the igloos near our smoker to "harvest the wind" or push smoke away from the main facility."
All of the igloos were purchased for the property along with a multitude of repair items to ensure the igloos are properly maintained. Meanwhile, the regular menu, all of Stable Craft's beer and ciders, and a variety of wine selections from Cross Keys Vineyard are all available in the igloos, with dedicated wait service. There are also a multitude of seasonal beers and menu offerings for the winter. 
"Our chef has been consistently honing the menu to incorporate our beers and ciders. Brown sugar cured seared Faroe Island salmon filet over superfood greens and hickory smoked prime rib appear as specials throughout the season and desserts including molasses panna cotta and spent grain fruited bread pudding topped with cotton candy."
They've also recently released their Madriculous IPA and Robot Cowboy NEIPA which have been dominating their internal sales top ten charts, but they have other recommendations as well.  
"Be sure to try our Pilsner, a crisp, clean, floral traditional German lager. The cult following of our FUmpkin Ale with a redefined recipe has been plowing through our inventory."
Igloos can be rented now through the first week of March 2021 though Craig says that if there's a good forecast for snow in early March, they'll continue. Igloo reservations are for one hour and forty five minutes and reservations should be made on their site, www.stablecraftbrewing.com. 
To tune in to more news from Stable Craft Brewing, visit stablecraftbrewing.com or follow them on Facebook at https://www.facebook.com/stablecraftbrewing/ to see their new vlog, "What's Brewing with Isaac Peglow" in their new studio in the stable called the Hammered Horse Studio.