By Annie Tobey
Williamsburg's historic college, William & Mary, introduced Robby Willey and Chris Smith. They became fast friends, their bond cemented in part by a shared appreciation for craft beer. Their craft explorations began at Green Leafe Café in Williamsburg and continued post-graduation, as together they visited breweries throughout the U.S. Their connection would eventually lead to the birth of The Virginia Beer Co.
If you're familiar with stories behind brewery start-ups, this chapter sounds familiar: Despite solid degrees and successful careers, they both found work interesting but missing the spark that could sustain them long term, a spark that brewery ownership could provide.
The tale becomes more intriguing for Virginians when Willey and Smith reveal that each had moved away from the commonwealth after graduation and were considering other East Coast locations for their new venture – clearly, they didn't begin their planning with the brewery name, The Virginia Beer Co.
However, the home of their alma mater beckoned. Virginia had recently passed SB604, allowing breweries to sell beer on site; Williamsburg promised market potential; and for the two friends, the town also had their personal backstory.
In spring 2012, they decided on Williamsburg. "We love this town and decided to come back," says Smith. "This is a community we'd like to be a part of and help any way we can."
They were unable to locate their facilities downtown near the heaviest tourist traffic, as they'd hoped, due to cost as well as lack of warehouse-type buildings. After all, brewing equipment needs plenty of space and headroom. They expanded their search, but after two false starts – both properties stringing them along for months before falling through – they finally located their new digs.
"Site approval … took an exceptionally long time," Willey says. After signing the lease in December 2014 and ordering the brewing system in January, they waited – and waited. They received federal TTB approval in July 2015, but had to postpone the delivery of their system, scheduled for that same month. Finally, in September, they had received site approval and began construction, preparing their space for November delivery of the equipment.
The Virginia Beer Co. brewery and taproom on Second Street lies less than a mile from the Colonial Williamsburg historic district – an easy stroll, with sidewalks paving the way. The 1960 building, built for utility trucks, provides high ceilings for the brewing equipment, plenty of parking, space for a taproom and a generous street-front area for a beer garden.
Though Willey and Smith feel confident that their experience and their education in finance and economics (respectively) will guide them in creating a successful business, they were realistic about their brewing abilities. Despite several years of home brewing – or perhaps because of – they knew they needed a professional brewer on their team.
"Shooting for the moon, we had three things that we wanted in a brewer: start-up experience, experience at a large production brewery and a degree," says Smith.
Enter Jonathan Newman, who had helped open Jackalope Brewing in Nashville, Tennessee; was working in brewing and cellar work at Sweetwater Brewing in Atlanta, Georgia; and was studying for his degree through the American Brewers Guild (which he has since completed). He'd also reached his light-bulb moment of knowing that his initial career (public school teaching) would not provide the long-term passion that brewing would.
An ad on ProBrewer brought the three together. In May 2013, they met in Asheville, North Carolina, for what Newman calls "the best job interview ever": discussing experience and expectations, tasting Newman's beers and then brewery hopping to see how they meshed.
From getting serious about brewery ownership in 2010 to the scheduled opening in 2016, the dream is nearly ready to be realized.
Their 30-bbl custom DME Brewing Solutions system has a 6,000-barrel capacity. It will provide the volume needed to supply the taproom as well as kegs and cans for distribution. A 60-bbl fermenter allows double batches, but is currently set with a glycol-supply valve that enables the tanks to serve as 30-bbl vessels, allowing for easy doubling of capacity by simply opening the valve and using the tanks at full 60-bbl capacity.
But that's not all – the brewhouse contains two systems for two distinct purposes. To offer variety among their beers while maintaining the year-round portfolio, the brewery also contains a five-bbl pilot system.
"That will be mostly for just taproom," Newman says, "but also kind of a test kitchen. If something does really well in the taproom, we'll scale it up to 30 barrels and it can go out to distribution." Since the pilot system is a mirror image of the larger system, scaling up will be a cinch.
Similarly, four five-bbl fermenters will increase their ability to provide variety and one-offs. By channeling part of a larger mash into a smaller fermenter – adding a different yeast strain, dry hopping differently, throwing in some adjuncts, etc. – Newman can create distinct beers from the same wort.
The Virginia Beer Co. will open with four year-round beers – "and kind of a fifth," Newman says, "… but the public will really determine what the flagship is."
First up comes Saving Daylight, a sessionable citrus wheat beer with orange peel and grapefruit peel.
"I developed this recipe two years ago, way before grapefruit was a thing," Newman jokes. "I was so original two years ago!" He describes the 4.9% ABV beer as having moderate bitterness, dry, made with whole leaf hops in a hop back, and popular with a variety of drinkers.
"We are in tourist country," Willey acknowledged, addressing the wide appeal of Saving Daylight. "We know we're going to have a lot of craft beer aficionados come into our taproom; we're also going to have those who don't know a lot about craft beer … If we can have a beer or two that can become someone's gateway beer, that's still a complex beer that we can be proud of but they can also come to really enjoy… that's a great stepping stone into the rest of our portfolio, and hopefully into the craft beer world."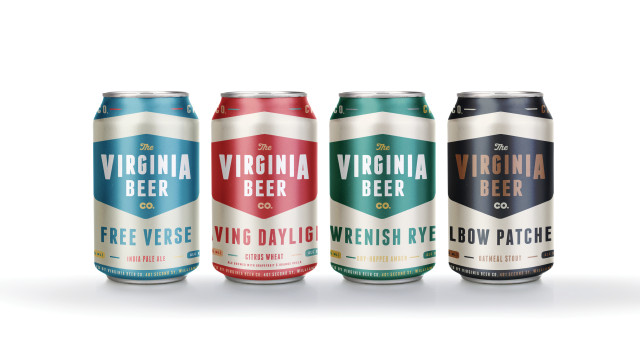 Next up is an IPA. The name, Free Verse, plays upon Newman's earlier career as an English teacher while evoking the concept of freedom from rules. Made with Azacca hops (a new hop boasting tastes of tropical fruit, mango and pineapple) and balanced with Chinook, Free Verse focuses on hop flavor and aroma with moderate bitterness.
The next year-round beer, Wrenish Rye, pays tribute in part to the Wren Building on the William & Mary campus. This dry-hopped amber begins with German rye malt and includes another new variety of hops, Jarrylo, which introduces notes of banana, pear and spice, as well as Simcoe hops. The beer features spiciness from the rye with hop flavor and aroma dominating over bitterness.
Virginia Beer's oatmeal stout salutes teachers and professors everywhere. "Maybe your English teacher has that in his mug in the morning," Newman quips of Elbow Patches. In addition to the 6% ABV base, Newman will play with coffee versions of the stout.
Regular but rotating, the fifth year-round beer launches variations on a saison base. "[A saison] is a style, to me, that really lends itself to playing around," Newman says.
Early iterations include a rye with Amarillo, a Brett version, Szechuan peppercorn, and tangerine peel with Galaxy hops.
The spacious taproom on Second Street presents the feel of a rustic barn: high ceiling, casual and comfortable. Bar base, tables, and wall faces are made with reclaimed lumber and aged metal from a 1907 Windsor, Virginia, farmhouse and barn. The textured painted floor reflects the logo's rich red, barn-like color. Bar stools and tables will seat about 80 customers with a total capacity of about 150.
Outdoors, between Second Street and the entrance, a large, well-lit beer garden covers a similar large area. Three fire pits extend enjoyment into chilly Virginia seasons and the eastward-facing orientation gives shade on warm evenings. A dedicated space for a food truck provides easy access from the patio (designed in high hopes that the York County board of supervisors would vote in favor of food these meals on wheels).
The tasting room will open with eight taps: year-rounds and rotating small batches – perhaps even a new beer weekly – aiming for beers to please a variety of palates.
"We will begin brewing in mid-January," Willey says. "That puts us on track for a grand opening by early spring."
Of the brewery name, as of their location, Willey and Smith appreciate the authenticity it lends to their story – they met here and returned because of beer. It's a name that all of us in the commonwealth can celebrate, from the mountains to the coast. And with their aspirations for expanded distribution and for export, especially given their proximity to the ports of Hampton Roads, The Virginia Beer Co. products will proudly carry the Virginia name elsewhere.
The Virginia Beer Co.
401 2nd St., Williamsburg, VA
virginiabeerco.com