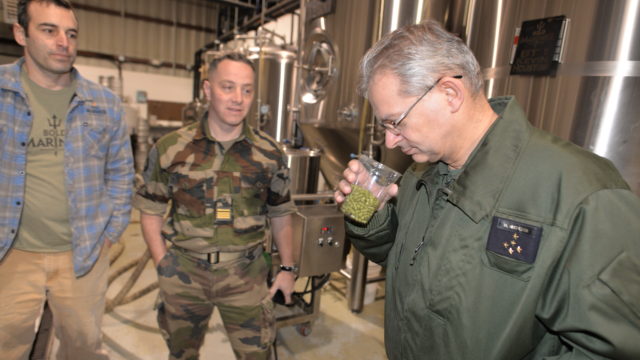 (NATO Supreme Allied Commander Transformation, French General Denis Mercier (pictured right) takes in the aroma of Strisselspalt Hop Pellets as Bold Mariner owner Michael Stacks and unidentified French soldier look on.) 
By Jeff Maisey
NATO Supreme Allied Commander Transformation, French Five-Star General General  joined Norfolk's The Bold Mariner Brewing Company's Michael Stacks and John O'Reilly in brewing Lafayette Lager.
The French-style lager will debut at the Norfolk NATO Festival on Saturday, April 28 in Town Point Park in downtown Norfolk.
The Bold Mariner brew team was able to locate French Strisselspalt Hop Pellets in order to produce an authentic French lager similar to Kronenbourg's 1664. A very mild hop with hoppy, black currant character, Strisselspalt Hops are one of the few varieties from France, essential in the production of classic Belgian and French ales. The hop variety is almost exclusively grown around the Strasbourg area of the Grand Est region, formerly known as Alsace, on the French/German border.
"We're using 100 percent pilsner malts and 100 percent Strisselspalt, for a really floral, citrusy aroma," said O'Reilly, Bold Mariner's head brewer. "It's going to be 5.1% ABV and about 25 IBUs, so on the low end of bitterness but with a lot of hop characteristics for a really easy-drinking lager."
The beer underwent a 2-week primary fermentation, then lagered for two weeks before being filtered and packaged.
The beer is being symbolically named Lafayette Lager in honor of the Marquis de Lafayette (a hero of both the French and American Revolutions) as well as for General Mercier, who resides in the Lafayette House on the Lafayette River in Norfolk.
General Mercier assumed the role of Supreme Allied Commander Transformation (SACT) of NATO only headquarters outside of Belgium. He leads a staff comprised of National Liaison Representatives and support teams from all 29 NATO member nations as well as representatives from partner nations such as Sweden and Finland. The mission of NATO's Allied Command Transformation headquarters in Norfolk is to plan for future conflicts, train staff, and determine potential threats ranging from cyber security to hybrid warfare.
In 1979, Mercier began his military career by joining the French Air Force Academy. He qualified as a fighter pilot in 1983, flying Mirage F1C and 2000C aircraft. His career highlights include commanding the 1/12 Cambresis Squadron (a founding unit of NATO's Tiger Association), participating in Operation Deny Flight over Bosnia-Herzegovina, and numerous combined joint task force efforts at the tactical, operational, and strategic levels. From 2004-08, he was assigned to the French Air Force headquarters in Paris, where he became Chief of Staff for budget and performance. In addition to commanding the French Air Force Academy in Salon-de-Provence, he served as a senior military advisor at NATO ministerial meetings and NATO summits, and worked on Operation Unified Protector over Libya.
For General Mercier, collaborating on a French-style beer with American brewers was a special opportunity to demonstrate his appreciation of the longstanding friendship between the two nations.
"Marquis de Lafayette is really the symbol of the friendship that exists between United States of America and France," Mercier said. "He worked closely with George Washington and was a major player for independence, which makes France the oldest ally of the United States. The symbol of the French Revolution was La Bastille. Only one piece of this prison is still remaining today, and it is the key to the main door. Marquis de Lafayette had this key brought to George Washington and this key is still at Mount Vernon."
General Mercier noted the great contributions of American soldiers during Work War I and II in liberating the French people from Germany.
"Our two countries have continued to fight for the same values," he said. "Brewing this lager, again, is about friendship between NATO — under my command — and the city of Norfolk. I am very appreciative of this highly symbolic event. I am very excited to taste this beer."