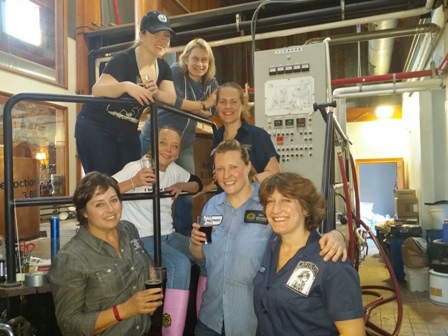 By Elizabeth Erschens
International Women's Day is a celebration of unity among women, whether it be Gwyneth Paltrow hanging out with female celebrities or a small group of female brewers getting together to participate in the International Women's Collaboration Brew Day—an annual event organized by the Pink Boots Society (an international group for the education and advancement of female beer professionals) and hosted by over 100 breweries around the globe.
Since I can never remember a face nor a name and would fail horribly in the name-dropping world of celebrity insanity, I opted to accept a once-in-a-life-time invitation from Heidi Crandall and April Anderson (owner and senior brewer, respectively) of Devils Backbone Brewing, to join a handful of incredible Virginia female beer professionals brewing one of the international batches of United Red Ale to promote awareness of women in the brewing industry and raise funds for charity and the Pink Boots Society.
Also attending were Melissa Allen, founder at Seven Arrows Brewing, Kristi Griner, Director of Brewing Operations and head brewer at Capitol City Brewing Company, Dr. Allison "Lola" Lange, brewer/beer scientist at Port City Brewing Company, and Elizabeth Shifflett, founder at Three Brothers Brewing, and Heidi Crandall, founder/Marketing and Media Manager at Devils Backbone Brewing Company. Anderson graciously greeted us with coffee, bagels, and a genuine childlike excitement that immediately put us all at ease and quickly became contagious.
Once in the brewery, we were joined by Crandall, and it quickly became apparent we were going to have a rare, hands-on collaboration with some of Virginia's most beer-centric, fun-loving industry professionals. Right away, Anderson shared the parameters for the United Red Ale and invited us to help tweak the recipe, starting with the hops selection and drop schedule. When the mash-in temperature was reached, everyone got to work. Chemistry, check; sacks of grains, check; mash paddle, check.
From mash in to fermenter, Anderson encouraged our group to share our knowledge and experiences. If you are picturing a group of women reciting their technical experiences brewing with men, I have not done a good job with this article. We covered the gamut from discussing mash-in temps to laughing about cleaning the "dirty hoe" while raking the lauter tun.
Allen later chuckled about the brew day saying, "It wasn't as 'strict' as I had imagined. Everyone was really laid back, and I loved how everyone got to help. There was no pressure; just brewing, learning, and fun!" In the same vein, Griner recalled how she was excited "getting to poke around the famed DB Base Camp Brewery … and trying to interpret the Japanese-inscribed control panel of the brew house."
If you are thinking it would be your dream to experience a day such as this, you have to dream higher, as the day got even better. In addition to a wonderful lunch, beers, and Bloody Marys with MEAT STRAWS in the DB Brew Pub, Heidi and Steve Crandall, founders of Devil's Backbone, gave us free rein of the brewery's lodge. Six ladies made it up that snow melted-muddy hill, in three cars, to build fires; slice, dice, and chop our own foodie dinner; drink beer from DB and the respective breweries of the group; (did I mention drink beer?); and have a slumber party!
Lange said her "favorite part of the experience was that evening at the lodge, sitting by the bonfire in the Virginia Mountains, swapping stories with ladies from Virginia Breweries." I can't tell you what we discussed at the lodge, but I can give you a hint about how little we talked about men on our day of unity, be it work or family responsibilities. I will just quote Anderson saying very late in the evening, "I just realized I am the only one here not married."
Shifflett best summed up the day saying, "Best day I've had in a long time. I'm looking forward to maybe meeting up for the release event?" I am definitely with her on that suggestion!
NOTE: A huge shout-out to Aaron Reilly and Jason Oliver for coming in on your days off so April Anderson could brew with us!
Elizabeth Erschens is the owner of Homebrew USA with locations in Norfolk at JANAF and in Hampton