By Robey Martin
It all started at a SB 604 and HB 359 signing party. Not the idea of a brewery, Neil Burton had that already. But the partnership. Mike Hiller and Burton, his now partner/co-owner, have only known each other a short time, a little over two years.
"I was visiting from Northern Virginia where I was working for a soon-to-be-closed brewery," Hiller recounted. "Mike Killelea from Center of the Universe fame invited me to the event.  I think he and John Wampler from Legend Brewing actually introduced me to Neil.  Neil was looking for a head brewer and I was looking for a brewery."
It took just that summer to make the decision that Hiller would become Burton's brewer, and while that decision was being made the brewery name materialized – Strangeways.  The name is an homage to both Burton's and Hiller's style, whether in the brewery or outside out it. When asked about the name, Hiller is very open.
"We decided from the outset that we definitely did not want to brew what we called "typical" beers.  That means we didn't want to brew what everybody else was already brewing.  We wanted to be different, sure, but mostly we wanted to challenge ourselves and the beer community by brewing weird, very different beers.  Plus, we weren't about to start a brewery called STRANGEways and then produce a regular line-up of beers.  The name kind of forces us to brew strange beers."
He goes on to say it is an awesome challenge for him as a brewer. New techniques, new challenges and new processes are certainly keeping him on his toes and a keenly interested following close at his heels. In the past year, Hiller has brewed over 20 distinctly different beers with some very interesting monikers. From a Sorachi Sour to a Bier de Mars to an Eisbock, the variations continue to be impressively odd. Richmond, Virginia is not the only audience that has taken notice. In April, Saveur Magazine touted Martian Spring, a variation on a Bier de Mars, as one of the most refreshing they've had with its crisp clean ending and burr-like bubbles. In May, Bon Appetit named the brewery as one of ten to watch in the United States. BA ran the gamut of brew they suggested, calling out the mind-bending techniques like the Eisbock's, Freeze Ray, actual freezing and ice removal that causes the ABV to amp up to blotto proportions.
With the recent national attention, it would be easy to stray from the local support, but Strangeways manages to balance the two humbly.  Hiller states that he understands the hesitation of the local community to embrace the stranger beer. He himself at one time was a very picky eater and can empathize with those that have a more discerning palate.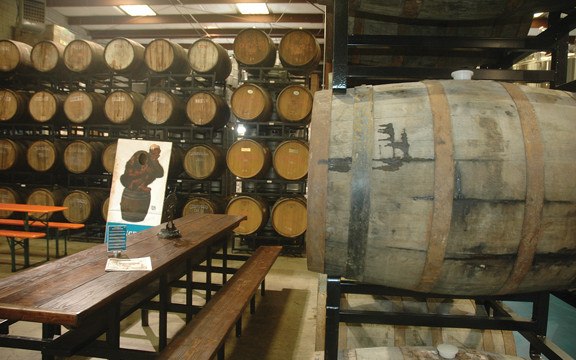 "Sometimes I feel like we have an uphill battle to get [Richmond] beer drinkers to step out of their comfort zone and try some of our more 'out there' beers.  Whether it's someone who doesn't drink a lot of craft beer or a seasoned veteran of the Richmond craft beer community, getting people to set aside long-held opinions or preferences long enough to try, for instance, a sour beer or a honey bock can be difficult."
But not insurmountable. To make things more palatable, Hiller and Burton collaborated with some well-known and well-loved beer individuals in the Richmond area. A notable win from one such collaboration is their O.T.I.S. cucumber melon sour. In a partnership with a (very visible in the Richmond beer community and honorary mascot of the local Beer Den) French Bulldog named Otis (and of course his owner), Strangeways concocted an accessible sour beer, pleasing both beer aficionados and beer beginners. Collaborations like this in the community seem natural for Burton and Hiller. The brewery is a constant social gathering. Many a father and family, including brewer and owner, made a new tradition for this year's Father's Day by quaffing a Uberlin Berliner Weiss, another collab with local beer-centric restaurant Capital Ale House, a fruity, funky wild Brettanomyces claussenii yeast explosion.
"The biggest reward for me is very simple and it is another big part of why I brew beer; our beers make people happy," Hiller said.  "That's it!  Every day, I see people smiling, having a good time, and enjoying each other's company while drinking our beers.  I create something that brings people joy."
Strangeways Brewing is located at 2277 Dabney Road in Richmond. For info at 804-303-4336, strangewaysbrewing.com